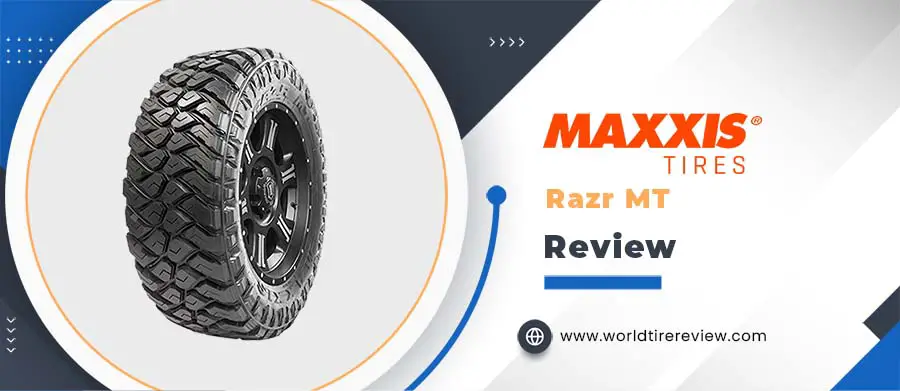 About Maxxis
Maxxis is a tire manufacturing firm based in Taiwan. Beginning with bicycle tires, the group has developed its portfolio to include vehicles, light trucks, motorbikes, tractors, and other products.
Maxxis distribution systems employ cutting-edge technology to hold some of the best tires on the marketplace. The brand now sells its goods in over 180 countries and has offices in Asia, America, Europe, and Africa.
It is a brand favored by many drivers because of its high durability and a great improvement over time.
Maxxis Razr MT Review
A new pattern layout with deeply sculpted middle blocks can improve off-road performance while maintaining a softer sound. The patterns of large overlapping blocks provide outstanding on-road stability and good traction on dry and wet terrain.
The Maxxis RAZR makes noise up to 55 mph. After this occurrence, the tire begins to calm down. When the car hits 70 mph, it is completely quiet.
The innovative armor sidewall structure enhances sidewall traction and ruptures durability. After several times of off-road racing, it led to the development of its Dual-Cord reinforced body ply innovation.
For extra durability, the Maxxis Razr MT has a 3-layer polyester surround. It is also made up of 3-polyester, 2-nylon, and 2-steel belts that cover the tread. 3-Ply sidewalls also contribute to improved handling and longevity. With the durable nylon cover, you will feel stable even at a fast speed.
Special off-road composition with novel chemical compounds has been developed for optimal tear strength and tire lifespan. Consequently, Maxxis can support the tire with a 50,000 to 60,000-mile tread life, depending on the tire size.
Pros & Cons
Personal Opinion
Feature Estimation
What We Like
Being an off-road driver for more than ten years, we always seek the best quality tires. Honestly, the Maxxis Razr MT is among the tires that meet our quality requirements on all types of terrain. 
The tread is excellent since it can withstand pressures in various terrains. Its size also allows for numerous variables, such as tracking properly on unpaved roads and most scenarios directing tension selection.
Plenty of space between the treads effectively disperses mud and snow on the tires. We feel very secure when driving on mud as the tire ensures consistent traction and secure off-road driving in all temperatures.
The treadwear is extremely robust, making them ideal for off-road use on mud, sand, gravel, and dirt roads. It also amazed us by its remarkable dirt removal and self-cleaning quickly. 
We had a trip on the sandy beach, and the truth was that the speed of the car did not slow down at all, and of course, the wheel was not stuck in the sand.
The Maxxis Razr MT does not make a loud noise like other tires. The shocks from this tire don't give us a terrible back on the expressway. 
Because it is significantly quieter than we imagined, we couldn't detect a broken ear sound from the vehicle.
What Need Improvement
Our only small difficulty is traction in thick snow and braking on ice because it was that responsive as soon as we applied the brake, but it took a short while to slide forward a bit. 
It is M+S rated for extreme winter duty, ensuring it complies with the Rubber Manufacturers Association's (RMA) requirements for a mud and snow tire. But it turns out to be a mud tire, and that's all.
Target Customers
This model is not for drivers who like to go long distances or have less than 40% off-road time. Areas in cold climates also limit the features of this tire. If the outside temperature is too low, the tires will turn into ice floes, and you won't be able to move as you please.
The Maxxis Razr MT is a fantastic adventure tire. We'll retain these when we receive our new tires to continue to use them off-road. We've owned these models for a long time. We're pleased with their overall performance for anyone who enjoys short journeys and difficult terrain.
Overall, if you're looking for one of the best-performing tires on the marketplace currently. You can consider our reviews above. We believe it will not disappoint you.
| | |
| --- | --- |
| Treadlife Warranty: | 40,000 Miles |
| Manufacturer's Road Hazard Warranty: | None |
| 15 | | 16 | |
| --- | --- | --- | --- |
| LT 32X11.50R15 | LT 33X12.50R15 | LT 245/75R16 | LT 285/75R16 |
| LT 33X10.50R15 | LT 35X12.50R15 | LT 265/70R16 | LT 315/75R16 |
| | | LT 265/75R16 | |
| 17 | | 18 | |
| --- | --- | --- | --- |
| LT 265/70R17 | LT 35X12.50R17 | LT 275/65R18 | LT 295/70R18 |
| LT 285/70R17 | LT 35X13.50R17 | LT 275/70R18 | LT 33X12.50R18 |
| LT 295/70R17 | LT 37X12.50R17 | LT 285/65R18 | LT 35X12.50R18 |
| LT 305/70R17 | LT 37X13.50R17 | LT 285/75R18 | |
| LT 315/70R17 | LT 40X13.50R17 | | |
| 20 | | 22 | |
| --- | --- | --- | --- |
| LT 275/65R20 | LT 35X12.50R20 | LT 35X12.50R22 | LT 37X13.50R22 |
| LT 295/55R20 | LT 37X12.50R20 | LT 37X12.50R22 | |
| LT 295/60R20 | LT 37X13.50R20 | | |
| LT 295/65R20 | LT 38X13.50R20 | | |
| LT 33X12.50R20 | LT 40X13.50R20 | | |
Maxxis Razr MT prices range approximately from $218.99 to $558.98 (Simple Tire)
prices range approximately from
Maxxis Razr MT – Compare Prices
We found 2 online tire retailers selling Maxxis Razr MT. Refer to the details below to get the best price
Maxxis Razr MT
PRICE
SOLD BY
 

Offers




Offers



Maxxis Razr MT Ratings By Consumer