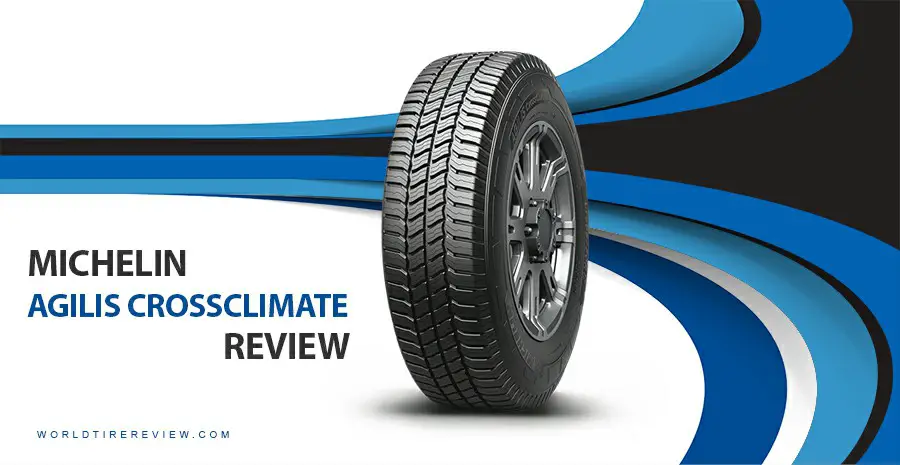 Michelin is the second – largest tire manufacturer in the world. It is famous for its diversity in products. Whether your vehicle is a car, a scooter, or even a bicycle, you can still find a suitable tire from this brand.
This episode will discover a best-seller in the product line for SUVs, Pickup, and Van. Agilis Crossclimate is a combination of Agilis and Crossclimate families. It promises to offer reliability and all-year traction for commercial vehicles.
If you are considering this product, let's study a few reviews. And here is one of them. 
Michelin Agilis Crossclimate Review
Michelin defines the good as a true "all-season" tire. So, it aims to give optimal traction in all weather conditions. To achieve this goal, the production unit has adopted SipeLock technology.
SipeLock technology provides many biting edges to increase snow and wet traction. However, it still ensures tread block stability for handling. The tire also has 3PMSF certification (3 Peaks Mountain Snow Flake) and features new tread wear indicators. 
What else makes Michelin Agilis Crossclimate become a must-have all-season tire for trucks? The answer lies in its StabiliBlok technology – a network of wider and longer tread blocks. Both symmetric patterns and directional patterns use StabiliBlok. This technology handles heat management and can withstand heavy loads.
The producers innovate internal construction to improve durability. Besides, they aim at increasing tread life longevity. Thus, they exploit a two-ply casing and a polyamide reinforcement.
As per the manufacturer test, Agilis Crossclimate lasted 10%- 19% longer under heavy loads than leading commercial tires on the market.
More importantly, Michelin equips this product with a CurbGuard Sidewall Protector. With the support of 1.5 mm anti-abrasion blocks on the tyre flank, you will not fear any curb or tear damage to your wheels when driving on dry roads.
Pros & Cons
Test Drive Review
We have experienced numerous all-season tires for commercial vans before. But, we are not satisfied with their usability in snow conditions at all. 
Snow traction provided by this product proves to be better than almost its rivals. So, driving under light snow and slush will no longer be a problem.
All-season tires are certainly not a perfect replacement for winter tires. And, Agilis Crossclimate is not an exception. To ensure safety under deep snow, we recommend switching to other tires. 
The tire's aggressive tread pattern and 3PMSF rating make us rather nervous about its performance on dry roads. Thus, we make a comparison between the good and our summer tires. Surprisingly, this tire's stability is impressive. The directional-pattern Agilis Crossclimate will have a plus point for this feature.
The tire from Michelin also gives a comfortable and reliable ride to drivers. In detail, stopping distances are relatively small. The cornering grip is also outstanding.
Until now, this product has come in 22 sizes. You could easily find ones that fit your truck well. 
On the other hand, there are two negative points that we should take into account. First of all, this commodity does not come with a mileage warranty. The production unit still covers defects in materials. Yet, we need to pay for further maintenance.
There have been some reviews complaining about tire life from real users. So, this matter quite annoys us.
Like other products from Michelin, Agilis Crossclimate is pretty expensive. If you have a limited budget, this tire is not an economical option. But, after considering all the factors above, this tire still deserves your try. We will pay compliments on its performance in light snow under heavy loads. We still need to consider its longevity.
Why are you still hesitating ahead of a high-quality tire like Agilis Crossclimate? It will not let you down.
Competitors & Alternatives
| | |
| --- | --- |
| Treadlife Warranty: | None |
| Uniformity Warranty: | 1 Year / first 2/32″ of wear |
| Workmanship & Materials Warranty: | 6 Years / Free replacement first year, 2/32″ or 25% of wear, then prorated until 2/32″ remaining depth |
| Manufacturer's Road Hazard Warranty: | None |
| Manufacturer Special Warranty: | 60-day satisfaction (1) |
| Additional Information: | (1) Exchange for Michelin, BFGoodrich, or Uniroyal |
Warranty summary for replacement tires purchased on or after 06/01/19
| 15 | | 16 | |
| --- | --- | --- | --- |
| 185/60R15C | 205/65R15C | 195/75R16 | 235/65R16C |
| | | LT 215/85R16 | LT 235/85R16 |
| | | 225/75R16C | LT 245/75R16 |
| | | LT 225/75R16 | LT 265/75R16 |
| 17 | | 18 | |
| --- | --- | --- | --- |
| LT 235/80R17 | LT 265/70R17 | LT 265/70R18 | LT 275/70R18 |
| LT 245/70R17 | LT 285/70R17 | LT 275/65R18 | |
| LT 245/75R17 | | | |
| 20 | | | |
| --- | --- | --- | --- |
| LT 265/60R20 | LT 285/60R20 | | |
| LT 275/65R20 | | | |
Falken Wildpeak A/T Trail prices range approximately from $133.99 to $357.99 (Tire Rack)
Continental TerrainContact H/T
Michelin Agilis Crossclimate – Compare Prices
We found 6 online tire retailers selling Michelin Agilis Crossclimate . Refer to the details below to get the best price
Michelin Agilis Crossclimate
PRICE
SOLD BY

Offers

Offers

Offers

Offers

Offers

Offers
prices range approximately from
Agilis Crossclimate Ratings By Consumer