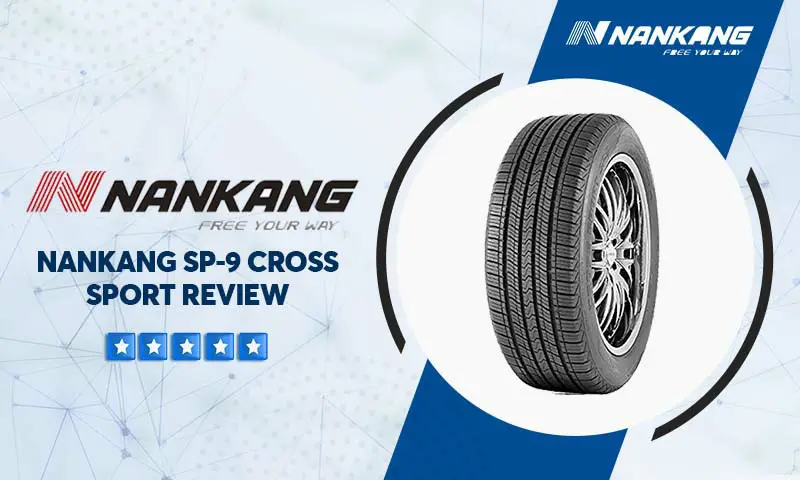 About Nankang Brand
First introduced in 2015, the Nankang SP-9 quickly obtained a great reputation for its quality and affordable price tag. Since its first launch, it also gained a following due to the users' favor.
In this Review, we will go through the main features of these tires and our assessments when using them for a long period.
About Tireco, Inc And Nankang Tires
Nankang Tires is a well-known brand marketed by Tireco, Inc., – a leader in consumer, commercial, and specialty tires since its foundation in 1972.
It is also one of the largest private brand marketers and distribution companies in North America.
This brand offers a wide range of passenger and tight truck/ SUV tires. Those products come with several outstanding features, such as boosted wet and dry traction or enhanced stability in seasonal conditions.
Remarkable Features Of Nankang SP-9 Cross Sport
In this part of our Review, we will glimpse some remarkable features of this tire line.
First, it features a touring tread pattern, decreasing the noise and increasing longevity. 
Most of the models in SP-9 come with a 560 treadwear grade, which means they would wear 5,6 times longer than the control one rated at 100. The others, for instance, the No. 24984005 version, feature a 400 treadwear grade. 
Another bonus point about this product line is that it offers a 50,000-mile treadwear warranty. 
Let's move on to the traction grade – the level of grip on a wet surface. The 400-treadwear-grade models have the best grade AA, whereas the others feature an A grade. This is due to the balanced blend of performance, tread life, traction, and comfort.
All of the models in the SP-9 feature the highest temperature rating – an A grade. 
What about the sizes and speed ratings?
The wheel diameter varies between 14 and 20 inches, while the speed rating comes with either an H, V, W, or Y.
Nankang SP-9 Cross Sport: Pros & Cons
Nankang SP-9 Cross Sport: Personal Opinion 
After testing those tires for a few months, here are our quick outlines:
Feature Assessments
Dry Traction
First, the Nankang SP-9 feels magnificent on dry roads. The great traction and grip enable you to tackle a corner at speed with comfort. 
Besides, it grips the road and does not skid or slide when you brake or accelerate.
Wet Traction
Wet traction will depend on how fast you are driving.
At low or average speeds, the tires can harness the weight of your vehicle, allowing you to brake sharply with ease.
On the other hand, if you drive at high speed on a wet and slippery highway, you will need to grip the steering wheel tightly as these tires might slide a little bit over stagnant water puddles.
Snow Traction
Although the SP-9 tires are designed to go well in all-season conditions, I do not recommend them for the winter weather. This is because it might not fare effectively in this tough condition.
Yet, you can drive them on the slippery pavement with the snow level equal to or less than 2-inches as long as you are prudent with the gas pedal to maintain a proper degree of grip. 
However, do not expect them to perform well in snowier conditions. This downside is the tradeoff to the longer tread life. 
Treadwear
The Nankang SP-9 tires passed our test on treadwear's longevity.
We bought them over five months ago and have driven around 3,000 miles in different conditions. Up to now, we have only found small evidence of wear on all four tires. 
Comfort
Comfort is one of the best points about the SP-9. They deliver fantastic smooth drives on almost all the road surfaces. 
Noise
Another great characteristic of the SP-9 Cross Sport is the low noise. They only create some small roars even if you are driving over rough pavements.
Who Should Buy Nankang SP-9 Cross Sport?
The SP-9 is one of the best models of Nankang. Those tires deliver great traction and handling in both dry and wet pavements.
They also offer smooth and comfortable drives with low noise. Moreover, the tread is durable, and the brand offers you a 50,000-mile warranty.
Well, if you are looking for budget-friendly tires for daily driving in urban areas, the SP-9 is a good option to go for. Consider those if your vehicle belongs to the list below: 
Buick Enclave
Dodge Durango, Dakota, and Nitro
GMC Yukon, Acadia, and  Envoy
Chevrolet Suburban, Tahoe, and Trailblazer, 
Kia Sorento
Volkswagen Touareg
Mercedes-Benz GL450, G500
Nissan Murano
Ford Excursion, Expedition, and Explorer
Saturn Outlook
Toyota 4-Runner, Highlander, and Sequoia 
Conclusion
If you are shopping for affordable and effective tires. This Nankang SP-9 Cross Sport review has brought you an idea. Although it's not good at handling in winter, it will be ideal if you live in a no-snow country.  
Feel free to leave your comment when you have tried this tire type!
| | |
| --- | --- |
| Treadlife Warranty: | 50,000-mile,000 Miles  Half mileage for rear if different size than front |
| Uniformity Warranty: | 3/32″ of wear |
| Manufacturer's Road Hazard Warranty: | None |
| 14 | | 15 | |
| --- | --- | --- | --- |
| 175/65R14 | 195/60R14 | 175/65R15 | 205/60R15 |
| 185/60R14 | 195/65R14 | 185/60R15 | 205/65R15 |
| 185/65R14 | 205/60R14 | 185/65R15 | 205/70R15 |
| | | 195/50R15 | 215/60R15 |
| | | 195/55R15 | 215/65R15 |
| | | 195/60R15 | 215/70R15 |
| | | 195/65R15 | 225/60R15 |
| | | 205/50R15 | |
| 16 | | 17 | |
| --- | --- | --- | --- |
| 195/50R16 | 215/70R16 | 205/50R17 | 235/55R17 |
| 195/55R16 | 225/50R16 | 215/50R17 | 235/60R17 |
| 205/55R16 | 225/60R16 | 215/55R17 | 235/65R17 |
| 205/60R16 | 225/65R16 | 215/60R17 | 245/65R17 |
| 205/65R16 | 235/60R16 | 215/65R17 | 245/70R17 |
| 205/70R16 | 235/65R16 | 225/50R17 | 255/60R17 |
| 215/60R16 | 235/70R16 | 225/55R17 | 265/65R17 |
| 215/65R16 | | 225/60R17 | 265/70R17 |
| | | 225/65R17 | 275/55R17 |
| 18 | | 19 | |
| --- | --- | --- | --- |
| 215/55R18 | 255/65R18 | 225/55R19 | 255/55R19 |
| 225/55R18 | 255/70R18 | 235/50R19 | 255/60R19 |
| 225/60R18 | 265/60R18 | 235/55R19 | 265/50R19 |
| 235/50R18 | 265/65R18 | 245/55R19 | 275/55R19 |
| 235/55R18 | 265/70R18 | 255/50R19 | |
| 235/60R18 | 275/60R18 | | |
| 235/65R18 | 275/65R18 | | |
| 245/60R18 | 285/60R18 | | |
| 255/55R18 | | | |
| 20 | | 22 | |
| --- | --- | --- | --- |
| 235/55R20 | 265/45R20 | 265/40R22 | |
| 245/50R20 | 265/50R20 | | |
| 255/45ZR20 | 275/45R20 | | |
| 255/50R20 | 285/50R20 | | |
| 255/55ZR20 | | | |
SP-9 Cross Sport prices range approximately from $59.00 to $160.00 (Discount Tire)
Nankang SP-9 Cross Sport – Compare Prices
We found 4 online tire retailers selling Nankang SP-9 Cross Sport. Refer to the details below to get the best price
Nankang SP-9 Cross Sport
PRICE
SOLD BY
 

Offers




Offers




Offers




Offers



Nankang SP-9 Cross Sport Ratings By Consumer