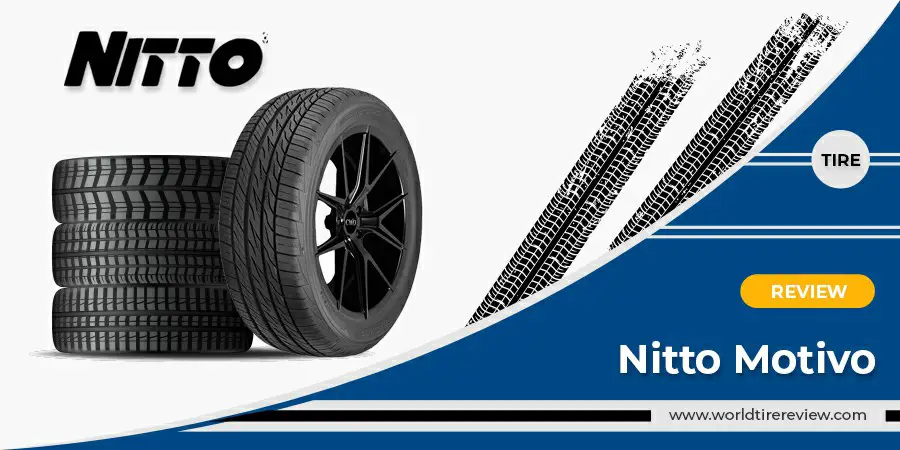 Nitto Motivo Introduction
It's best to go through all the basic information about this tire before heading into further issues. Here in our Nitto Motivo, we'll have a brief on the Nitto brand and its features.
Nitto Tires Company
Nitto is a famous Japanese manufacturing company founded in 1949 that primarily produced bias trucks and car tires. With many years of continuous development, Nitto now gains a high position in the tire market with its high-quality products, including the Nitto Motivo tire.If you are looking for a tire to cope with different weather conditions when driving cars, this product would be a wonderful solution for you. Read on to see the most precise analysis of those Nitto Motivo Tires.
Nitto Motivo Overall Features
Nitto Motivo is a thrilling combination of best all-season tires and ultra-high performance for Crossovers, luxury sedans, and sports drivers coupes. 
All-season tread characteristics are associated with durability, stability, and perfect curb attraction to provide outstanding service all around the year. The Nitto Motivo tires also come up with excellent traction and handling in both dry and wet conditions.
Moreover, the tire is visually appealing, with plenty of siping defining the tread design. Its unique and aggressive-looking tread pattern consists of straight, diagonal, fin-shaped, and 3-D multi-wave sipes designed to provide enhanced evacuation routes for light snow and water. 
Furthermore, the product has four different circumferential grooves that claim the brand improves water evacuation to another level.
Pros & Cons
Nitto Motivo Review: Tire Drive Test
Having the opportunity to try this product, we would like to share our real personal experiences. Let's read the Nitto Motivo review further to understand more about how it works!
Wet Traction
Admittedly, Nitto Motivo performs pretty well in the wet. It impressed us how the tires kept consistent traction as we tried to push the cars through rain-soaked roads. 
When the roads become wet, the Motivo's angled tread blocks, four wide circumferential grooves, and unique 3-D sipes move water and slush out of the tread, increasing hydroplane resistance and traction.
Snow Traction
It seems to be tricky when you drive on surfaces with snow or ice. The surfaces may get slick, dangerous, especially when a decent tire does not counter the wet surfaces. 
This tire is suitable for light snow only; it cannot work well under heavy snow. So, do not expect too much about it when it comes to winter weather.
Noise Level
Nitto tires own noise-optimized tread, which provides you a sense of quiet driving experience. There would be no sound once you get close to highway speeds. However, as you approach triple-digit speeds, the tire roar returns with a vengeance.
Comfort
Thanks to the Nitto's Motivos touring, we were totally satisfied with the tire's comfort levels, particularly on long and arduous journeys. Imagine that it does not seem like a sporty tire when you are just cruising down the highway!
You also get a strong sense of refinement, much like when the car is fitted with an expensive set of OEM tires. Potholes and utility hole covers are not as noticeable as they should have been, and they played an important role in shielding our tired bodies from shock and abrasion. Given that our test vehicle is riding on lowering springs, this is high praise.
Treadwear
The Motivo tires in our test vehicle had been installed more than a year before, but the treads are still relatively new. The front tires showed wear, but we estimate the tread depth around 7-8/32", which is considered good for all-season conditions!
If you're concerned about premature wear, do not worry, as Nitto offers a 60,000-mile treadwear guarantee. The tire is made with a revolutionary binding agent imbued with silica, which extends tread life. This makes sure that the tire can last longer than standard all-season rubber, even while providing superior handling and wet effectiveness as the treads wear out.
After referring to the Nitto Motivo tire, surely you have certainly made your own decision. This tire will absolutely bring you a perfect driving journey with various features.
| | |
| --- | --- |
| Treadlife Warranty: | 5 Years / 60,000 miles |
| Uniformity Warranty: | 1 Year / first 2/32″ of wear |
| Workmanship & Materials Warranty: | 5 Years / Free replacement, 2/32″ or 25% of wear |
| Manufacturer's Road Hazard Warranty: | None |
| 17 | | 18 | |
| --- | --- | --- | --- |
| 205/50ZR17 | 235/55ZR17 | 225/40ZR18 | 245/45ZR18 |
| 215/45ZR17 | 245/40ZR17 | 225/45ZR18 | 245/55ZR18 |
| 215/50ZR17 | 245/45ZR17 | 225/50ZR18 | 255/35ZR18 |
| 215/55ZR17 | 245/50ZR17 | 235/40ZR18 | 255/40ZR18 |
| 225/45ZR17 | 255/40ZR17 | 235/45ZR18 | 255/45ZR18 |
| 225/50ZR17 | 275/40ZR17 | 235/50ZR18 | 255/55ZR18 |
| 225/55ZR17 | 315/35ZR17 | 235/55ZR18 | 275/35ZR18 |
| 235/45ZR17 | | 245/40ZR18 | |
| 19 | | 20 | |
| --- | --- | --- | --- |
| 225/40ZR19 | 255/45ZR19 | 245/35ZR20 | 275/30ZR20 |
| 225/45ZR19 | 255/50ZR19 | 245/40ZR20 | 275/35ZR20 |
| 235/35ZR19 | 255/55ZR19 | 245/45ZR20 | 275/40ZR20 |
| 245/35ZR19 | 275/30ZR19 | 255/35ZR20 | 295/30ZR20 |
| 245/40ZR19 | 275/35ZR19 | 255/45ZR20 | 315/35ZR20 |
| 245/45ZR19 | 275/45ZR19 | | |
| 245/50ZR19 | 275/55ZR19 | | |
| 255/35ZR19 | | | |
Nitto Motivo prices range approximately from $119.00 to $261.00 (Simple Tire)
Nitto Motivo – Compare Prices
We found 5 online tire retailers selling Nitto Motivo. Refer to the details below to get the best price:
Nitto Motivo
PRICE
SOLD BY
 

Offers

$116

Offers

$116

Offers
Motivo Ratings By Consumer