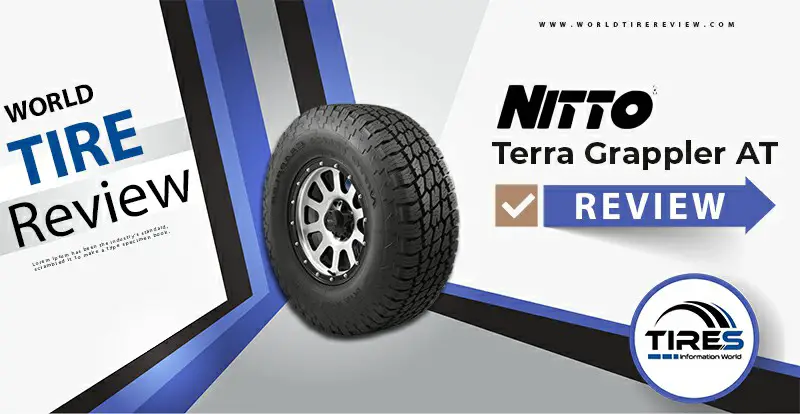 Introducing the latest tire technology, NITTO is one of the best tire manufacturers on the market nowadays. Their products are designed for multiple purposes, which can help you conquer all types of weather and terrain.
Terra Grappler All Terrain is one of the best tire products for medium-sized car enthusiasts from this brand.
Since its debut on the tire market, Nitto Terra Grappler AT are mostly positive due to its effectiveness in protecting the vehicle's wheels. Specifically designed for SUVs and pickup trucks, this product has gained the trust of millions of users worldwide.
Let's go deeper into the details of how this amazing product can satisfy the driver.
Nitto Terra Grappler AT Overview
At first glance, Nitto Terra Grappler AT brings about a strong sense of professionalism. This product offers a selection of two sidewall designs for you to choose by preference: Solid lettering on the outline and serrated lettering.
On the surface, the tread patterns are perfectly arranged for stable handling while driving on-road and off-road. This coupling joint design boosts its traction strength, thus enhancing the tire's ability to steer on the road.
The biting edges are also improved on the side of the tire, providing excellent balance while driving in rough conditions. It also supports stability against snow, mud, and sand, with great protection against sudden bumping into small obstacles.
On the shoulder, the lugs are staggered to boost off-road driving. Its performance is above average, with modified lateral voids between tread blocks to wash away dirt and rainwater.
We bought this tire for over 2 years, and now it begins to show signs of wear and tear, a bit shorter than other tires. It also occasionally makes noise while traveling on rough terrains.
Tire Drive Test
As a variant of the Nitto Terra Grappler line, this product retains all characteristics of its predecessor, along with brand-new improvements for everyday purposes. It is a decent choice for drivers who enjoy daily on-road trips.
This quality product of the Nitto tire brand is excellent for usual driving purposes, from home-coming trips to daily commutes from home to work. Featuring great steering power, the handling of this tire is exceptionally good, even for new drivers.
On many difficult terrains, the performance of this tire is quite admirable. The surface is well-designed to ward off all outside damage, including snow, rain, mud, and sand. Though it may make some noise while traversing on those terrains, it is not much of an issue.
Aside from great characteristics, Nitto Terra Grappler AT still has some drawbacks. The useful life of this product is not as long as other tires. As we mentioned, it starts to wear down faster after approximately two years of use. Still, it is a great choice for an average driver at a medium price level.
We hope that our detailed Nitto Terra Grappler AT tire has been useful for you. Thank you for reading!
Competitors & Alternatives
| | |
| --- | --- |
| Treadlife Warranty: | 50,000 miles for LT-metric sizes and 65,000 miles for hard-metric fitments |
| Uniformity Warranty: | First 1/32″ of wear |
| Workmanship & Materials Warranty: | Free replacement first year, 2/32″ or 25% of wear, then prorated until 2/32″ remaining depth |
| Manufacturer's Road Hazard Warranty: | None |
| 17″ | | 18″ | |
| --- | --- | --- | --- |
| 225/60R17 | 285/70R17 | 255/55R18 | LT 285/60R18 |
| 225/65R17 | LT 285/70R17 | P 255/70R18 | LT 285/65R18 |
| LT 235/80R17 | LT 285/75R17 | 265/60R18 | LT 285/75R18 |
| 245/65R17 | LT 295/70R17 | 265/65R18 | 295/70R18 |
| LT 245/70R17 | LT 305/70R17 | LT 265/65R18 | LT 295/70R18 |
| LT 245/75R17 | LT 315/70R17 | 265/70R18 | 305/60R18 |
| 265/65R17 | LT 35X12.50R17 | LT 265/70R18 | LT 305/65R18 |
| 265/70R17 | LT 37X12.50R17 | 275/65R18 | LT 325/60R18 |
| | LT 37X13.50R17 | LT 275/65R18 | LT 325/65R18 |
| | | LT 275/70R18 | LT 35X12.50R18 |
| | | 285/60R18 | LT 37X12.50R18 |
| 20″ | | 22″ | |
| --- | --- | --- | --- |
| 265/50R20 | LT 295/65R20 | 285/45R22 | LT 325/50R22 |
| LT 265/60R20 | 305/50R20 | LT 285/50R22 | LT 33X12.50R22 |
| 275/55R20 | 305/55R20 | LT 285/55R22 | LT 35X12.50R22 |
| 275/60R20 | LT 305/55R20 | 305/45R22 | |
| 275/65R20 | LT 325/60R20 | | |
| LT 275/65R20 | LT 35X11.50R20 | | |
| 285/50R20 | LT 35X12.50R20 | | |
| LT 285/55R20 | LT 37X12.50R20 | | |
| LT 285/65R20 | LT 37X13.50R20 | | |
| LT 295/60R20 | | | |
Terra Grappler AT prices range approximately from $161.00 – $536.00 – Tirebuyer
Nitto Terra Grappler AT – Compare Prices
We found 5 online tire retailers selling Nitto Terra Grappler AT. Refer to the details below to get the best price:
Nitto Terra Grappler AT
PRICE
SOLD BY
 

Offers

$170

Offers

Offers

Offers
Terra Grappler AT Ratings By Consumer