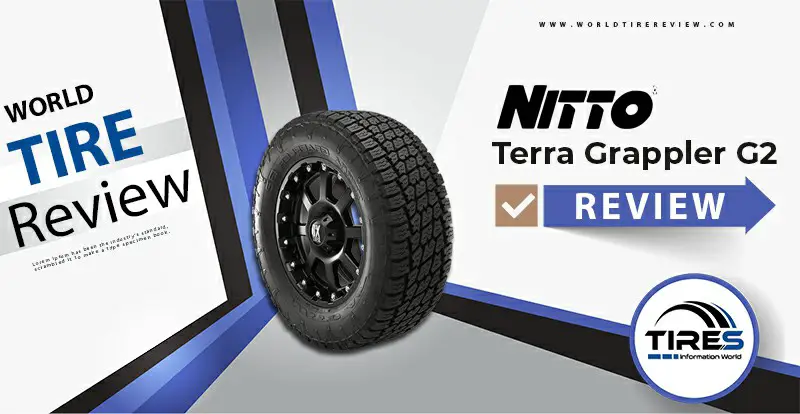 About Nitto
When it comes to the best tire technology, NITTO has proven itself to be one of the best top-rated brands for your wheels during long journeys, both on-road and off-road adventures.
One of our favorite models from this reputable manufacturer is the Terra Grappler G2. This product is trusted by experienced 4×4 and SUV enthusiasts. Its performance is highlighted in its ability to adapt to rough terrain and a daily drive.
Let's go into deeper details of how this amazing product can satisfy even the most meticulous customers.
Nitto Terra Grappler G2 Overview
A product by NITTO, Nitto Terra Grappler G2 is recognized for its ability to surpass other brands in mud-terrain thanks to staggered lugs, with perfectly balanced patterns to ensure the stability of the wheels while driving.
On the sides of the product, you can choose between two designs of thunderbolt or blade. These uniform tires will bring about a sense of professionalism and maximize tread life with utilized optional tire rotation.
The tires include deep sipes in the center of the tread for extra traction strength. They also appear on the rear of the tread with additional edges for easy driving during wet and snowy conditions. They are designed to sustain for a while even after wearing down.
Every tread block of the tire is computer-analyzed to minimize the noise of tires at high speed, without reducing your speed on the highway. The handling is enhanced for smooth driving, reducing sound and impact when bumping into small obstacles like rocks, debris, etc.
Additionally, Nitto Terra Grappler G2 possesses durable coupling joints on the surface, connecting the tread blocks that provide better traction and braking for the driver. They are also durable against all temperature conditions.
This version is utilized for 4×4 and SUV only, at a medium level price. For exceptional tough terrain, its performance may not be as great. Still, it is a great choice for car enthusiasts with the outstanding performance on the street, as well as off-roading.
Tire Drive Test
Originally released over ten years ago, the prototype of Terra Grapple has been a great choice for car enthusiasts in general. In our opinion, Nitto Terra Grappler G2 tire brings about a fresh upgrade thanks to its enhanced overall performance.
This product will guarantee a safe and exciting road trip. It provides comfort during almost all types of terrain with snow, mud, rain, and sand. You will be able to conquer them all with little effort.
As reasonable tire buyers, we recommend this amazing product as the best choice for those who wish to enjoy traveling, pulling trailers, and outdoor camping along on-road paths. You will not be disappointed with Nitto G2 tires.
Although the manufacturer claims that this tire can perform well in both on- and off-road conditions, we find it a failure in mud terrain. We had this item for several months and were still satisfied until we got stuck in deep mud. Anyway, it is not a specialized tire for mud traction.
We hope you are satisfied with our Nitto Terra Grappler G2 reviews. Thank you for reading!
Competitors & Alternatives
| | |
| --- | --- |
| Treadlife Warranty: | 50,000 miles for LT-metric sizes and 65,000 miles for hard-metric fitments |
| Uniformity Warranty: | First 2/32″ of wear |
| Workmanship & Materials Warranty: | Free replacement first year, 2/32″ or 25% of wear, then prorated until 2/32″ remaining depth |
| Manufacturer's Road Hazard Warranty: | None |
| 17″ | | 18″ | |
| --- | --- | --- | --- |
| 225/60R17 | 285/70R17 | 255/55R18 | LT 285/60R18 |
| 225/65R17 | LT 285/70R17 | P 255/70R18 | LT 285/65R18 |
| LT 235/80R17 | LT 285/75R17 | 265/60R18 | LT 285/75R18 |
| 245/65R17 | LT 295/70R17 | 265/65R18 | 295/70R18 |
| LT 245/70R17 | LT 305/70R17 | LT 265/65R18 | LT 295/70R18 |
| LT 245/75R17 | LT 315/70R17 | 265/70R18 | 305/60R18 |
| 265/65R17 | LT 35X12.50R17 | LT 265/70R18 | LT 305/65R18 |
| 265/70R17 | LT 37X12.50R17 | 275/65R18 | LT 325/60R18 |
| | LT 37X13.50R17 | LT 275/65R18 | LT 325/65R18 |
| | | LT 275/70R18 | LT 35X12.50R18 |
| | | 285/60R18 | LT 37X12.50R18 |
| 20″ | | 22″ | |
| --- | --- | --- | --- |
| 265/50R20 | LT 295/65R20 | 285/45R22 | LT 325/50R22 |
| LT 265/60R20 | 305/50R20 | LT 285/50R22 | LT 33X12.50R22 |
| 275/55R20 | 305/55R20 | LT 285/55R22 | LT 35X12.50R22 |
| 275/60R20 | LT 305/55R20 | 305/45R22 | |
| 275/65R20 | LT 325/60R20 | | |
| LT 275/65R20 | LT 35X11.50R20 | | |
| 285/50R20 | LT 35X12.50R20 | | |
| LT 285/55R20 | LT 37X12.50R20 | | |
| LT 285/65R20 | LT 37X13.50R20 | | |
| LT 295/60R20 | | | |
Terra Grappler G2 prices range approximately from $161.00 – $536.00 – Tirebuyer
Nitto Terra Grappler G2 – Compare Prices
We found 6 online tire retailers selling Nitto Terra Grappler G2. Refer to the details below to get the best price:
Nitto Terra Grappler G2
PRICE
SOLD BY
 

$165

Offers

Offers

Offers

Offers
Terra Grappler G2 Ratings By Consumer