If you are looking for optimal all-terrain tires, Nitto Trail Grappler, Ridge Grappler, and Terra Grappler might be the top recommendations. 
These tires have marvelous designs and features for all-around rides under various road conditions. Yet, which one is the best for your vehicle?
Standards To Choose An Optimal All-Terrain Tire
Different road conditions call for specifically different tire features for a great performance with safety. So, there must be some special constructions in such tires. Exploring these factors highlights how to pick the best for pleasant drives. 
Before jumping into the detailed comparison between Nitto Terra Grappler, Trail Grappler, and Ridge Grappler, we should get a hold of relevant factors. 
We find it necessary to start with the desired output, traction capacity. It signifies how well a tire could grip the road. So, we take into consideration the features that support the outcome. 
We discuss the most crucial factors. Thus, you can understand their contributions to the overall performance of a tire. 
Tread design signifies the patterns of grooves, the arrangement of sipes, etc. For example, the large blocks on a tire could provide more high-performing traction in snowy conditions. 
Tread compounds mean a tire's materials. The hardness level is among the most obvious displays of this element. The harder the tire is, the less effective traction becomes.
Sidewall features affect the ability to handle choppy roads and the large weight of a car. A strong sidewall could provide a robust and reliable drive regardless of track states. 
Inside The Juxtaposition
Nitto is a long-standing tire brand with more than 70 years of foundation. The persistence in high quality and driving experience helps Nitto stand through the market's tumultuous competition. 
The three tires in this article all come from such a prominent brand. So, it is safe to state that they are excellent candidates for versatile drives. 
Yet, some differences in their structures lead to dissimilar effects. We will see each tire's advantages and disadvantages unfound through the multifaceted comparison.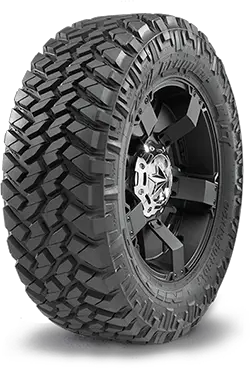 Specifications

Tread Depth: 21/32nds
Load capacity: 12.5 Inches
Load capacity: 3195 Pounds
Rim diameter: 17 Inches
Tire diameter: 35 Inches
Speed Rating: Q

Ratings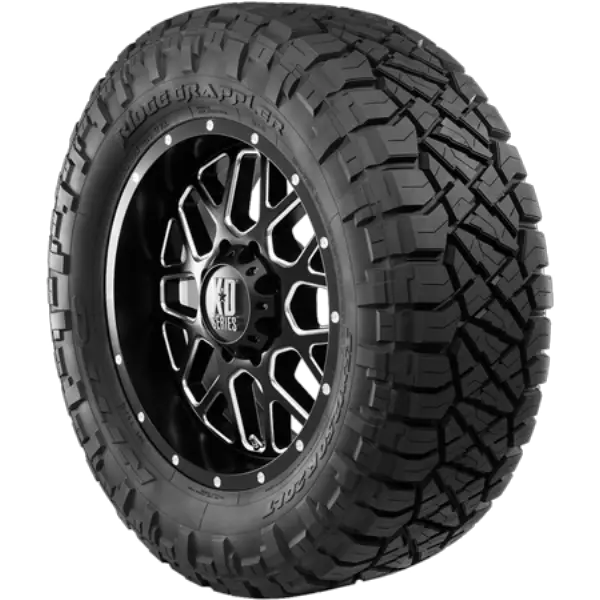 Key Feature
Excellent traction in both dry and wet conditions
Smooth and quiet on the highway
Tire Size
15″, 16″, 17″, 18″, 19″, 20″ and 22″.
Price Range
$95.52 – $227.00
Ratings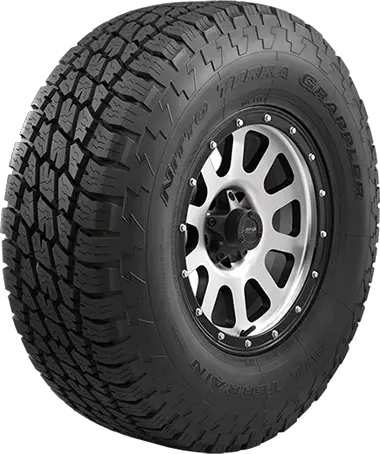 Specifications

Type: Off-road
Size: 17″ to 24″
Construction: Radial
Speed Index: S, R, T
Mileage Warranty: 50,000 miles

Ratings
Performance
All-terrain tires mean that they can drive in both normal and choppy conditions. For this reason, we show a brief walk-through of how well the tires perform on various terrains.  
When taking an off-road ride, a goodbye to smoothness or peaceful movements is within expectation. So, it calls for distinct designs to adapt to unpredictable and bumpy driving.  
To compare Nitto Ridge Grappler and Trail Grappler, these two might be in the spotlight for the off-road-oriented features. Yet, the latter convinces the top position through superior aspects. 
It has a thick sidewall with three plies. The superb rubber also increases the capacity of resisting puncture. Besides, biting edges add their lateral stability and enhance forward movements. 
It must be an odd lack if we did not mention its amazing tread design. Instead of conventional flat buttresses, Trail Grappler has a V-shaped sidewall lug. Also, the reinforcement of shoulder grooves boosts the effectiveness of traction. So, Trail Grappler outperforms in the comparison of the Ridge Grappler and Terra Grappler in this aspect.
For being an unbeatable tire on rough terrains, Trail Grappler eliminates itself regarding optimal experience on highways. 
Its specialized sidewalls and treads for muddy and choppy roads might reduce smoothness in a drive.   
So, it makes more sense when we narrow down the comparison between Nitto ridge grappler and terra grappler. 
The sidewall design of the Terra tire includes two types of lettering, such as outlined and serrated one on each side. So, the improvement of stability is an obvious outcome.   
Besides, the tread pattern has a density of deep sipes, which reduces the risks of water stagnation. As a result, it is ideal for driving on wet highways. 
Yet, the winner of this section belongs to Ridge Grappler. It has an amazing harmony in features for rough terrains and on-road performances. 
The combination of dual sidewall designs enables it to cut down on bumps when driving on common road conditions. Also, the step block and tapered edges enhance traction and water dispersing.
All the facets above mark the convincing victory of Ridge Grappler for both wet and dry terrains. 
A tire must clear the snow while the vehicle roams forward for safety. Massive trenches and a high void ratio refine a ride under snowy and icy roads. 
All three tires could provide decent performances under such typical conditions of winter drive. Yet, Ridge Grappler wins higher scores for hybrid designs and suitable void ratios.  
Noise
Trail Grappler sacrifices the quietness for wonderful off-road rides. 
So, Ridge and Terra Grappler can surpass Trail tires in quietness. The note that we compare in normal conditions rather than tumultuous driving. 
Specifically, Ridge sets itself out with innovative sound equipment to create the patterns for quiet rides. The systematic block adjustments also explain its incredible noise resistance.  
Comfort
This facet is the outcome of impressive performances and 'calmness' for year-round rides. So, you can find the most brilliant tire regarding driving comfort through the detailed analysis above. 
Ridge Grappler will be the tires that bring about the most pleasant rides among the three tires. Its zig-zag tread patterns and dual sidewall designs explain the wonderful steering performance it serves.   
Yet, Terra Grappler is Ridge's main competitor in all aspects. The superiority lies in optimal ratios of off-road and on-road orientation. Additionally, it has a lot of deep sipes for reliable traction. 
Trail tires will be the best among the three when you want to challenge your steering skills and the vehicle's capacities in muddy and choppy conditions.
Warranty
The lifespan of these terrain tires is pretty short. The more it handles, such as driving on wet, dry, snowy, and even rough roads, the more it easily wears out. 
Yet, Nitto tires all have many refinements in designs, tread compounds, etc., to extend the tire's life expectancy. Also, the brand offers various limited warranties for you to have the most fun rides.  
Trail Grappler can be in its best status when driving between 20,000 and 30,000 miles. It is understandable as people prefer to use it for their off-road rides. And you know how rough the conditions can be! 
Ridge tires maintain high performances at 40,000 to 50,000 miles. Yet, the winning figure turns out to be Terra when keeping its effectiveness up to 65,000 miles.
Is It Worth It?
Last but not least, we will cover the diverse prices that Nitto offers in the products despite the same segment of all-terrain rides. So, you can access high-quality tires without transcending your budget. 
Among the three tires we have discussed so far, Terra Grappler is the best choice for the budget.
Conclusion
Choosing versatile tires lets you enjoy exciting rides without concerns about their adaptability to seasons and road status. Thus, we have clarified how to pick the ideal tires through clear-cut explanations about crucial factors. 
Moreover, our ultimate goal is to facilitate you to pick the most suitable tires among the three typical examples of all-terrain tires.
Hopefully, the multifaceted comparison above serves you more insights into the tires' strengths and limitations. 
In addition, we compile comparative factors in the table below to alleviate your decision-making process. 
| | | | |
| --- | --- | --- | --- |
| Factors | Trail Grappler | Ridge Grappler | Terra Grappler |
| Off-road | Outstanding | Good | Not ideal |
| On-road | Not ideal | Excellent | Decent |
| In snowy/icy roads | Good | Exceptional | Fine |
| Comfort  | Aggressive | Incredible | Excellent |
| Noise | Acceptable | Amazing | Fine |
| Warranty (miles) | 20,000 – 30,000  | 40,000 – 50,000 | 50,000 – 65,000 |
| Affordability | From $271 | From $213 | From $161 |
For more all-terrain tire options you can check out our article: The 12 Best All Terrain Tires: Top Picks For 2022