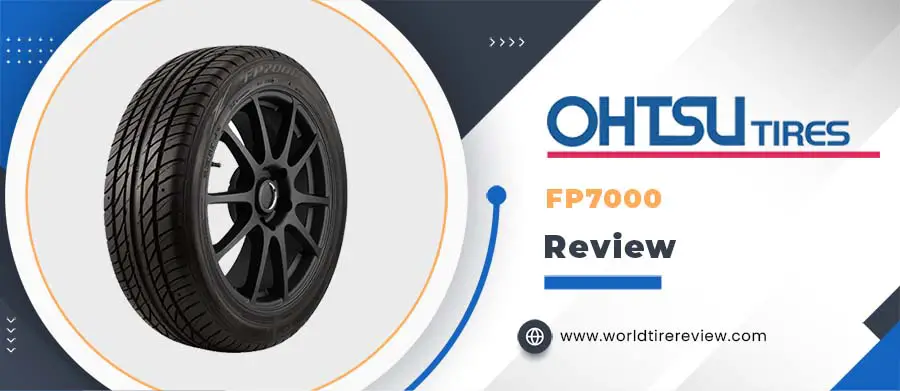 About Ohtsu
Sumitomo Rubber Industries (SRI), Ltd. is a Japan tire manufacturer, a subsidiary of the Sumitomo Group. The company manufactures a variety of rubber-based products, including vehicle tires, golf balls, and tennis balls. 
SRI Company has two typical brands, including Falken Brand and Dunlop Brand. Ohtsu Tire is a sub-brand of Falken, which has provided exceptional driving experiences to people worldwide for over 30 years. 
Ohtsu produces tires for the passenger car and truck industries. Its tires can be put on sedans, pickups, SUVs, Minivans, and a variety of other vehicles. Furthermore, its catalog provides tires with all-terrain and all-season capabilities.
Let's follow us and go deeper into this article to get more detail about this familiar tire. 
Features: Ohtsu FP7000 Reviews
Design: 
This tread comes with a non-directional pattern that performs equally well regardless of the tires' rotational direction. Moreover, a continuous center rib with larger outside shoulder blocks also helps your car enhance braking, cornering and handling well.
The tires protect against aquaplaning and slipping on wet roads with expertly designed tread patterns for water evacuation. Thus, this design improves all-season traction, gives a smooth ride, and has several rotation patterns for much less irregular wear.
Sizes
These Ohtsu tires come in a variety of sizes from 14 to 18 inches which suit the needs of your vehicle.
Handling
A larger shoulder blocks and continuous center rib offer your vehicle a nice balance between sharp handling and ride comfort at the low to average highway speed. 
Noise 
In terms of noise, this tire has a divided amount of road noise. It runs quietly at low to average speeds; however, at higher speeds, you can get some trouble with the louder noise.
Speed ratings
Similar to other tire brands, Ohtsu FP7000 also varies speed ratings in three types: H, V, W. As a result, drivers can select the best one which is suitable for their needs.
Pros & Cons
Ohtsu FP7000: Drive Test
We can see that we can easily navigate the direction of the whole car even in the bad conditions like muddy terrains, thanks to the non-directional tread design and continuous center rib.
Another feature that distinguishes the Ohtsu FP7000 is the tread wear indicators, which visually display treadwear and assist you in maximizing its longevity.
Furthermore, this product line varies in speed rating and size that is compatible with most car types as well as our intended use.
Last but not least, for Ohtsu FP7000, we needn't take price into consideration because it has such an affordable choice. We could simply change or alternative our old tire without incurring further costs.
Despite its many positives, the Ohtsu FP7000 has some minor issues with handling and noise during operation. Although it is an all-season tire, it can not keep pace in heavy snow. 
Moreover, this tire will be more durable if you use it with less powerful and lighter cars. Yet, it can be degraded quicker with more powerful vehicles. Thus, please check your car model before deciding to choose this product.
As previously said, the faster the tire runs, the louder it is. It's not the quietest tire in this class, but it's also not the worst. As a result, it may make us feel a bit uncomfortable and irritated.
In general, the Ohtsu FP7000 Tire's two problems are minor, so if we can ignore them and concentrate on driving, we can have a pleasant ride on any route.
Conclusion
Ohtsu FP7000 is a quality and affordable choice with many varieties in size and speed ratings. This way, it can fit with any vehicle easily. Although this is an all-season tire, you might reconsider it if you live in countries with harsh winters.
In short, our review has provided you with all the impressive features and our real experience. We hope that these pieces of information can help you make an informed decision.
Competitors & Alternatives
| | |
| --- | --- |
| Treadlife Warranty: | 40,000 Miles |
| Manufacturer's Road Hazard Warranty: | None |
| 14 | | 15 | |
| --- | --- | --- | --- |
| 185/60R14 82H BSW | 195/60R14 86H BSW | 185/65R15 88H BSW | 205/60R15 91H BSW |
| 185/65R14 86H BSW | | 195/55R15 85V BSW | 205/65R15 94H BSW |
| | | 195/60R15 88H BSW | 215/60R15 94H BSW |
| | | 195/65R15 91H BSW | 215/65R15 96H BSW |
| | | 205/50R15 86H BSW | 225/60R15 96H BSW |
| 16 | | 17 | |
| --- | --- | --- | --- |
| 205/50R16/XL 91V BSW | 225/50R16 92H BSW | 205/40R17/XL 84W BSW | 225/45R17 94W BSW |
| 205/55R16 91V BSW | 225/55R16 95V BSW | 205/50R17/XL 93W BSW | 225/50R17 94V BSW |
| 205/60R16 92V BSW | 225/60R16 98H BSW | 215/40R17/XL 87W BSW | 225/55R17 97V BSW |
| 215/55R16 93V BSW | 235/60R16 100H BSW | 215/45R17 87W BSW | 235/45R17 97W BSW |
| 215/60R16 95H BSW | 245/50R16 97H BSW | 215/50R17 91V BSW | 235/50R17 96V BSW |
| 215/65R16 98H BSW | | 215/55R17 94V BSW | 245/45R17 99W BSW |
| 18 | | 19 | |
| --- | --- | --- | --- |
| 225/40R18/XL 92W BSW | 235/55R18/XL 100V BSW | | |
| 225/45R18 91W BSW | 245/40R18 93W BSW | | |
| 225/60R18/XL 100H BSW | 245/45R18/XL 96W BSW | | |
| 235/50ZR18 97W BSW | 255/45R18/XL 99W BSW | | |
Ohtsu FP7000 prices range approximately from $70.00 to $132.00 (Discount Tire)
prices range approximately from
Ohtsu FP7000 – Compare Prices
We found 5 online tire retailers selling Ohtsu FP7000. Refer to the details below to get the best price
Ohtsu FP7000
PRICE
SOLD BY
 

Offers




Offers




Offers




Offers




Offers



Ohtsu FP7000 Ratings By Consumer