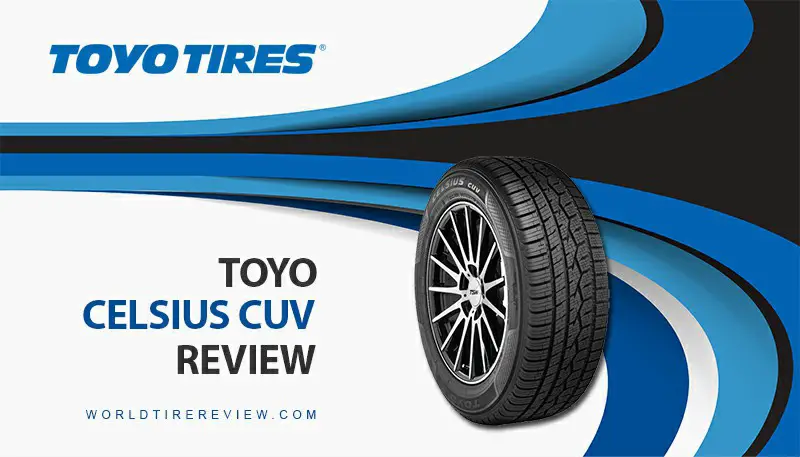 Are you looking for a high-quality tire that can be used for all seasons and thinking of the Toyo Celsius CUV? In today's article, we will provide you with an insightful Toyo Celsius CUV Tire Review to help you decide whether the tire is the best choice or not.
Brand : 
Toyo is a Japanese company specializing in producing and delivering tires for passenger cars and tires for large-sized vehicles such as trucks and buses. It has three brands: Toyo Tires, Nitto, and Silverstone.
Remarkable Features :
You need to know about Toyo Celsius CUV because this is an all-season car tire with a premium quality. Overall, it can perfectly meet the normal standards such as handling, fuel efficiency, grip, and traction. But the most outstanding feature of this tire is its exceptional traction in many different weather conditions, including snow.
The unique design of Toyo Celsius CUV makes a strong impression on experts due to its variable sipe density. Celsius CUV obtains a higher sipe density at the center, which boosts the traction on ice or snowy surfaces. The trend contains a lower sipe density on the outer area to better grip the dry and wet roads.
The secret behind the perfect traction on snow is the built-in snow claws placed on the outside circumferential grooves. It enhances the traction on snow and mud, but it also makes the block rigidity more stable. As a result, your car can grip on any road.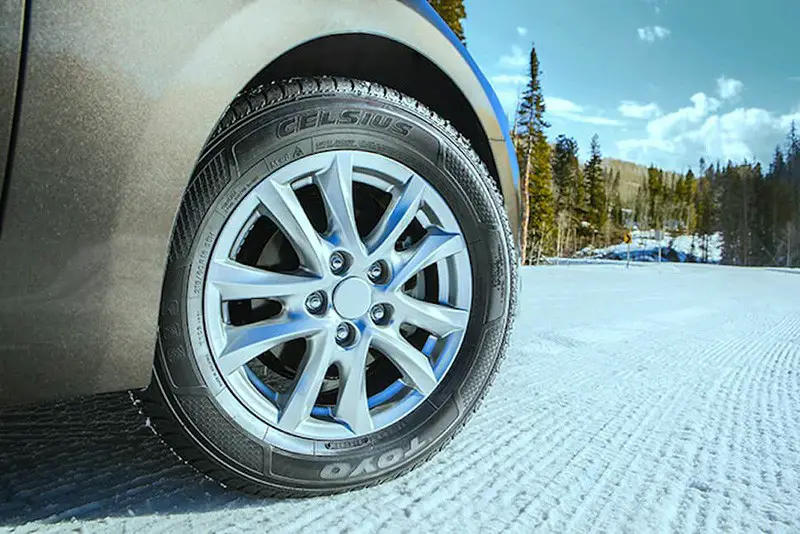 You can also see many slush grooves and multi-wave sipes on the tire; these complicated designs help the car to bake better on the road. Additionally, it also reduces the wear tread and avoids the situation of hydroplaning.
In terms of noise, the Toyo Celsius CUV is quieter than other snow tires, although it is still noisy at high speed.
With a wide range of dimensions (16-20 inches), this tire can match many types, from CUV's to SUVs. Besides, this tire also gets a built-in rim protector making it more durable.
Toyo Celsius Cuv Review: Pros & Cons
View more: Toyo Open Country A/T II Tire Reviews
Toyo Celsius Cuv Review Test Drive
Toyo Celsius CUV is one of the best choices for people having a CUV and SUV car, as it offers good traction on different roads and weathers. Besides, this tire can ensure safe and smooth drives for you due to its excellent braking ability, handling, and noise absorption.
When testing on wet and dry roads, this tire performs better than other same class tires.
Although Toyo Celsius is an all-rounded tire, they remain a small problem, as the tires do not perform well on rough roads such as gravel. Therefore, we do not recommend using this tire for off-road.
Conclusion
Are you satisfied with our Toyo Celsius CUV review? The CUV is a premium all-season tire that perfectly matches those who are tired of changing tires in harsh weather. If you are in this case, put it on the shopping cart right now!
Competitors & Alternatives
| | |
| --- | --- |
| Treadlife Warranty: | 5 Years / 60,000 Miles Half mileage for rear if different size than front |
| Uniformity Warranty: | First 1/32″ of wear |
| Workmanship & Materials Warranty: | 5 Years / Free replacement first 25% of wear, then prorated to final 2/32″ remaining depth |
| Manufacturer's Road Hazard Warranty: | None |
| Manufacturer Special Warranty: | No Regrets 500 MIle or 45 Day Trial (1) |
| Additional Information: | (1) Whichever comes first, must purchase 4 |
| 16″ | | 17″ | |
| --- | --- | --- | --- |
| 215/70R16 | | 225/55R17 | 235/60R17 |
| 235/70R16 | | 225/60R17 | 235/65R17 |
| | | 225/65R17 | P245/65R17 |
| | | 235/55R17 | 265/70R17 |
| 18″ | | 19″ | |
| --- | --- | --- | --- |
| 225/55R18 | 255/55R18 | 225/55R19 | P245/55R19 |
| 235/55R18 | P255/65R18 | 235/45R19 | 255/50R19 |
| 235/60R18 | 265/60R18 | 235/50R19 | P255/60R19 |
| P235/65R18 | 265/65R18 | 235/55R19 | 265/50R19 |
| 245/60R18 | 275/65R18 | | 275/55R19 |
| 20″ | | | |
| --- | --- | --- | --- |
| P235/55R20 | 275/40R20 | | |
| P245/50R20 | 275/55R20 | | |
| 255/50R20 | 275/60R20 | | |
| 265/50R20 | LT 35X11.50R20 | | |
Celsius CUV prices range approximately from $118.48 – $235.78 – Tirebuyer
Falken EUROALL SEASON AS210
Goodyear Vector 4Seasons Gen 3
BFGoodrich g Grip All Season 2
Bridgestone Weather Control A005 EVO
Continental AllSeasonContact
Nokian WeatherProof
Toyo Celsius Cuv – Compare Prices
We found 6 online tire retailers selling Toyo Celsius Cuv. Refer to the details below to get the best price:
Toyo Celsius Cuv
PRICE
SOLD BY
 

Offers

$130.99

Offers

Offers

$126

Offers
Celsius CUV Ratings By Consumer