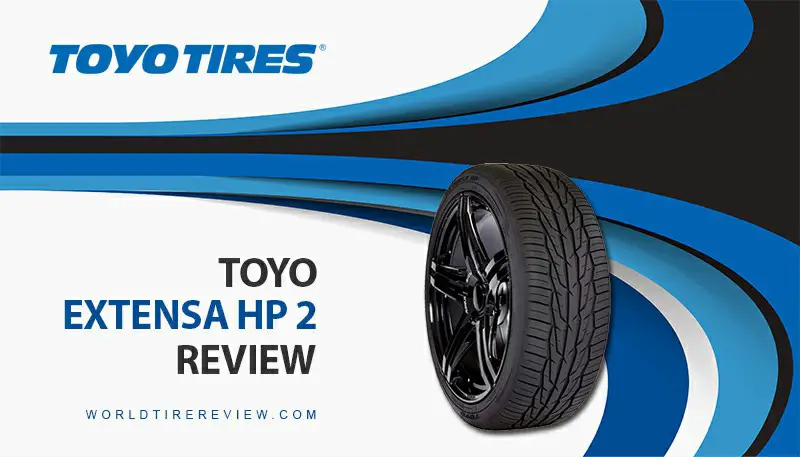 The tires always play an extremely important role in having great trips. Therefore, besides choosing a suitable car, people also pay attention to selecting the tires. 
There are many types of this product on the market today, which makes you confused to have the right decision. Don't worry! This post will bring you an item with many outstanding features through Toyo Extensa HP II. 
In the year 2017, Toyo Tire U.S.A introduced one of its flagship products: Toyo Extensa HP 2 – an all-season tire for low-budget drivers who want to improve performance levels, especially for passenger cars. It brings the users a comfortable driving mind with the 45,000-mile warranty, whereas affordable prices still remain.
Compared with Extensa HP, its predecessor, Toyo Extensa HP 2, owns the ability to stop up to about 31 feet shorter in wet conditions, thanks to the compound of special silica and new tread design. Besides, double-cut and single-cut tapers in this tread block also improve the braking performance.
Moreover, Toyo Extensa HP 2 features multi-wave sipes to minimize the wear, which brings a more smooth, not too noisy experience and modern looks. It is also effective in maintaining road traction with light snow.
HP 2 is now available with a range of more than 50 sizes from 15 inches to 20 inches in diameter with two speed-rating of V and W. Of course; all items are included with a 45000-mile warranty. 
Pros & Cons
View more: Toyo Extensa A/S Tire Reviews
Toyo Extensa HP 2 Test Drive
We know that finding decent tires to work fine and fit the wheel while being affordable may be such a challenge.
The new Toyo Extensa HP 2 will not disappoint you in that case. It is a great addition to the HP previous model. Generally, it works very well on wet and snowy streets. Wet traction and braking performance are always a big concern of the older Extensa; however, Toyo has perfectly solved this problem with HP 2.
Moreover, one more aspect we have concerned with this tire is comfort when riding over rough pavement and potholes. They can be more softened a little. Winter traction is fine in light snow, but it may not perform that well for heavy amounts of snow.  Like most other all-season tires, snow or ice in a couple of inches may be a problem.
Besides increasing traction, the steering system is responsive enough to bring us a good feel. Though this tire creates a little bit of noise, we still feel satisfied as it is not as noisy as many same value-priced ones.
Conclusion
Overall, this is a mid-level tire that performs well above its price class. Suppose you want a good-looking and quiet tire at an affordable price with fine braking and traction capabilities. HP 2 is perfect! 
Here is the Review that may help you know clearly about one of the best tires on the market today.
Competitors & Alternatives
| | |
| --- | --- |
| Treadlife Warranty: | 5 Years / 45,000 Miles Half mileage for rear if different size than front |
| Uniformity Warranty: | First 1/32″ of wear |
| Workmanship & Materials Warranty: | 5 Years / Free replacement first 25% of wear, then prorated to final 2/32″ remaining depth |
| Manufacturer's Road Hazard Warranty: | None |
| Manufacturer Special Warranty: | No Regrets 500 MIle or 45 Day Trial (1) |
| Additional Information: | (1) Whichever comes first, must purchase 4 |
| 15″ | | 16″ | |
| --- | --- | --- | --- |
| 195/45R15 | 195/55R15 | 185/55R16 | 205/55R16 |
| 195/50R15 | | 195/50R16 | 215/55R16 |
| | | 195/55R16 | 225/50R16 |
| | | 205/45R16 | 245/50R16 |
| | | 205/50R16 | |
| 17″ | | 18″ | |
| --- | --- | --- | --- |
| 205/40R17 | 225/50R17 | 225/40R18 | 245/40R18 |
| 205/45R17 | 225/55R17 | 225/45R18 | 245/45R18 |
| 205/50R17 | 235/45R17 | 225/50R18 | 245/55R18 |
| 215/45R17 | 235/55R17 | 235/40R18 | 255/35R18 |
| 215/50R17 | 245/45R17 | 235/45R18 | 255/45R18 |
| 215/55R17 | 255/45R17 | 235/50R18 | 275/40R18 |
| 225/45R17 | 275/40R17 | | |
| | 315/35R17 | | |
| 19″ | | 20″ | 22″ |
| --- | --- | --- | --- |
| 235/35R19 | 225/35R20 | 275/30R20 | 265/35R22 |
| 245/40R19 | 245/35R20 | 275/35R20 | |
| 245/45R19 | 245/40R20 | 275/40R20 | |
| 255/35R19 | 245/45R20 | P 225/50R17 | |
| 275/40R19 | 255/35R20 | | |
Extensa HP II prices range approximately from $65.07 – $214.51 – Tirebuyer
Maxtrek FORTIS T5
BFGoodrich gForce Profiler 2
Triangle SporteX TH201
Zeetex HP2000 vfm
Lassa Impetus Revo 2 Plus
Yokohama AVS Sport
Toyo Extensa HP 2 – Compare Prices
We found 4 online tire retailers selling Toyo Extensa HP 2. Refer to the details below to get the best price:
Toyo Extensa HP 2
PRICE
SOLD BY
 

Offers

$67.68

Offers

$68
Extensa HP 2 Ratings By Consumer