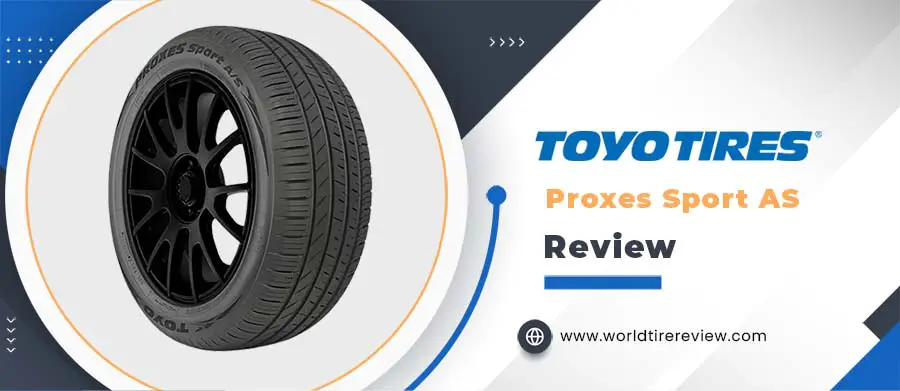 Toyo Proxes Sport AS tire has many outstanding advantages compared to other tires in the same price segment. Before discovering its features, let's find out more about the manufacturer – Toyo.
About Toyo
Toyo was founded in 1945 and is headquartered in Japan. The tire company has supplied a wide range of products to the Australian market for over 40 years.
Toyo is also a well-known player in the enthusiast community, focused on providing a thrilling driving experience for car drivers and ensuring year-round durability and traction.
Their products have a wide selection of premium tires for high-performance family and luxury vehicles, 4-seaters, SUVs, and heavy-duty and light-commercial pickups.
Features: Toyo Proxes Sport AS Reviews 
Design
Large blocks outside the tread design to increase contact and improve the rigidity, enhancing handling and steering responsiveness. It provides an excellent grip on the road.
The manufacturer has designed this tire with many grooves to create a large water channel for better-wet weather performance in all weather conditions.
The tire also comes with multi-wave sipes, preventing irregular wear by locking the blocks together. This way, it can make the ride quieter and more comfortable.
The inside of the block has a unique notched rib design that improves block rigidity and braking performance during cornering. 
Performance
Thanks to the design, these tires bring smoothness and comfort in handling, especially when it's pouring. 
The product always provides good traction on both wet and dry roads. So, whether accelerating, cornering, or braking, the tires' performance is stable.
Yet, the noise level might be an annoying point, especially if you drive at a higher speed.
Pros & Cons
Toyo Proxes Sport A/S: Tire Drive Test
As a tire enthusiast who has driven many vehicles with different tires, we wanted to share our thoughts on tires and why we chose them as follows:
Our real experience
Toyo is one of our top recommended tire manufacturers because of its active role in the business, large tire assortment, and high product reputation. Typically, a brand is renowned for one or two models; however, its tires are compatible with a wide range of tires. 
Furthermore, its tires are less expensive than competitors' products while providing excellent safety and user experience.
The product was the newest performance tire in the Toyo investment portfolio when we tested it. It is one of the top all-season tires with exceptional performance and perfect traction.
We experienced this product line in some particularly bad rainstorms, and it made us surprised by how effectively it gripped the road. 
Moreover, on soaked stretches of road where I had previously hydroplaned, these tires kept my car confidently tracking in the right direction. Thus, we totally feel safe with this ultra-high performance tire.
However, although it is an all-season tire, its traction in the snow is not impressive. It can be a problem if you use it in thick-snow conditions.
Another minus point of the product is the noise. Despite the improvement of multi-wave sipes to reduce noise, it might bring annoyed feelings when you drive at high speed.
Why should you choose this tire?
This tire's asymmetrical tread design offers sufficient grip and traction for safe driving on public roads.
It is extremely responsive behind the wheel in both dry and wet situations.
The price is reasonable, and the usage duration is extensive.
Conclusion
As we mentioned in this review, it can bring you excellent traction in dry and slippery roads, whether accelerating, cornering or braking. So, if you want a tire suitable for all seasons, high durability, and a good driving experience, you can give this product a try. Then, do not hesitate to share your experience with us.
| | |
| --- | --- |
| Treadlife Warranty: | 25,000 Miles |
| Manufacturer's Road Hazard Warranty: | None |
| 16 | | 17 | |
| --- | --- | --- | --- |
| 205/55R16 | | 215/45R17 | 235/50R17 |
| | | 225/45R17 | 245/40R17 |
| | | 225/50R17 | 245/45R17 |
| | | 235/40R17 | 245/50R17 |
| | | 235/45R17 | |
| 18 | | 19 | |
| --- | --- | --- | --- |
| 215/40R18 | 245/40R18 | 225/35R19 | 255/40R19 |
| 215/45R18 | 245/45R18 | 225/40R19 | 255/45R19 |
| 225/40R18 | 245/50R18 | 225/45R19 | 265/30R19 |
| 225/45R18 | 255/35R18 | 235/35R19 | 265/35R19 |
| 235/40R18 | 255/40R18 | 235/40R19 | 275/35R19 |
| 235/45R18 | 265/40R18 | 245/35R19 | 285/30R19 |
| 235/50R18 | 265/45R18 | 245/40R19 | 285/35R19 |
| 235/55R18 | 275/40R18 | 245/45R19 | 285/40R19 |
| 245/35R18 | 295/35R18 | 245/50R19 | 295/30R19 |
| | | 255/30R19 | 325/30R19 |
| | | 255/35R19 | |
| 20 | | 21 | |
| --- | --- | --- | --- |
| 225/30R20 | 265/35R20 | 245/35R21 | 265/35R21 |
| 225/35R20 | 275/30R20 | | |
| 235/35R20 | 275/35R20 | | |
| 245/35R20 | 275/40R20 | | |
| 245/40R20 | 285/30R20 | | |
| 245/45R20 | 285/35R20 | | |
| 255/35R20 | 295/30R20 | | |
| 255/40R20 | 295/35R20 | | |
| 255/45R20 | 315/35R20 | | |
Toyo Proxes Sport AS prices range approximately from $118.00 to $337.00 (Discount Tire)
prices range approximately from
Toyo Proxes Sport A/S – Compare Prices
We found 4 online tire retailers selling Toyo Proxes Sport A/S. Refer to the details below to get the best price
Toyo Proxes Sport A/S
PRICE
SOLD BY

Offers




Offers




Offers




Offers



Proxes Sport A/S Ratings By Consumer