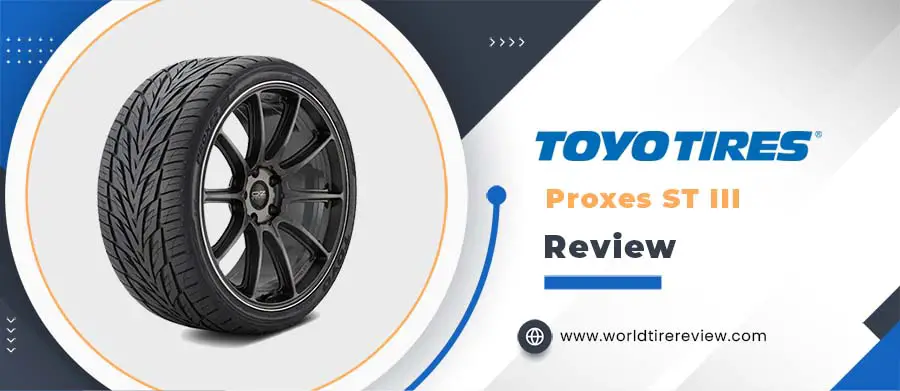 Introduction
About Toyo
First, before going to the in-depth Toyo Proxes ST III, we need to know some basic information about the manufacturer – Toyo.
Toyo was founded in 1945 and is headquartered in Japan. The tire company has supplied a wide range of products to the Australian market for over 40 years.
In 1947, this tire manufacturer exported the first truck tire model. Thanks to the high-quality and affordable product, it made a remarkable mark in the market at the time.
Features: Toyo Proxes ST III Reviews
With the debut of the Proxes S/T as the sport truck and SUV trend, Toyo Tires was one of the first brands to offer sport truck tires. Its design and technology, when combined, help to make it the new standard in the segment.
Design
The Toyo Proxes ST III is a trendy tread design tire with a distinctive pattern for a distinct style and aesthetic.
This product features a directional tread pattern and two clear tread zones where specialized tread designs are molded into ideal tread patterns. 
In particular, the tread pattern on this tire is a distinctive "Dual V" pattern. This is a visually pleasing design, but it also helps enhance drainage. The low-profile design enhances the Proxes ST's sporty look and feel.
The dry zone of the Proxes ST 3 features strongly textured tread blocks. The water channels of Toyo tires, which have a unique tread pattern, are included in the intermediate wet zone.
In addition, for improved grip, the central section includes a tread pattern, which is imprinted or marked with grooves.
Internally, Proxes ST III truck tires are built of two-layer polyester cord and are reinforced with a spiral casing and high-tensile double steel belts for durability and puncture resistance.
Performance
With its aggressive tread design, this tire is appealing from the outside. These wide and directional grooves on rainy roads allow water to drain more easily and boost water resistance. 
The compound used in tire rubber production provides excellent traction in most weather conditions.
Moreover, the adoption of a tread design and this resilient rubber compound can extend tire life even further. The product worn out evenly can last longer and maintain grip in wet circumstances. 
The tire's internal structure is reinforced, allowing it to bear the pressure of greater loads. So, when braking forcefully or steering erratically, the high traction can assist in pulling the tire and maintaining the tire shape throughout the movement. 
As with any all-season tire, winter handling is tolerable. Although traction in light snow is good, traction in the muck and thick snow is poor. This tire is not intended for off-road driving in muddy conditions.
Pros & Cons
Toyo Proxes ST III: Tire Drive Test
Feature analysis
When we have experienced this product line on wet and dry pavement, it can provide adequate traction for a smooth and stable ride. 
The tire's braking and acceleration are above average. Yet, although turning grip is greater than most truck/SUV tires, we still judge it to be below average.
With this model, Toyo has done an outstanding job reducing road noise. Over long distances, you'll find the ride to be comfortable and responsive.
Besides, winter weather performance is a must-mentioned minus point. It can withstand a coating of dust 1 to 2 inches deep, but anything thicker becomes problematic and difficult to handle.
In general, the Proxes ST 3 represents fair value for the quality it brings. While it isn't the finest in the segment, it provides adequate performance for a longer lifespan.
Why do you choose this tire?
The dry zone of the Proxes ST 3 features strongly textured tread blocks. Moreover, on rainy roads, the intermediate wet zone improves traction.
A double-layer polyester cable offers a smoother, more comfortable ride within the tire. The area is strengthened with high-tensile twin steel wraps and straps for enhanced durability and puncture resistance.
Conclusion
If you are bewildered when shopping for tires, this review has provided you with an affordable option while still ensuring good quality. 
Although this product line is not the best one, it's worth your consideration if you live in a country without heavy snow.
Competitors & Alternatives
| | |
| --- | --- |
| Treadlife Warranty: | 5 Years / 40,000 Miles  Half mileage for rear if different size than front  |
| Uniformity Warranty: | First 1/32″ of wear |
| Workmanship & Materials Warranty: | 5 years / Free replacement first 25% of wear, then prorated to final 2/32″ remaining depth |
| Manufacturer's Road Hazard Warranty: | None |
| Manufacturer Special Warranty: | No Regrets 500 MIle or 45 Day Trial (1) |
| Additional Information: | (1) Whichever comes first, must purchase 4 |
warranty summary for replacement tires purchased at
Tire Rack
| 17 | | 18 | |
| --- | --- | --- | --- |
| 225/65R17 | 275/55R17 | 225/55R18 | 255/60R18 |
| 235/65R17 | 275/60R17 | 235/60R18 | 265/60R18 |
| 255/60R17 | | 235/65R18 | 285/60R18 |
| | | 245/60R18 | 295/45R18 |
| | | 255/55R18 | |
| 19 | | 20 | |
| --- | --- | --- | --- |
| 235/55R19 | 255/55R19 | 235/55R20 | 275/50R20 |
| 255/50R19 | | 245/50R20 | 275/55R20 |
| | | 255/45R20 | 285/50R20 |
| | | 255/50R20 | 295/40R20 |
| | | 265/45R20 | 295/45R20 |
| | | 265/50R20 | 305/50R20 |
| | | 275/40R20 | 315/35R20 |
| | | 275/45R20 | |
| 21 | | 22 | |
| --- | --- | --- | --- |
| 275/50R21 | 295/35R21 | 265/35R22 | 295/30R22 |
| | | 265/40R22 | 295/35R22 |
| | | 275/40R22 | 305/40R22 |
| | | 285/35R22 | 305/45R22 |
| | | 285/40R22 | 335/25R22 |
| | | 285/45R22 | |
| 24 | | | |
| --- | --- | --- | --- |
| 285/35R24 | 295/30R24 | | |
| 285/40R24 | 305/35R24 | | |
| 295/30R24 | | | |
| 305/35R24 | | | |
Toyo Proxes ST III prices range approximately from $151.34 to $354.51 (Tire Rack)
Pirelli Scorpion Zero All Season
Toyo Proxes ST III – Compare Prices
We found 5 online tire retailers selling Toyo Proxes ST III. Refer to the details below to get the best price
Toyo Proxes ST III
PRICE
SOLD BY

Offers

Offers




Offers




Offers




Offers



Proxes ST III Ratings By Consumer