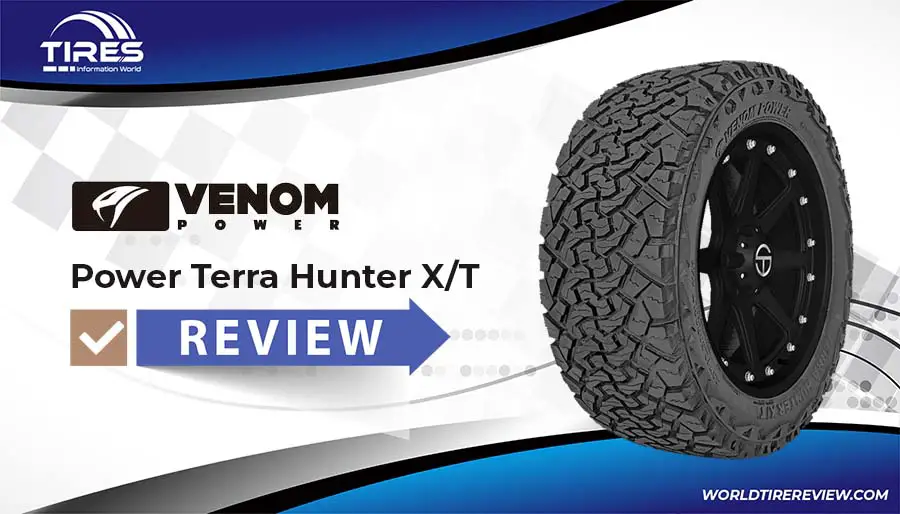 Introduction
The tire market is increasingly open to multinational companies. Venom Power tire company is a manufacturing company from China. In recent years, their tires have gradually won the hearts of many consumers worldwide.
We are glad to give you an overall Venom Power Terra Hunter X/T as of today's article. Now, jump-start into the details of the above ones.
The most special feature of this tire is the hybrid design. This brand has been integrated with features to perform well on both the road and the terrain.
In terms of design, this product has a rather aggressive tread texture. Sidewalls with rubber material will create a fairly solid feeling to move on different terrains when viewed from the front. More especially, there are small spike blocks to increase the ability to grip the road.
This type of design will certainly reduce noise because the friction of the rubber with the road is always guaranteed, not to mention the gaps in the middle of the tire that can create zones for easy air escape.
You can rest assured to make trips because dirty or sticky substances are completely removed during the move. In addition, the vehicle's performance is always smooth no matter what the terrain, typically rocks and mud.
However, weather conditions seem like an aspect we need to pay a lot of attention to. Venom Power Terra Hunter X/T is not recommended when traveling in winter weather.
Available in various sizes, these tires have speed ratings that range from Q to S. These letters represent the maximum speed the tire can deliver to the vehicle at around 100mph, possibly up to 112mph.
Pros & Cons
Personal Opinions
Overall, we rate this tire as suitable for the majority of users. If you are looking for an off-road tire for your vehicles, you should not miss this one.
Griping the road and being flexible in all terrains is a huge plus. With the multifunctional tread design, you can fully enjoy the journey on terrains, from soft to uneven.
In addition, the tread is the design that promotes the vehicle's forward motion. Traction is always maintained so that the vehicle can roll easily. The constant surface contact is improved quite a bit to increase the car's handling and control.
Although it has many pretty good features to remove mud and snow to prevent vehicles from getting stuck in, we still recommend that you do not move on winter days. It can still move, but we think the manufacturer should optimize the component to make it even better.
Compared to other products on the market today, you will be surprised at their price. While you have to spend more than 1500 dollars for products with the same design, the payment is even less than 1000 dollars for a set of four. Thus, this product is quite affordable for you.
The noise is unavoidable when using off-road tires. In constract, this brand is less noisy, up to 35 miles per hour. Rest assured that it will not create any discomfort, so you can enjoy a nice ride.
The 50,000-mile warranty is a pretty good policy for Venom Power. Still, it has a tire size requirement – only for 22" and under. Furthermore, the installed tire must be rotated in the prescribed pattern, and you must present a road document as proof.
The vehicles that can be compatible with this product are quite affordable, most commonly trucks or SUVs. Some special products require more specific cars.
| | |
| --- | --- |
| Treadlife Warranty: | 50,000 Miles |
| Manufacturer's Road Hazard Warranty: | None |
warranty summary for replacement tires purchased on or after 06/01/19 at
| 16 | | 17 | |
| --- | --- | --- | --- |
| P265/70R17 | LT285/75R16 | P265/70R17 | LT265/70R17 |
| LT265/75R16 | | 33X12.50R17 | LT285/70R17 |
| | | 35X12.50R17 | |
| 18 | | 20 | |
| --- | --- | --- | --- |
| 33X12.50R18 | LT275/70R18 | 275/55R20 | LT275/55R20 |
| 35X12.50R18 | LT285/65R18 | 275/60R20 | LT275/60R20 |
| | | 33X12.50R20 | LT275/65R20 |
| | | 35X12.50R20 | LT285/50R20 |
| | | 37X13.50R20 | LT285/55R20 |
| | | LT265/50R20 | |
| 22 | | 24 | |
| --- | --- | --- | --- |
| 285/45R22 | 35X12.50R22 | 285/40R24 | 35X13.50R24 |
| 305/40R22 | 35X13.50R22 | 33X13.50R24 | 35X15.50R24 |
| 33X12.50R22 | 35X15.50R22 | 33X14.50R24 | 37X13.50R24 |
| 33X14.50R22 | 37X13.50R22 | | |
| 26 | | | |
| --- | --- | --- | --- |
| 33X13.50R26 | 35X15.50R26 | | |
| 33X14.50R26 | 37X13.50R26 | | |
| 35X13.50R26 | | | |
Venom Power Terra Hunter X/T prices range approximately from $166.99 to $642.99 (Simple Tire)
Venom Power Terra Hunter X/T – Compare Prices
We found 3 online tire retailers selling Venom Power Terra Hunter X/T. Refer to the details below to get the best price
Venom Power Terra Hunter X/T
PRICE
SOLD BY
 

Offers




Offers




Offers



Power Terra Hunter X/T Ratings By Consumer