Summer has arrived, and it's high time you replace your worn-out winter tires with a brand-new set of shiny and durable summer tires for endless action.
Summer tires, as the name tells, are made for hot seasons. The treads are designed for extreme performance on off-road terrains and dry environments, with enhanced traction force and balance. Those are the key factors to ensure the quality of good summer tires.
Now we will learn how to choose the summer tires that fit your vehicles the most, and then we will take a look at the top picks on the market. Time to find out!
How To Choose Summer Tires?
When it comes to choosing the right summer tires for driving, you should consider some characteristics of the tire and your driving style. Moreover, you should only replace your tires if they are too worn out or for some special purposes.
When Should I Replace My Tires?
The well-being of the tires depends on the depth of the tread because it is where tires directly come in contact with the ground. The treads are worn out through time. It would be best if you did not keep tires with tread lines lower than 1.6 millimeters deep.
Over time, the elasticity of the tires may decrease when not used regularly, so the ideal lifespan for a tire is ten years in use or six years in storage. You'd better replace your tires after such a period.
Factors To Consider
Before buying a set of new tires, you should take the following factors into account:
Driving style: whether you need summer tires for daily drivers or off-road driving.
Type of vehicle: You wouldn't need heavy-duty tires for normal on-road commuting.
Budget: don't hesitate to spend on a good set of tires.
Mileage: Check the tread life for the estimated mileage it can cover. Still, mileage is not the best measure of reliability.
Manufacturer's recommendation: Always read the manual before making changes.
Top 7 Best Summer Tires For Your Cars
1. Michelin Pilot Sport 4S – Best Overall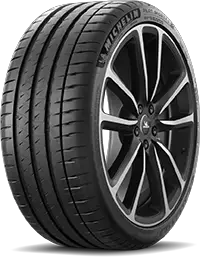 Specifications

Category: Autocross
Warranty: 30,000 miles
Max Speed: 186 mph (Y Rated)
Load Range: XL
Load Index: 84 (1102 lbs)
Sizes Available: 17″, 18″, 19″, 20″, 21″, 22″, 23″

Ratings
Arguably one of the summer tires on our list, the Michelin Pilot Sport 4S tire possesses every characteristic of a champion. The treads of the tires can reach up to 9.5/32″, providing unparalleled traction strength for the wheels regardless of the road condition.
Originally, the product is specially designed for sports cars and high-performance automobiles, with distinguishably straight and perpendicular tread patterns. This helps improve the grip every time you do a hard turn or a handbrake.
In addition, the tire's model is built on multiple compound structures with a dynamic response built in. The high-speed performance of Michelin Pilot Sport 4S is also quite formidable, thanks to the Bi-Compound technology with two different types of elastomers, it can withstand extreme courses of mud and stone paths at ease.
Since it is designed specifically for summer roads, Pilot Sport 4S's performance under colder weather is significantly reduced. It is made for high-end vehicles, so the price is also higher than most other similar products.
2. Michelin Pilot Super Sport – Runner Up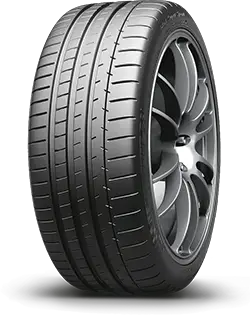 Specifications

Category: UHP
Warranty: 30,000 miles
Max Speed: 186 mph (Y Rated)
Load Range: XL
Load Index: 88 (1235 lbs)
Sizes Available: 17″, 18″, 19″, 20″, 21″, 22″, 23″

Ratings

No Review Yet
Coming up in second place is the Michelin Pilot Super Sport. Like Michelin Pilot Sport 4S, this model is also designed specifically for supercars and terrain sedans in action. However, the tire comes with a wider range of selection for more wheel sizes as one of the high-performance summer tires.
On top of that, these tires are lighter than most similar products, which significantly enhances handling. Michelin's FAZ technology makes Michelin Pilot Sport 4S's grip and balances formidable against dry and muddy conditions at high speed.
In addition, a layer of sound barrier is featured on the interior of the tire, allowing little to no sound to escape while maneuvering.
On the contrary, Pilot Super Sport may cause light oversteering on wet roads. Its price is also slightly higher than usual.
3. Continental ExtremeContact Sport – Best For Wet Roads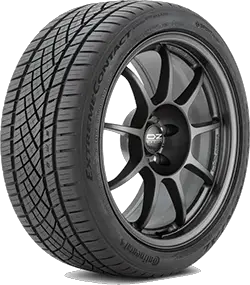 Specifications

Season: Summer
Warranty: 30,000 mils
Max Speed: 168 mph (W Rated)
Load Range: SL
Load Index 84 (1102 lbs)
Sizes Available: 15″, 16″, 17″, 18″, 19″, 20″

Ratings
Built by Continental in 2017, ExtremeContact Sport is an excellent choice for adventurers and racers alike. The most highlighted trait of this product is its enhanced traction force under wet weather, thanks to the dual-ply sidewall structure.
There are 5 to 6 asymmetric tread patterns on the tread surface to improve the handling. Using Silane technology, the prints are optimized with large grooves to help avoid hydroplaning and increase stability on slippery paths. It also effectively suppresses noise while traveling.
Despite its great performance on wet roads, it is recommended to use ExtremeContact Sport on-road only. The treads can be damaged when they come in contact with small rocks and sharp particles.
4. Pirelli P Zero Nero All Season – Best Quiet Tire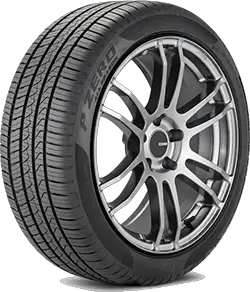 Specifications

Category: All Season
Warranty: No
Max Speed: 168 mph (W Rated)
Load Range: XL
Load Index: 91 (1356 lbs)
Sizes Available: 17″, 18″, 19″, 20″

Ratings
Regardless of terrain, Pirelli P Zero Nero works silently and efficiently thanks to the Pirelli Noise Canceling System (PNCS) which balances the silica inside the tire, thus suppressing all noises.
Aside from PNCS, this product uses RunFlat technology, developed by Pirelli. Its tread lines are well designed to effectively eject rocks, sand, and mud, at the same time allowing you to continue driving for 50 miles after being punctured.
The only weakness of this tire is that the traction pressure is not as powerful as other tires during hard braking. It is recommended not to use this tire for off-road traveling.
5. Goodyear Eagle Sport All-Season – Best for Dry Terrains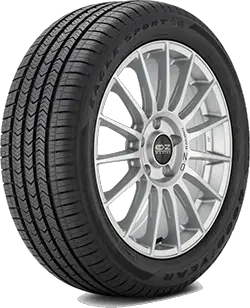 Specifications

Sizes Available: 15" to 20"
Speed Rating: H, V
Mileage Warranty: 50000 mile
Rim Width Range: 5.5" to 11"
Overall Diameter: 23.4" to 32.1"
Revs Per Mile: 651 to 892
Max Load Capacity: 1,653 lbs
Tread Depth: 10/32"
Max Inflation Pressure: 51 psi

Ratings
A masterpiece from the Goodyear brand, Eagle Sport All-Season is designed to brave paths all year round. Its performance is unparalleled when traveling on dry paths and light snow. This is credited to the sipes on the edge of the surface, which were made with a special tread compound for enhanced dry and wet traction.
The asymmetric tread design with wide tread blocks is grouped to increase dry and wet traction and boost the rotating speed of the wheels. Both the grip and durability are greatly improved within the design.
Occasionally, the tires make noises if they contact with small rocks and particles. Its wet traction is not so great either.
6. Yokohama Advan Sport A/S – Best For Budget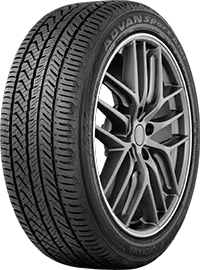 Specifications

Category: All Season
Warranty: 55,000 miles
Max Speed: 168 mph (W Rated)
Load Range: XL
Load Index: 93 (1433 lbs)
Sizes Available: 16″, 17″, 18″, 19″, 20″, 21″

Ratings
If you are looking for budget tires, then Yokohama Advan Sport A/S is the right choice for you. This tire can travel in both dry and wet conditions efficiently with a light and simple design.
With the Bi-Compound technology, the amount of silica in the tire is balanced to provide an all-season grip, especially when traveling on highways in summer.
Even better, the 4-pitch tread design significantly contributes to the reduced noise. It is a blessing in summer driving when the increased friction escalates the noise.
From the reviews, the expectancy of this product is slightly lower than others. It is not recommended to travel too fast on these tires.
7. Bridgestone Dueler HP Sport – Best For Medium and Large-Sized Cars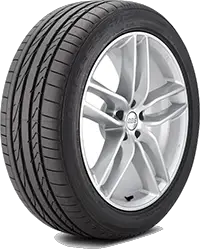 Specifications

Category: Summer
Warranty: No
Max Speed: 149 mph (V Rated)
Load Range: SL
Load Index: 91 (1356 lbs)
Sizes Available: 17″, 18″, 19″, 20″

Ratings

No Review Yet
The Bridgestone Dueler HP Sport is specially designed for larger automobiles such as 4x4s, light vans, and pickups. It is capable of handling heavy loads of up to 2403 lbs with outstanding traction power on every terrain.
This product features large blocks on the shoulder to enhance its stability while braving rough paths. A set of twin steel belts supports the inside of the tire to reinforce and balance the grip. The structure also helps increase the maximum speed of the vehicle.
Bridgestone Dueler HP Sport is a powerful tire; however, it is only designed for medium to large automobiles. Moreover, low temperature greatly affects its performance.
Summer Tires FAQs
Do All-Season Tires Wear Faster In Summer?
Most all-season tires tend to wear out quicker during hot weather because they are not specifically designed to withstand the heat. Their performance is great in general, but the heat in the summer can easily break the rubber structure inside the tire, making it wear out faster than usual.
Are Summer Tires Worth It?
Summer tires help improve the traction and handling significantly in hot seasons. It will boost your wheel's performance and durability, especially when traveling on rough terrains, under wet or dry weather. High-quality summer tires are much better than all-season tires in such conditions.
Which Is Better, All-Season Or Summer Tires?
The performance of both tires depends on the environmental conditions. All-season tires work better in cold and cool weather, while summer tires shine under the heat. It is recommended to prepare sets of different tires for every situation.
Are Summer Tires Bad In The Rain?
Most summer tires are designed to withstand wet and muddy conditions effectively. Popular brands such as Michelin, Continental, and Bridgestones have developed a lot of water traction technology for their products, ensuring great performance under the rain.
Will Summer Tires Crack In Winter?
Unfortunately, it is easy for summer tires to deteriorate if used in winter. As they are designed to combat the heat, the cold can easily freeze the surface of the tires. Frozen areas will be exposed to the weather later and leave tiny cracks on the tires, damaging the whole structure.
Final Verdict
With outstanding performance, Michelin Pilot Sport 4S has won first place in the battle of the best summer tires. With excellent traction strength and overall quality, this tire is totally worthy of its price and will surely bring you the most comfortable experience while traveling.
Depending on your preference, you can select other tires as trustworthy companions for your car. For example, Continental ExtremeContact Sport will keep you safe under heavy summer rains, or Yokohama Advan Sport As being a budget-friendly option for your vehicle anywhere, at any time.