Numerous factors determine the lifespan of your vehicles. Aside from materials and driving systems, tire replacement is also paramount. Though most car owners are confident in this regard, there might be certain areas they are not aware of. Hence, this article will strive toward the question.
When Is The Best Time to Buy Tires?
April (On Sales Season)
Our answer is April, which is a terrific month to locate excellent deals – as it is the travel season. 
Indeed, April kicks off the vacation period for most car proprietors. Thousands of families begin to map out their summer road excursions as their children are now out of school. Automobile owners will inevitably swarm to tire stores. 
Due to such fierce competition, local retailers and technicians will offer specials and discounts for the rush. It is a great opportunity to find your best bargains here.
October 
October is terrific timing to shop for winter tires. Once automobile owners begin their annual pilgrimage to tire dealers, you will find the most generous deals. Furthermore, most tire manufacturers and independent dealers often offer discounted pricing and special packages in anticipation of stiff competition.
Car brands strive to think of diverse promotion programs to ward off their rivals. For instance, a few will propose savings of up to 15% on individual brakes. Some provide "buy two get two" deals, while others deliver a refund of up to $200 should their customers purchase a set of four tires.
Still, remember to replace your tires immediately when they wear out sooner than expected. Do not wait until April or October for these tasks. Worn-down rubber might result in accidents, which incur even more expenditures.
Some drivers have more than enough funds – but do not need any tire replacement yet. In such cases, we still suggest you purchase new tires during these critical months and reserve them for later usage.
How Can I Know That My Tires Need Replacement?
At least four criteria are involved, including the timing, tread depth, damages, and expiry dates.
The Season
As we previously established, the best time to buy tires is October and April – since most discounts are more likely to occur within this timeframe. For those wishing to purchase winter tires, start your plan in September. Never put it off until November or December, when retailers often boost their pricing.
The Worn Tread
Treading is a critical component to consider. Do you find that your tread depth decreases to less than 1/16 of an inch? Then invest in a new one immediately. Cars with poor tread intensity are almost undrivable – and it is not even an exaggeration!
As per Goodyear, it is advisable to check tire tread depth every 3,000 miles. There are several approaches to detect whether new tires are an instant must for you: 
Test with a Penny: Insert a coin into the tread groove, and ensure that Lincoln's head is facing the other direction. Does all of his head fall into your line of vision? Then that means the tread level is shorter than 2/32 inch, indicating the need for replacement.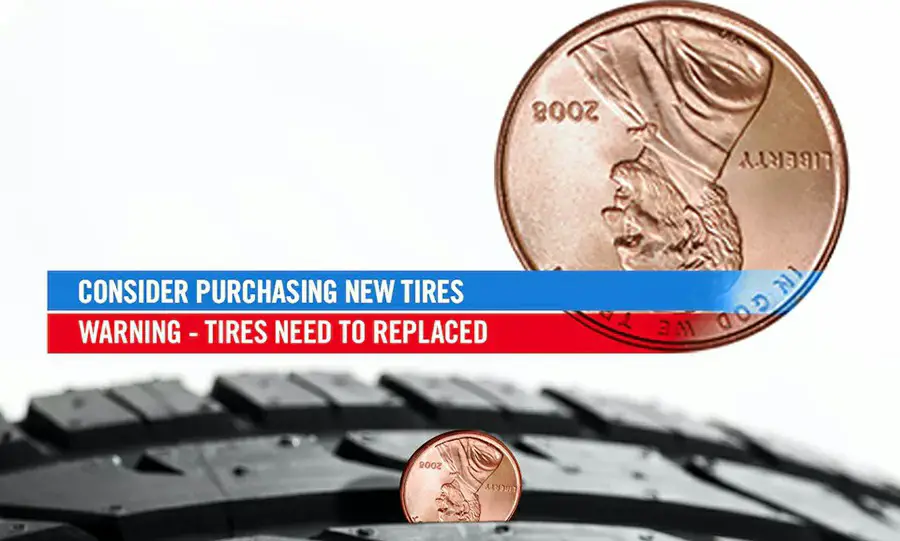 Test with a quarter: Put a quarter into the tread groove. If the tread hits Washington's skull, you can relax: it means the tread depth is at least 4/32 inch, facilitating longer usage.
Tire Tread Wear Indicators: Does your tread get on the same level as your worn bars (or the tread indicator?) Please get rid of it right away. 
The Production Date: Look on the sidewall for the tire's production date. It is encoded in the final four DOT-assigned digits in most cases.
Date of Expiration
Tires do have an expiration. After all, most of them are composed of rubber; as they approach the expiry date, these items will grow dry, form cracks, and finally split. 
Driving on expired ones might lead to an unexpected tire burst, causing traffic accidents. Once the expiry date is due, you should invest in some substitute options.
Inquire with the manufacturer about your tires' expiration date. Another quicker tactic is to look for the codes engraved onto the corner of your tires.
Tear and Wear
It would be best to change them before any wear and tear are visible. Operating your vehicle with bald tires is a risky maneuver – especially on rainy and slippery roads.
What to Consider When Buying Tires?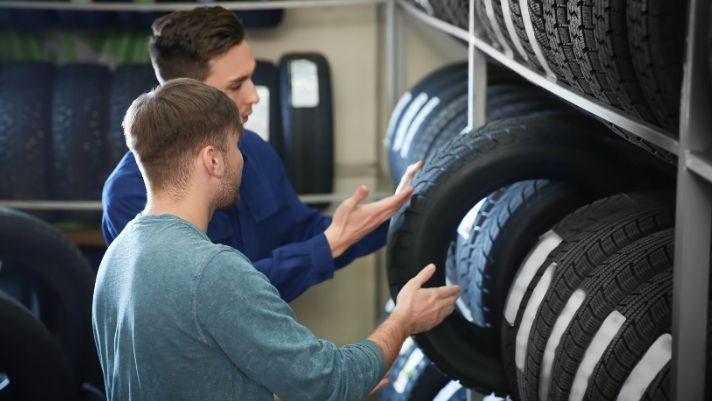 Ride Comfort
High-performing tires often incorporate tougher rubber, increasing their sensitivity to the tiniest steering changes, particularly at higher speeds. However, you might have to endure a rougher ride to trade for such functionalities. If you do not mind those odds, then there is no problem. Otherwise, opt for a more pleasant alternative.
Noise
Every car owner wishes to obtain the most abrasive tread design possible. Nevertheless, these bold systems might generate much more noise than usual, even during your high-speed travel. 
For highway drivers who find themselves greatly bothered by such volumes, consider purchasing a "Touring" type. They have been contrived to offer you a quieter ride.
Temperature
Temperature rating indicates the level of heat dissipation. Fortunately, you do not have to pay too much attention to it – since a higher-priced "A" tire does not always equate to better performance. For most drivers, "B" or "C" options are more than sufficient. 
Traction
Traction grade implies the grip intensity of your rubber composition. The ratings are as follows:  AA, A, B, and C. "AA" provides the best traction, while "C" is the most heinous. 
Do you often trek in the rain, snow, or ice? Then invest in a "AA" tire (An "A" is fine if your funds are rather restrained). In the case of people who seldom encounter hazardous situations – or wish to save some pennies – then we suggest you downgrade to a "B". 
Meanwhile, "C" is out of the question; only purchase it if you are certain your driving roads are 100% bone-dry. 
See more: Tire Speed Rating – All You Need For Driving Better
The Tread Attrition
The tread attrition rating displays the approximate lifespan of your treads when measured against a test circuit "base" rim. Thus, a tire rated "300" should triple its durability compared to a tire scored "100." 
Still, each manufacturer employs distinct criteria and test measurements for extrapolating tread. Therefore, it would be best to compare the tread ratings of varied tires produced by the same manufacturer.
Assess your current demands to secure the optimal investment. If you do not anticipate long-lasting cars, save some money by purchasing a "100" tire. On the other hand, turn to a "500" (or more) option should you feel quite generous with your budget and want the highest quality products.
What Are The Tips to Seize The Best Deal?
Consult a Specialist
Not everybody has a mechanic family member; fortunately, it only takes a few minutes to track down a trustworthy mechanic eager to answer your inquiries. 
Some professional advice will lend you further insights into the matter. Also, most experts are quite pleasant and strive to form a positive bonding relationship with their clients. So do not hesitate to give them a try!
Shop Around
Most specialists will cater to your best interest. However, in some rarer cases, they might prioritize their own benefits over yours. For instance, if you invest in certain products from a neighborhood garage – recommended by an expert – he might gain quite handsomely from this transaction. 
Of course, that is not always the case, but we cannot rule out such possibilities completely.
Do you wish to secure only the finest bargains? Then it would help if you did the legwork of searching around and comparing prices by yourself.
Purchase a Four-Piece Set 
Investing in a package of four will alleviate lots of staggering expenditures. It saves you much more money than two separate pairs each year.
Replacing all four tires is also the wisest course of action in terms of safety. After all, a vehicle with only one substandard tire might still cause accidents!
Where Can I Buy Them?
PriorityTire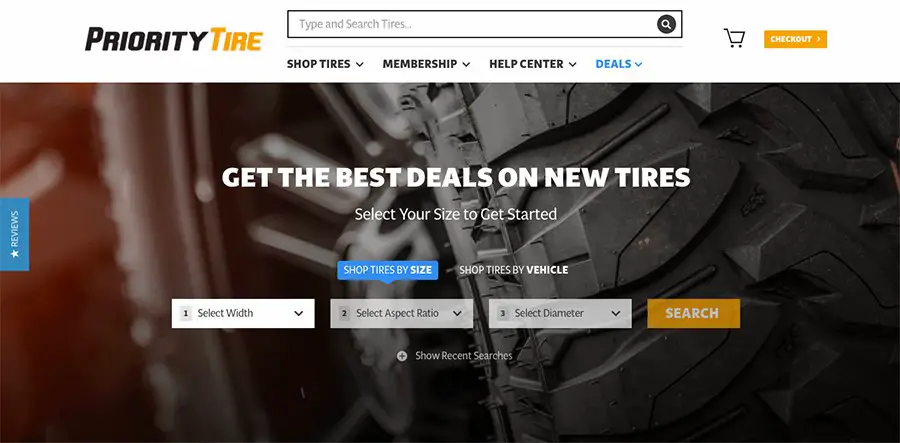 PriorityTire is an independent tire shop boasting some of the greatest tire bargains available. You may choose from a selection of manufacturers, including Accelera, Bridgestone, AMP, and Firestone. Thousands of alternatives are available for almost every vehicle with rims, including lorries, trailers, and ATV/UTVs.
And that is not even the best thing yet! Those who choose direct purchase via the PriorityTire website also get free FedEx delivery within the United States and a 90-day money-back guarantee.
Direct Discount Tire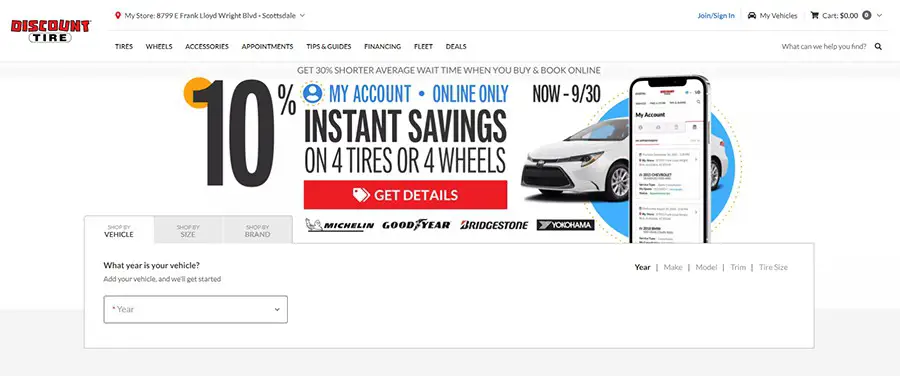 Direct Discount Tire specializes in the automobile sector, presenting millions of tire options suited to each type. All the items supplied cover a manufacturer's guarantee of material and craftsmanship deficits. There is also a "Certificate for Refund or Replacement" for any unrepairable road hazard, craftsmanship, or substance defect.
Michelin, Bridgestone, and Goodyear are a few popular tire manufacturers available at Direct Discount Tire. Unfortunately,  these products are only supplied inside the United States.
The Amazon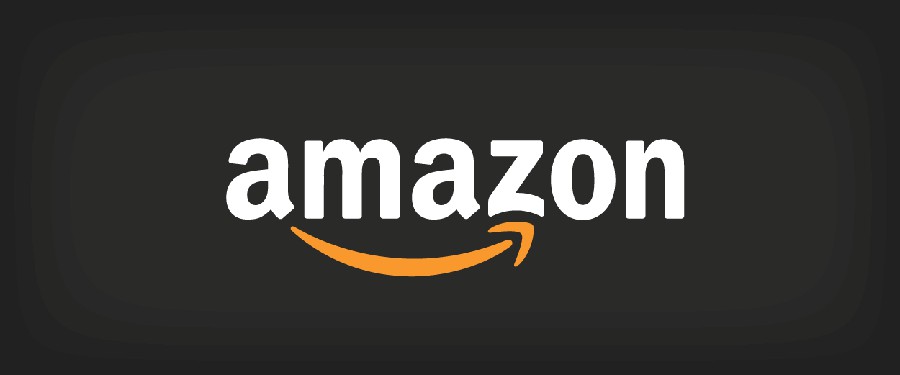 Amazon is a well-known platform for diverse and inexpensive alternatives. It delivers items from renowned labels such as Hankook, Goodyear, Firestone, and Cooper. 
A separate warranty and guarantee cover each product line. And unlike Direct Discount Tire, Amazon delivers your packages to every American state and overseas region. If you reside in Los Angeles and wish to buy high-quality Germany-based brakes, there will be no problem!
Do you want installation services as well? Then choose an Amazon Happiness Guaranteed provider after your checkout. 
Should I Buy Used Tires?
Old brakes might last for five years – provided that there is no damage, no patches, no uneven padding, and average tread wear. With so many criteria to fulfill, just go for a brand-new tire instead!
Conclusion
This article has tackled your question, With so many knicks and knacks to pay attention to, you may feel quite overwhelmed at first. But one or two shopping rounds will acquaint you in no time. Write to us for any extra help if needed.