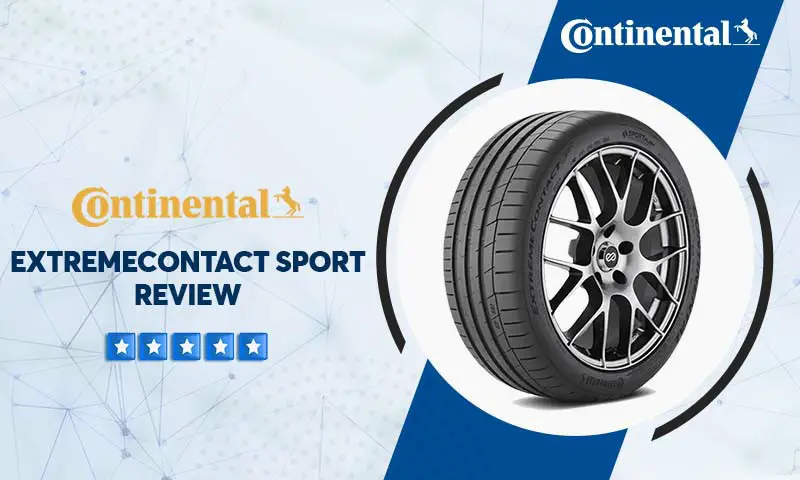 In this article, we will tell you more about our real experience. Let's talk a little bit about this Continental tire brand.
We immediately think of Michelin, Bridgestone, and even Continental when it comes to tires. Appearing on the market for more than 100 years, this is a familiar premium brand for drivers.
The general evaluation of the brand's products is quite diverse in terms of design, price, etc. When it comes to quality, it depends on the model. However, most of them are above standard.
This brand provides you with wheels according to your vehicle type, weather, and driving conditions. Because they're Premium, their prices are usually a bit higher than average.
Continental ExtremeContact Sport Overview
According to information from the manufacturer, this is a summer ultra-high performance tire. This tire is especially for passenger cars.
It has outstanding features such as:
Extreme impressive dry and wet handling
Good braking for both dry and wet pavements
Outstanding tread life for saving money
Premium with professional design
Of course, not all elements are the same as advertised. So we decided to go check it out with our own experience.
Pros & Cons
Personal Opinion
Manufacturer Information vs. Actual Experience
Dry Grip and Wet Grip
Dry and wet grip are the factors that make us most satisfied. Almost everything is devoted to improving this feature, from its material to its design.
The asymmetrical tread design with larger tread blocks on the outer edge incorporates a mid-rib, enhancing balance and better handling.
High-quality and reinforced polyester body, it's flexible and for precise handling. Thanks to this material, it gives more high responsiveness.
Because it is a summer tire, we were also quite nervous about traveling on wet roads. But the Continental ExtremeContact Sport didn't let us down, and it's relatively well-balanced with an effective grip. It did not create errors on quite slippery roads.
Snow And Ice Traction
One thing to keep in mind is that it's not for snow and ice tractions. Too slippery makes it difficult to balance, and performance is also poor. As this is a summer tire, we don't expect it to perform well in the winter.
Handling And Steering Feel
Its wide tread blocks on the outer shoulders are great support when cornering and turning. The middle ribbed part combines balance and holds the steering.
Safety issues can be considered guaranteed. We don't feel too unsafe when changing direction at high speed, even though we've been using it for more than six months.
Treadwear
Treadlife is the element that needs to be improved in this product. If you regularly travel at high speeds on track roads, wear and tear can happen quickly. This requires you to replace it in a shorter time than other products.
Road Noise And Comfort
Normally, the comfort of summer tires is not as comfortable as touring tires. However, in Continental ExtremeContact Sport, it doesn't bother us too much.
Maybe Continental tried to make the noise quieter and less annoying than rival companies. In addition, as mentioned above, soft wheels provide a more comfortable feeling. It is sturdy enough, but shock absorbance is very good, limiting discomfort when traveling on rough roads.
Who Should Buy The ExtremeContact Sport?
In general, it will be suitable for vehicles such as passengers or sedan cars. Good grip and balance help you ensure safety and performance on long roads.
If you wonder about sporty cars, this product can still be used. However, as we said, its treadwear is not impressive for you to control at high speed.
If you ask us if we want to buy it again, the answer is yes. Apart from being a bit unsatisfied with the treadwear, its other features are fine and we think it's worth the investment.
As a premium brand, it might be expensive for some people. Please consider carefully and choose the most suitable product for you.
Competitors & Alternatives
| | |
| --- | --- |
| Treadlife Warranty: | 6 Years / 30,000 Miles (1)  Half mileage for rear if different size than front  |
| Uniformity Warranty: | 1 Year / first 2/32″ of wear |
| Workmanship & Materials Warranty: | 6 Years (1) / Free replacement first year or 2/32″ of wear, then prorated until 2/32″ remaining depth |
| Manufacturer's Road Hazard Warranty: | 1 Year / first 2/32″ of wear (1) |
| Manufacturer Special Warranty: | 60-day or 1st 2/32″ trial (2), 3-yr flat changing |
| Additional Information: | (1) Repair voids warranty (2) Whichever comes 1st,purchase 4 exchange for another set of Conti. |
Warranty summary for replacement tires purchased on or after 01/01/18 at
Tire Rack
| 15 | | 16 | |
| --- | --- | --- | --- |
| 205/50ZR15 | | 195/50ZR16 | 205/55ZR16 |
| | | 205/45ZR16 | 225/50ZR16 |
| 17 | | 18 | |
| --- | --- | --- | --- |
| 205/45ZR17 | 245/40ZR17 | 215/40ZR18 | 255/45ZR18 |
| 205/50ZR17 | 245/45ZR17 | 225/40ZR18 | 265/35ZR18 |
| 215/45ZR17 | 255/40ZR17 | 225/45ZR18 | 265/40ZR18 |
| 225/45ZR17 | 255/45ZR17 | 235/40ZR18 | 275/35ZR18 |
| 225/50ZR17 | 275/40ZR17 | 235/50ZR18 | 275/40ZR18 |
| 235/45ZR17 | 285/40ZR17 | 245/35ZR18 | 285/30ZR18 |
| | | 245/40ZR18 | 285/40ZR18 |
| | | 245/45ZR18 | 295/30ZR18 |
| | | 255/35ZR18 | 295/35ZR18 |
| | | 255/40ZR18 | 335/30ZR18 |
| 19 | | 20 | |
| --- | --- | --- | --- |
| 225/35ZR19 | 265/40ZR19 | 235/35ZR20 | 275/40ZR20 |
| 225/40ZR19 | 275/30ZR19 | 245/35ZR20 | 285/30ZR20 |
| 225/45ZR19 | 275/35ZR19 | 245/40ZR20 | 285/35ZR20 |
| 235/35ZR19 | 275/40ZR19 | 245/45ZR20 | 295/30ZR20 |
| 235/40ZR19 | 285/30ZR19 | 255/35ZR20 | 305/30ZR20 |
| 245/35ZR19 | 285/35ZR19 | 255/40ZR20 | 305/35ZR20 |
| 245/40ZR19 | 295/35ZR19 | 265/35ZR20 | 315/35ZR20 |
| 255/30ZR19 | 305/30ZR19 | 275/30ZR20 | 335/25ZR20 |
| 255/35ZR19 | 325/30ZR19 | 275/35ZR20 | |
| 255/40ZR19 | 355/30ZR19 | | |
| 265/35ZR19 | | | |
ExtremeContact Sport prices range approximately from $117.00 to $346.00 (Discount Tire)
Bridgestone Potenza Sport
prices range approximately from
Continental ExtremeContact Sport – Compare Prices
We found 6 online tire retailers selling Continental ExtremeContact Sport. Refer to the details below to get the best price
Continental ExtremeContact Sport
PRICE
SOLD BY
 

Offers

Offers




Offers




Offers




Offers



ExtremeContact Sport Ratings By Consumer