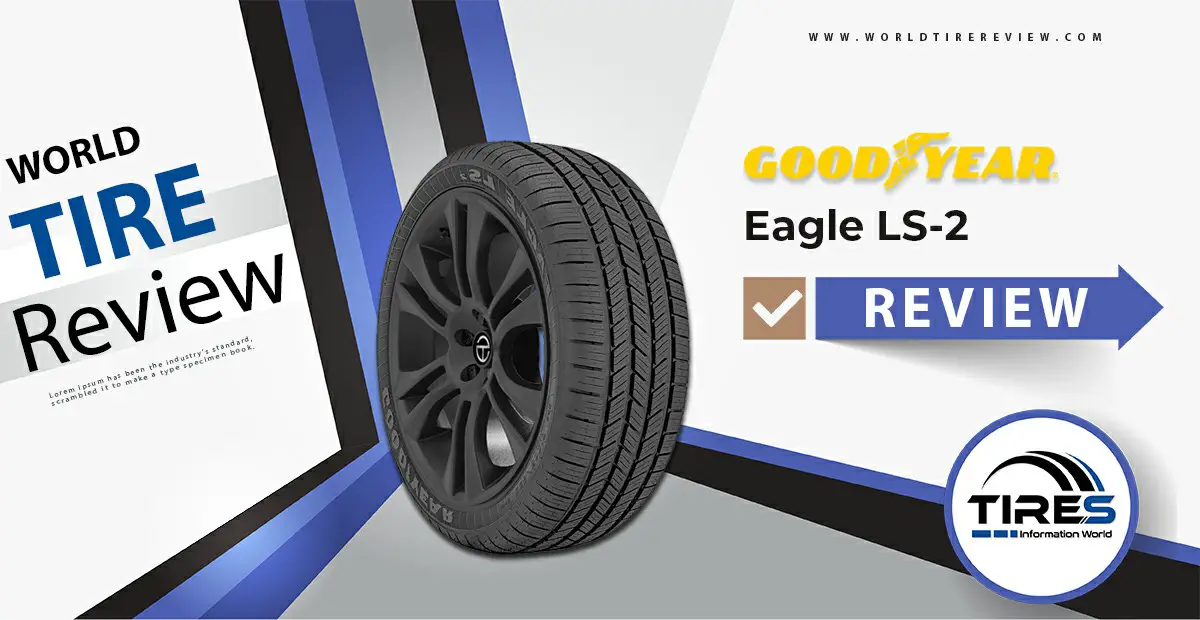 Goodyear Eagle LS-2 Reviews
The Goodyear tire may scratch your head a bit when you are making your decision. By reading the Goodyear Eagle LS-2 review, you will have the chance to discover it along with its numerous features.
Goodyear has always been a worldwide tire manufacturer with several sought-after products. And one of them is the Eagle LS-2.
LS-2, the second generation of Goodyear Grand Touring All-season tires, provides a smooth and comfortable ride under any weather conditions.
At a first look, we can see that the tire tread is symmetric with independent tread blocks on the sides.
This kind of pattern will give drivers the most flexible tire rotation, providing a steady and tight grip on dry surfaces. What's more, independent tread blocks improve directional ability and stability.
So, the Goodyear independent tread combined with a symmetric pattern will surprise you with a durable, smooth, and quiet ride.
On wet surfaces, the LS-2's tread compound makes things easier thanks to the wider circumferential grooves and the added sipes around the tire. Crossing lanes on highways or hydroplaning will no longer be a big problem for drivers on bad weather days.
To add extra strength and durability for your vehicle, inside the tire is equipped with two steel belts reinforced by nylon and a polyester cord body.
The available rim size of the tire ranges from 15 to 20 inches, which will fit several luxury sedans, minivans, and others. Warranted for 1 year or the first 2/32 inch of tread, you won't have to worry about whether your driving style costs more money on car tires.
Tire Drive Test
After a few rides with Goodyear Eagle LS-2, we believe that we have a comprehensive view of the tires.
On rough and dry roads, the tires' handling and cornering grip are quite excellent in all speed ranges. You will also find that the tire does not make much noise during the ride compared to others in its class.
Another point is the lifespan of the tread. It is understandable whether the lifespan of a tire is short or long depending on its treadwear and driver's driving style. But we think that LS-2 won't let you down.
However, the Eagle LS-2 has shown its weakness in wet and cold conditions.
Although Goodyear claims that LS-2 with wider circumferential grooves and added sipes could prevent hydroplaning, it performs badly on rainy days due to losing traction with ease.
It is not an exception on winter days when handling and comfort of the tires may be lower than your expectation. We hope that the manufacturer will perfect the shortcoming in their future generations.
To sum up our Goodyear Eagle LS-2 tire review,  if it is a must for you to have a tire with a great wet-and-rain performance, the LS-2 can not be a proper choice. But if you want a moderate tire with high-quality performance on dry surfaces, these tires can be a good pick.
Competitors & Alternatives
| | |
| --- | --- |
| Treadlife Warranty: | None |
| Uniformity Warranty: | First 2/32″ of wear |
| Workmanship & Materials Warranty: | 6 Years / Free replacement first year, 2/32″ or 25% of wear, then prorated until 2/32″ remaining depth |
| Manufacturer's Road Hazard Warranty: | None |
| Manufacturer Special Warranty: | None |
Eagle LS-2 warranty summary for replacement tires purchased on or after 06/01/19 at Tire Rack
| 15″ | | 16″ | |
| --- | --- | --- | --- |
| P 195/65R15 | | 205/55R16 | 215/65R16 |
| | | P 205/70R16 | P 225/65R16 |
| | | 215/55R16 | |
| 17″ | | 18″ | |
| --- | --- | --- | --- |
| P 215/45R17 | P 225/55R17 | 225/50R18 | 235/55R18 |
| P 215/50R17 | 225/60R17 | P 225/50R18 | 245/40R18 |
| 225/45R17 | 235/45R17 | P 225/55R18 | 245/45R18 |
| 225/50R17 | 245/45R17 | 235/45R18 | 255/45R18 |
| 225/55R17 | | P 235/50R18 | 255/55R18 |
| 19″ | | 20″ | |
| --- | --- | --- | --- |
| 235/55R19 | 265/50R19 | 275/45R20 | P 275/55R20 |
| 255/40R19 | 275/45R19 | | |
| 255/45R19 | 285/40R19 | | |
| 255/50R19 | | | |
Eagle LS-2 prices range approximately from $88.00 and up – Goodyear
Continental ExtremeContact DWS
Vredestein Quatrac Lite
Maxxis MA Z4S Victra
Hankook Optimo 4S
Continental Extremecontact DWS 06
Goodyear Eagle Vector
Goodyear Eagle LS-2 – Compare Prices
We found 6 online tire retailers selling Goodyear Eagle LS-2. Refer to the details below to get the best price:
Goodyear Eagle LS-2
PRICE
SOLD BY
 

Offers

$91.99

Offers

Offers

Offers

Offers
Eagle LS-2 Ratings By Consumer