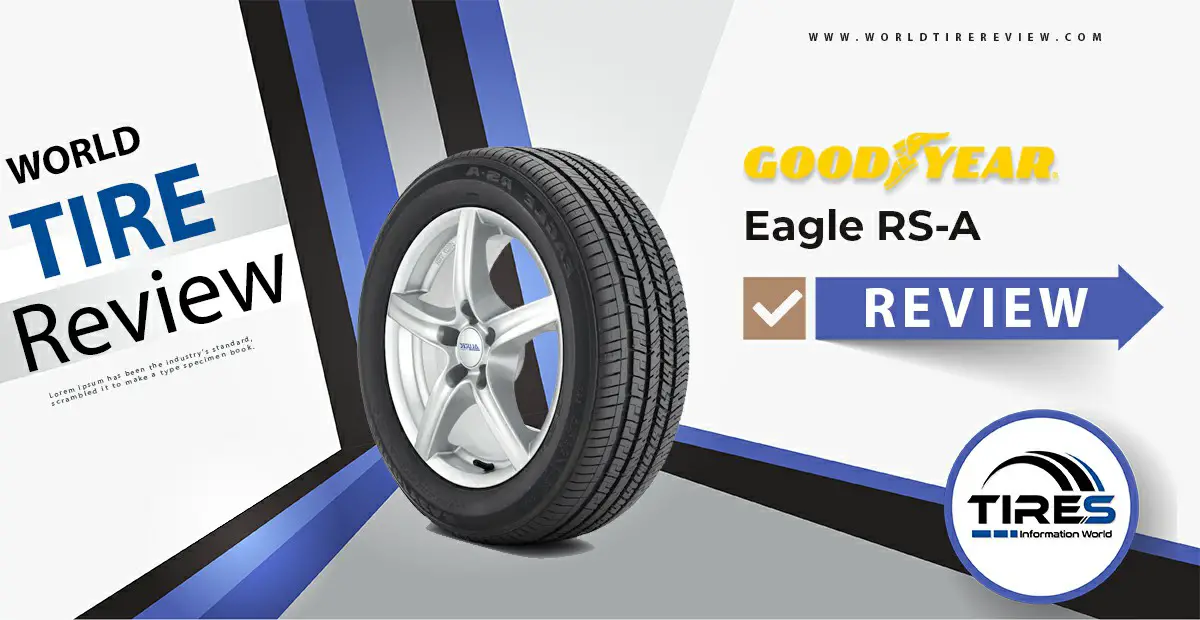 In recent years, Goodyear has gained in popularity as one of the most reliable tire companies in the world. When it comes to tire brands, Goodyear outweighs its opponents by producing high-quality tires at an affordable price for any purpose of customers.
Eagle RS-A is a famous product line among those excellent all-season tires of Goodyear. The unique design and brilliant features of this car tire will not let you down with your decision. Take a closer look at the Goodyear Eagle RS-A tire review to gain a deep understanding of this topic. 
Eagle RS-A tires come in diverse sizes, from 15-inch wheel diameter to 20-inch wheel diameter. Thanks to the wide range of dimensions, this product is suitable for many kinds of vehicles such as sports cars, compact cars, minivans, etc.
This model has asymmetric tread patterns on the tread compound, allowing you to have a quiet yet powerful ride. It also offers convenient grooves to help increase the wet traction and braking in different weather conditions. 
Another special feature of this product is the rubber tread wear indicators inside the grooves of the tire. You will hardly notice this part because when the tire is new, these bars stay inside the tire. It is only visible as the tread wears down, making it easier for you to know the exact timing to replace the tire.
Pros & Cons
Tire Drive Test
This kind of tire is an all-season type, and it goes well with many vehicles without difficulties. When you use the RS-A, you will find it comfortable to drive on dry roads, thanks to the amazing performance of traction. 
Thanks to the tread pattern with tight shoulder tread blocks, the cornering is smooth enough for better stability and the steering is responsive at fast speeds for your comfort.
This tire offers additional grooves that help remove water from the tread and avoid the risk of sliding, and losing control in wet weather. This model is M+S rated, so it can deal with the problem of driving on snow-covered roads.
However, Goodyear should make improvements to the tire when it comes to winter and wet tractions. The Eagle RS-A lacks the effective traction level for driving during snow weather.
It's a pity that the excellent performance on dry surfaces cannot apply to wet roads. The Eagle RS-A tire still runs well in the rain, but it doesn't have enough wet traction to give you confidence to drive through the rain at high speed.
After reading the Review, it's now your turn to think carefully and make up your mind. It would be best to consider both advantages and downsides of this model so that you will have the most suitable tire for your unforgettable riding experience.
Competitors & Alternatives
| | |
| --- | --- |
| Treadlife Warranty: | None |
| Uniformity Warranty: | First 1/32″ of wear |
| Workmanship & Materials Warranty: | 6 Years / Free replacement first year or 2/32″ of wear, then prorated until 2/32″ remaining depth |
| Manufacturer's Road Hazard Warranty: | None |
| Manufacturer Special Warranty: | None |
Eagle RS-A warranty summary for replacement tires purchased on or after 04/01/19 at Tire Rack
| 15″ | | 16″ | |
| --- | --- | --- | --- |
| 195/60R15 | | 205/50R16 | P 225/55R16 |
| | | 205/55R16 | P 225/60R16 |
| | | P 205/55R16 | P 235/70R16 |
| 17″ | | 18″ | |
| --- | --- | --- | --- |
| P 205/50R17 | P 235/50R17 | P 225/45R18 | P 235/55R18 |
| 215/45ZR17 | P 235/55R17 | P 225/60R18 | P 235/60R18 |
| 215/55R17 | P 235/65R17 | P 235/45R18 | P 245/45R18 |
| 225/50ZR17 | P 255/60R17 | P 235/50ZR18 | 245/55R18 |
| P 225/50ZR17 | P 265/60R17 | | |
| P 225/55R17 | P 275/60R17 | | |
| 19″ | | 20″ | |
| --- | --- | --- | --- |
| 225/45ZR19 | 255/45R19 | 245/45R20 | P 255/50R20 |
| P 235/55R19 | P 255/60R19 | 245/45ZR20 | P 265/50R20 |
| P 245/40R19 | | P 245/50R20 | P 295/40R20 |
| | | 255/45R20 | |
Eagle RS-A prices range approximately from $85.00 – Goodyear
Continental ExtremeContact DWS
Vredestein Quatrac Lite – 84%
Maxxis MA Z4S Victra
Hankook Optimo 4S
Continental Extremecontact DWS 06
Goodyear Eagle Vector
Goodyear Eagle RS-A – Compare Prices
We found 6 online tire retailers selling Goodyear Eagle RS-A. Refer to the details below to get the best price:
Goodyear Eagle RS-A
PRICE
SOLD BY
 

Offers

$82.97

Offers

Offers

Offers
Eagle RS-A Ratings By Consumer