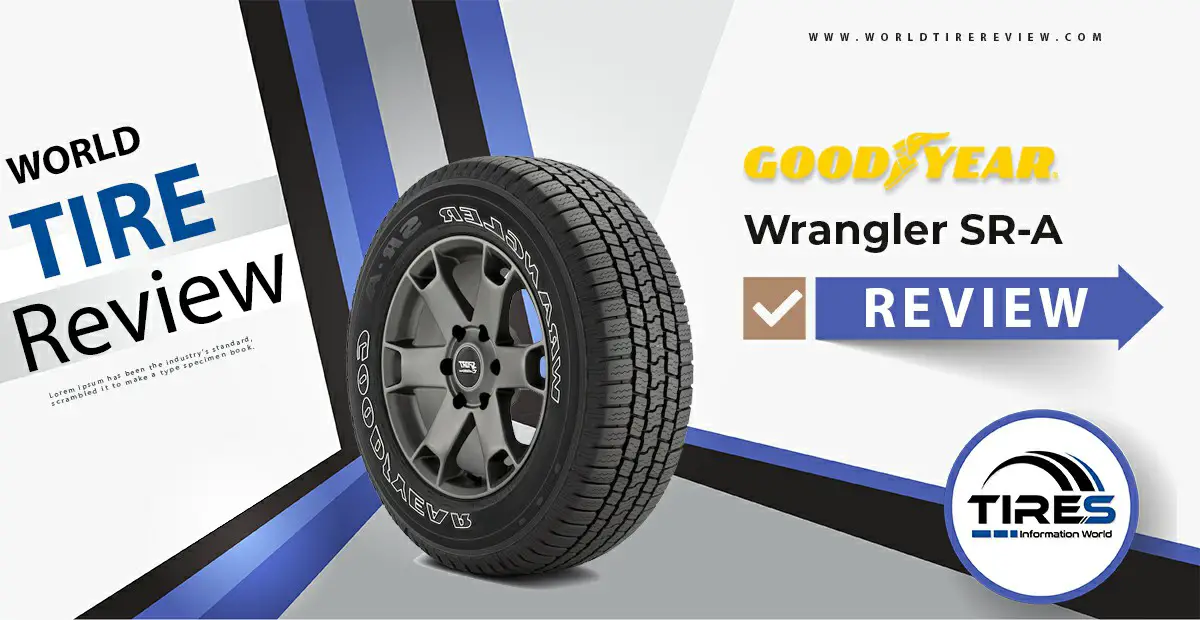 What outstanding features does the Goodyear Wrangler SR-A have? Let's follow our detailed Goodyear Wrangler SR-A review to decide whether this tire is a great fit for your vehicle. 
Goodyear is a multinational tire manufacturing company well-known for its high-traction tires and long tread life guarantee. Since its debut over a decade ago, the Goodyear Wrangler SR-A has been a well-received replacement among drivers of crossovers and SUVs for its excellent grip on both dry and wet roads.
Equipped with a symmetrical pattern, this all-season tread compound tire provides impressive traction during the ride, especially on wet, muddy, snowy surfaces or hard, gravelly roads. 
The tire's grooves have a wide circumference with zig-zag grooves around the tread to dispel water from under the tire. This design helps reduce the risk of slipping or hydroplaning when riding in heavy rains.
The tire's tread blocks, lateral grooves, and broader contact patch boost dry traction performance. The SR-A maintains to ride smoothly because of its tread design, which can withstand vibrations and minimize outside road noise. 
Inside the tire, two high-tension steel belts enhance strength and durability of the whole construction. Furthermore, the tire comes in 15 to 20 inches in diameter and in both P-metric and LT-metric sizes. 
Goodyear also provides a 50,000-mile treadwear warranty, although many drivers reported their tires could even last 60.000 miles or more.
Goodyear Wrangler SR-A Reviews: Pros & Cons
Tire Drive Test
As tire lovers who have put this tire in an exclusive road test, we think it is a solid choice for all types of trucks and SUVs. We were particularly impressed with its ability to grip firmly and evenly on dry surfaces.
Moreover, this tire is a great option on long journeys thanks to the high comfort level. This Goodyear Wrangler SR-A is developed for budget-conscious drivers looking for an impressive ride quality and responsive steering. 
Although the sound can be more easily recognized sometimes when you go at a slow speed, it is not a deal-breaker.
However, it is worth noting that the tire has poor handling in heavy downpours, although the manufacturer claims that they design it for all weather conditions. 
Therefore, we do not think it can be suitable for winter driving. Additionally, it would be great if Goodyear made some tweaks to the design to prolong the tread life. 
Overall, we recommend this tire for all-season drivers who have no special requirements other than great comfort and traction. If you live in an area with a lot of ice and snow, we recommend shopping around for a more appropriate option.
Competitors & Alternatives
| | |
| --- | --- |
| Treadlife Warranty: | 6 Years / 50,000 Miles (P-Metric sizes only)  |
| Uniformity Warranty: | 1 Year / first 2/32″ wear |
| Workmanship & Materials Warranty: | 6 Years / Free replacement first year or 2/32″ of wear, then prorated until 2/32″ remaining depth |
| Manufacturer's Road Hazard Warranty: | None |
| Manufacturer Special Warranty: | None |
| 15″ | | 16″ | |
| --- | --- | --- | --- |
| P 215/75R15 | P 235/75R15 | 215/70R16 | LT 245/75R16 |
| P 225/70R15 | P 265/70R15 | LT 215/85R16 | P 245/75R16 |
| P 225/75R15 | P 265/75R15 | 225/70R16 | P 255/65R16 |
| P 235/70R15 | LT 31X10.50R15 | LT 225/75R16 | P 255/70R16 |
| | | P 225/75R16 | P 265/70R16 |
| | | P 235/70R16 | LT 265/75R16 |
| | | P 235/75R16 | P 265/75R16 |
| | | LT 235/85R16 | LT 285/75R16 |
| | | P 245/70R16 | |
| 17″ | | 18″ | |
| --- | --- | --- | --- |
| P 215/65R17 | LT 245/75R17 | 245/60R18 | P 265/70R18 |
| P 235/65R17 | P 255/65R17 | P 255/70R18 | LT 275/65R18 |
| P 235/70R17 | P 255/70R17 | P 265/60R18 | P 275/65R18 |
| P 235/75R17 | P 255/75R17 | P 265/65R18 | LT 275/70R18 |
| LT 235/80R17 | P 265/65R17 | LT 265/70R18 | |
| P 245/65R17 | LT 265/70R17 | | |
| LT 245/70R17 | P 265/70R17 | | |
| P 245/70R17 | | | |
| 20″ | | " | |
| --- | --- | --- | --- |
| P 265/50R20 | P 275/60R20 | | |
| LT 265/60R20 | LT 305/60R20 | | |
| P 275/55R20 | | | |
Wrangler SR-A prices range approximately from $130.00 and up – Goodyear
Goodyear Wrangler SR-A – Compare Prices
We found 5 online tire retailers selling Goodyear Wrangler SR-A. Refer to the details below to get the best price:
Goodyear Wrangler SR-A
PRICE
SOLD BY
 

Offers

$108.96

Offers

Offers

Offers
Wrangler SR-A Ratings By Consumer