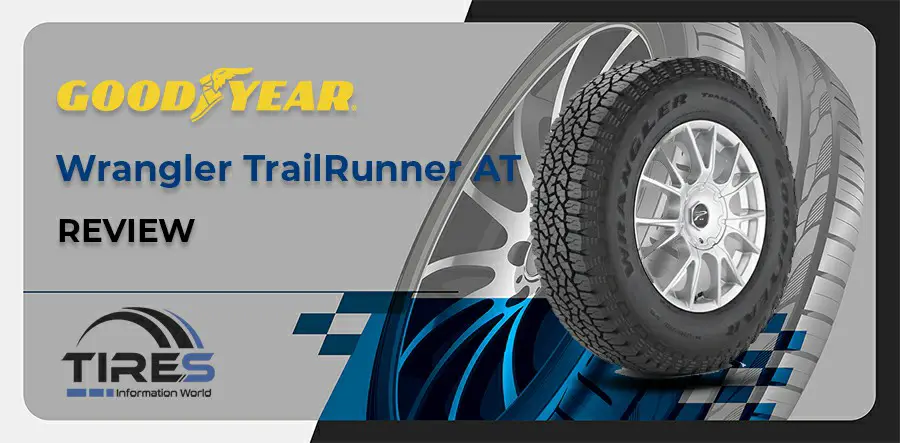 The Goodyear Wrangler TrailRunner AT is Goodyear's newest all-terrain model and one of the best-selling Wrangler Adventures. Owners of all types of light trucks, SUVs, jeeps, and crossovers appreciate its tough off-road capability and dependable on-road drivability.
This time, Goodyear's engineers take all their efforts to upgrade this all-terrain tire's on-road experience. Stemming from the fact that all vehicle owners would use them mostly on highways and streets.
Let's dig deeper into our review for further information.
Goodyear Wrangler TrailRunner AT: Overview
Before jumping to any conclusion, let's take a detailed overview of this tire first.
The Company
Akron and Frank Seiberling founded the Goodyear Tire & Rubber Company, a based-American tire manufacturing company, in 1898. This manufacturer focuses on commercial trucks, race cars, light trucks, SUVs, motorcycles, automobiles, airplanes, and even farm equipment or heavy earth-moving machines.
They mainly make tires for sport utility vehicle drivers and pickup trucks. Yet, few people are aware that, following a hiatus from 1976 to 2015, they have resumed the production of bicycle tires.
The Product
The Goodyear Wrangler TrailRunner AT tire is known as Goodyear's off-/on-road all-terrain tire. The brand equipped the Wrangler TrailRunner AT with the year-round capability off- and on-road in various weather conditions (dry, winter, light wet). 
At a closer look, Wrangler TrailRunner AT tires offer a tear-resistant and chip-resistant tread compound and interlocking tread blocks. This model features the five-rib tread design (roughly 245mm),  which allows the tire to be durable off- and on-road and meet the industry's requirements.
Furthermore, the multi-angle sipes and saw-tooth block edges aid in winter traction and off-road capability. The improved tread design promotes even wear, increases tread lifespan and reduces noise.
Regarding the internal structure, you'll find twin steel belts, a spiral pattern nylon reinforcement, and a 2-ply polyester cord, all of which help the tire last longer and perform better.
Pros & Cons
Here is a brief table of Wrangler Trailrunner's pros and cons for a better overview:
Tire Drive Test
Now we will get into the detailed review, coming from our driving experience with  the Goodyear Wrangler TrailRunner AT tires:
First Impression
Overall, the Goodyear TrailRunner AT is light-duty, comfortable, fuel-efficient, and attractive. Its design contributes to maximizing tread life both off- and on-road. 
Noise
This version is built specialized in mitigating noise and offering a safe ride on-road. Compared to other all-terrain opponents, this tire offers a less wobble experience on the road. In particular, it can optimize tread pattern elements to reduce noise efficiently. 
Off-road Conditions
Thanks to the "saw-tooth" edges of the tread lugs, it can greatly optimize grip in the loose earth. Its shoulder lugs help the tire effectively churn through mud and loose soil.
Also, a myriad of sipping in each tire brings exceptional winter and dry weather traction. However, there is no traction in icy or off-road conditions, and the treads can quickly slick. Its traction in the wet condition is also poor.
One drawback here is that, despite claiming to conquer any road condition, this tire still lacks the superb ability of those winter tires. It's understandable as all-terrain tires can only improve your driving experience in adverse conditions, not completely an alternative to specialized tires.
Who Should Consider This Tire?
This all-terrain tire aims at the mid-level segments. Each has an off-road grip that most drivers will appreciate, as well as a 55,000-mile guarantee. While the Wrangler trail runner tires appear to be pleasant, they are less expensive than any current Goodyear products and are more budget-friendly to all clients.
Therefore, this tire model is suitable for almost all car and truck drivers who need a reliable and quality tire. As long as you're not a racer and require specialized tires for racing, this is an affordable option that you cannot miss! Hope our article seems helpful to you. Stay tuned for our next review.
Competitors & Alternatives
| | |
| --- | --- |
| Treadlife Warranty: | 6 Years / 55,000 Miles  |
| Uniformity Warranty: | 1 Year / first 2/32″ wear |
| Workmanship & Materials Warranty: | 6 Years / Free replacement first year or 2/32″ of wear, then prorated until 2/32″ remaining depth |
| Manufacturer's Road Hazard Warranty: | None |
| Manufacturer Special Warranty: | 30 Day Test Drive (1) |
| Additional Information: | (1) Exchange for a different Goodyear brand tire |
Warranty summary for replacement tires purchased on or after 04/01/19
| 15 | | 16 | |
| --- | --- | --- | --- |
| 225/75R15 | LT 30X9.50R15 | LT 215/85R16 | LT 245/75R16 |
| 235/75R15 | LT 31X10.50R15 | 225/75R16 | 255/70R16 |
| | | LT 225/75R16 | 265/70R16 |
| | | 235/70R16 | 265/75R16 |
| | | LT 235/85R16 | LT 265/75R16 |
| | | 245/70R16 | LT 285/75R16 |
| | | 245/75R16 | |
| 17 | | 18 | |
| --- | --- | --- | --- |
| 225/65R17 | LT 245/75R17 | 235/60R18 | 265/70R18 |
| 235/65R17 | 255/70R17 | 245/60R18 | LT 265/70R18 |
| 235/70R17 | 265/65R17 | 255/70R18 | 275/65R18 |
| LT 235/80R17 | 265/70R17 | 265/60R18 | LT 275/65R18 |
| 245/65R17 | LT 265/70R17 | 265/65R18 | LT 275/70R18 |
| 245/70R17 | LT 285/70R17 | | |
| LT 245/70R17 | | | |
| 20 | | 22 | |
| --- | --- | --- | --- |
| 275/55R20 | LT 275/65R20 | 285/45R22 | |
| 275/60R20 | | | |
Wrangler TrailRunner AT prices range approximately from $118.99 to $281.29 (Tire Rack)
Yokohama Geolandar A/T G015
Firestone Destination A/T
Bridgestone Dueler A/T Revo 3
Hankook Dynapro AT2
Pirelli Scorpion ATR
Goodyear Wrangler TrailRunner AT – Compare Prices
We found 5 online tire retailers selling Goodyear Wrangler TrailRunner AT. Refer to the details below to get the best price:
Goodyear Wrangler TrailRunner AT
PRICE
SOLD BY
 

$118.99

Offers

Offers

Offers

Offers
Wrangler TrailRunner AT Ratings By Consumer