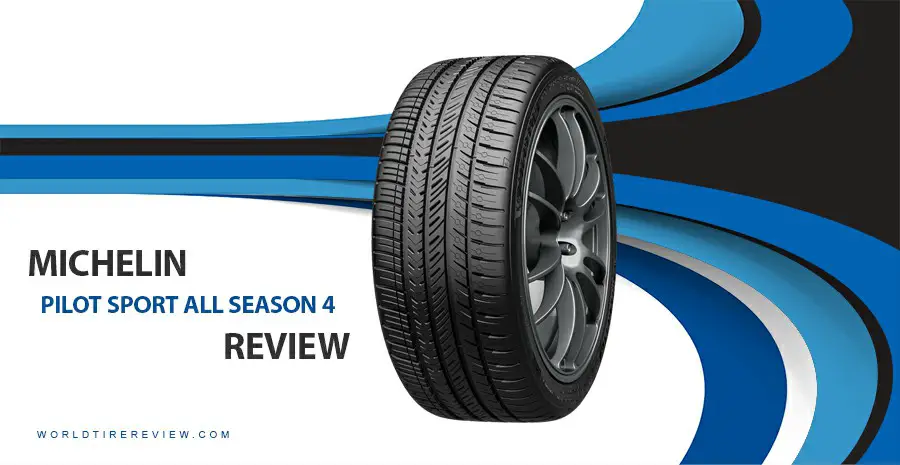 About Michelin
At Michelin, innovation is creating fresh value that customers perceive. It has been critical to the group's growth and success. 
One of Michelin's primary strategies is to leverage innovation and technology to differentiate its services and goods. Therefore, it may maintain its leadership and satisfy the demands of customers at its best.
The Michelin All-Season 4 Features
The Pilot 4 is a Michelin tire designed for optimum all-season dry and wet grip and assured winter traction. This French tiremaker used an improved tread composition on this version. 
The combination remains flexible and supple at lower temperatures, allowing it to operate in the winter. 
The rubber is sculpted into an asymmetrical tread pattern with big reinforced outboard blocks. It enhances grip, stability, and steering responsiveness.
Meanwhile, the Silica Compound improves wet grip and helps to evacuate water through four broad circumferential grooves. 
They can be interlocked for improved dry cornering or left open for more snow grip. Finally, it has active biting tips for even improved grip in wet and snowy weather.
Let's dive right into our reviews to check if all of these claims are correct.
Pros & Cons
Our Tire Drive Test
On Dry Tarmac
This tire warns the driver right away that it is a high-performance product. It has the same responsiveness as the most incredible summer models, which is a high compliment. 
You may enter any turn at incredible speeds without fear of losing control. In this aspect, it seems nearly like a summer version, which is fantastic.
The Michelin has the lowest stopping distances in the class. Despite some of the more powerful automobiles, there is plenty of longitudinal traction. It means you will not suffer any wheelspin when driving. 
Overall, this Michelin tire is the category's new performance leader. If handling is your sole concern, it is the most excellent all-season tire right now.
Over Slippery Roads
When a tire performs well on dry roads, it usually performs well in wet environments. However, we sometimes saw it struggling in heavy rain. 
You don't have to worry: it excels in normal wet conditions and leaves its competitions behind. 
Its most attractive feature is how this tire reacts when you put a lot of pressure on it. The steering grip and input are excellent, and the handling is positive and balanced.
This tire also boasts the lowest stopping ranges on wet surfaces. It's the same as driving on a dry surface. So, Michelin understands how to build a sports tire like no one else.
On Snowy Roads
Although this Michelin's newest all-season model isn't ideal for operating in the snow, it can be helpful in a situation. While driving at high speed, we witnessed some wheel spin, but it's acceptable. 
Given the abilities on wet and dry roads, the snow's stopping distances are not half-bad. If you reside in a location where winters are harsh, though, winter tires are necessary. 
Therefore, only drivers who may face snowy days should choose Pilot 4. Anything beyond that will need the purchase of winter tires.
For Off-Road Driving
If you're considering purchasing the Michelin All-Season 4, it's likely that you already own a high-performance vehicle. But, these tires are not meant for off-roading. 
It will fit on some high-performance SUVs and crossovers, but that does not imply you should take it off-road. You will notice a lack of grip in mud, over giant boulders, and on sands. 
It also does not work well on challenging terrains like dirt and gravel. The most important reason to avoid operating off-road terrain is durability. 
Sharp items may readily cut, puncture, or damage this tire. Please be aware that some of these may render your tires unfit for road use, so proceed with caution.
Comfort
You would also be mistaken if you assumed that every all-season tire feels identical. We find that the Michelin cannot cope with damaged surfaces and transmits a great deal of noise into the cabin. 
The tread grumble is not very loud, but it is always audible at more incredible speeds. On automobiles with bigger wheels, the situation is significantly worse. 
For many aspects, this tire establishes new benchmarks in the ultra sports all-season category. It is, without a doubt, the ideal tire for drivers on both wet and dry roads. 
It stops nearly like a summer tire, feels terrific in the driver's seat, and gives surefooted but enjoyable handling, and operates well on mild snow. 
If those factors are important to you and you do not mind digging deeper in your pocket, it is a worthy all season-tire on the market.
Competitors & Alternatives
| | |
| --- | --- |
| Treadlife Warranty: | 6 Years / 45,000 Miles Half mileage for rear if different size than front |
| Uniformity Warranty: | 1 Year / first 2/32″ of wear |
| Workmanship & Materials Warranty: | 6 Years / Free replacement first year, 2/32″ or 25% of wear, then prorated until 2/32″ remaining depth |
| Manufacturer's Road Hazard Warranty: | None |
| Manufacturer Special Warranty: | 60-day satisfaction (1), 3-yr flat changing |
| Additional Information: | (1) Exchange for Michelin, BFGoodrich, or Uniroyal |
| 16 | | 17 | |
| --- | --- | --- | --- |
| 205/55ZR16 | 225/50ZR16 | 205/40ZR17 | 235/45ZR17 |
| | | 205/45ZR17 | 235/50ZR17 |
| | | 205/50ZR17 | 235/55ZR17 |
| | | 215/45ZR17 | 245/40ZR17 |
| | | 215/50ZR17 | 245/45ZR17 |
| | | 215/55ZR17 | 245/50ZR17 |
| | | 225/45ZR17 | 255/40ZR17 |
| | | 225/50ZR17 | 275/40R17 |
| | | 225/55ZR17 | |
| 18 | | 19 | |
| --- | --- | --- | --- |
| 215/40ZR18 | 245/45ZR18 | 225/35ZR19 | 255/30ZR19 |
| 215/45ZR18 | 245/50ZR18 | 225/40ZR19 | 255/35ZR19 |
| 225/40ZR18 | 255/35ZR18 | 225/45ZR19 | 255/40ZR19 |
| 225/45ZR18 | 255/40ZR18 | 235/35ZR19 | 255/45ZR19 |
| 225/50ZR18 | 255/45ZR18 | 235/40ZR19 | 265/35ZR19 |
| 235/40ZR18 | 265/35ZR18 | 235/45ZR19 | 265/40ZR19 |
| 235/45ZR18 | 265/40ZR18 | 245/35ZR19 | 275/35ZR19 |
| 235/50ZR18 | 265/45ZR18 | 245/40ZR19 | 275/40ZR19 |
| 235/55ZR18 | 275/35ZR18 | 245/45ZR19 | 285/40ZR19 |
| 245/35ZR18 | 275/40ZR18 | 245/50ZR19 | |
| 245/40ZR18 | 285/35ZR18 | | |
| 20 | | 21 | |
| --- | --- | --- | --- |
| 235/35ZR20 | 275/30ZR20 | 245/35ZR21 | 275/45ZR21 |
| 235/40ZR20 | 275/35ZR20 | 255/40ZR21 | 285/40ZR21 |
| 245/35ZR20 | 275/40ZR20 | 265/35ZR21 | 295/35ZR21 |
| 245/40ZR20 | 285/30ZR20 | 265/40ZR21 | 295/40ZR21 |
| 245/45ZR20 | 285/35ZR20 | 275/35ZR21 | |
| 255/35ZR20 | 285/45ZR20 | | |
| 255/40ZR20 | 295/30ZR20 | | |
| 255/45ZR20 | 295/35ZR20 | | |
| 255/55ZR20 | 305/35ZR20 | | |
| 265/35ZR20 | 315/35ZR20 | | |
| 265/40ZR20 | | | |
| 22 | | 24 | |
| --- | --- | --- | --- |
| 265/35ZR22 | 275/40ZR22 | | |
| 265/40ZR22 | 285/35ZR22 | | |
| 275/35ZR22 | | | |
| 275/40ZR22 | | | |
| 285/35ZR22 | | | |
Pilot Sport All Season 4 prices range approximately from $158.99 to $472.99 (Tire Rack)
Michelin Pilot Sport All Season 4 – Compare Prices
We found 6 online tire retailers selling Michelin Pilot Sport All Season 4 . Refer to the details below to get the best price
Michelin Pilot Sport All Season 4
PRICE
SOLD BY

Offers

Offers

Offers

Offers

Offers

Offers
Michelin-Pilot-Sport-All-Season-4 Ratings By Consumer