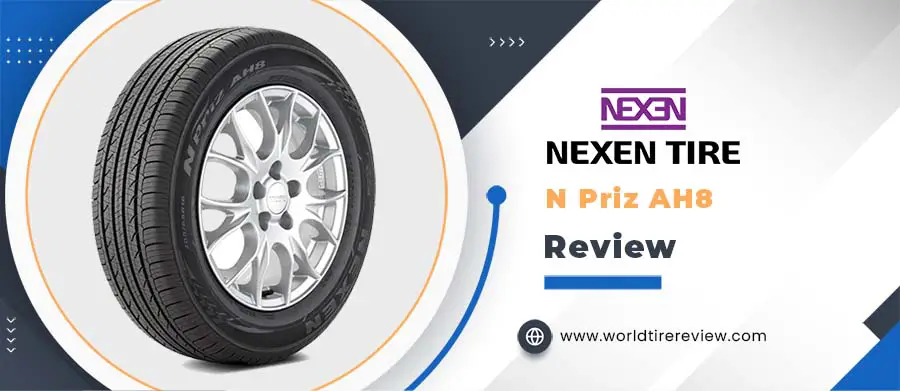 Introduction
About Nexen 
Before going to a detailed Nexen N Priz AH8 tire, let's take a look over the brand – Nexen. Nexen is a Korean-based company that once went under the name Heung-A Tire Company. 
The firm was established in 1942 and got its title as the first Korean manufacturing tires. From then, Nexen cooperated with OHTSU Tire and Rubber to focus on expanding radial tire production capabilities.
Until this day, Nexen Tire is one of the world's largest and most advanced tire manufacturing facilities. There are many reasons to choose Nexen tires over conventional ones, including the great warranty and affordability. 
Feature: Nexen N Priz AH8 Reviews
Nexen N Priz AH8 is an all-season tire known to perform well in almost all weather conditions, even in light snow. It comes with wear resistance that can help with tread life increase.
The 5 optimal variable pitches minimize noise by generating a soft sound during driving. The wave sipes reinforce snow traction and provide excellent all-season driving performance. The snow braking performance is also improved by 33% compared with conventional tires. 
On the sides, you can easily find the lateral grooves and added sipes to help with adding more tread to handling stability as well as enhanced tread life. These sipes and grooves make it easier to drive on light snow easier.
This product also features a 70,000 mileage warranty, whereas materials and workmanship are backed with a 6-year warranty, including free replacement during the first year or first 2/32 inches of wear.
Pros & Cons
Nexen N Priz AH8: Drive Test
Real Experience
My favorite thing about these tires is their performance on slippery and snowy roads. For standard touring all-seasonal tires, these tires deliver remarkable traction and handling on different kinds of terrains and conditions.
The ride comfort is also good, if not more extraordinary than most tires of the same class. Though the tire works surprisingly well on snow and maintains stopping excellently, we can't say how they will work in deep unplowed snow.
In terms of acceleration, it is doable in the light snow, but the cornering in the snow is where these tires fall. It tends to slide everywhere, and you need to be familiar with driving on icy or wet roads to get a hold of control with these tires eventually.
With these tires, you're given a silent ride on nicely-paved roads, but maybe not so good on bumpy stretches of tarmac. 
I also found that the outer edge grooves of the tire are not wide enough for the tires to grip in the snow, which explains why the traction on icy roads may not be on par with the other features, but that's a common problem for most all-season tires. 
Indeed, this product line will show its weaknesses when you drive on the hard ice road. Thus, this isn't the best idea if you live in a country with harsh winter.
I haven't used the tires long enough to say this but a number of buyers who have had these Nexen in the past did make several complaints about the inferior build quality, which causes premature wear. 
That said, if you're in need of a tire set that lasts a lifetime, this one may not be the one you're looking for. 
Moreover, this product line will show its weaknesses when you drive on the hard ice road. Thus, this isn't the best idea if you live in a country with harsh winter.
Who Should Choose Nexen N Priz AH8 Tire?
Overall, these tires provide very good value for the lower cost. From our Nexen N Priz AH8 tire reviews, you can say they're more of a budget-friendly alternative to Michelins, maybe not as great, but they're improving by the day.
The tire is suitable for those who are looking for all-season tires with better-wet traction and grip on snow than regular tires of the same class. 
Additionally, these tires are trusted by reputable automakers such as Kia, Hyundai, Chrysler, and more.
Competitors & Alternatives
| | |
| --- | --- |
| Treadlife Warranty: | 6 Years / 70,000 Miles  |
| Uniformity Warranty: | 1 Year / first 2/32″ of wear |
| Workmanship & Materials Warranty: | 6 Years / Free replacement first year, 2/32″ then prorated until 2/32″ remaining depth |
| Manufacturer's Road Hazard Warranty: | 2 Years / first 3/32″ of wear |
| Manufacturer Special Warranty: | 45-day or 500 miles (1), 3-yr Roadside Assistance |
| Additional Information: | (1) Whichever comes first, must be less than 1/32″wear, purchase 4 exchange for another Nexen. |
warranty summary for replacement tires purchased on or after 03/01/21 at
Tire Rack
| 15 | | 16 | |
| --- | --- | --- | --- |
| 195/65R15 | 205/65R15 | 205/55R16 | P 205/70R16 |
| | | 205/60R16 | 215/55R16 |
| | | 205/65R16 | |
| 17 | | 18 | |
| --- | --- | --- | --- |
| 205/55R17 | 215/55R17 | 225/40R18 | 225/55R18 |
| 215/45R17 | 225/45R17 | | |
Nexen N Priz AH8 prices range approximately from $105.00 to $196.00 (Discount Tire)
Nexen N Priz AH8 – Compare Prices
We found 5 online tire retailers selling Nexen N Priz AH8. Refer to the details below to get the best price
Nexen N Priz AH8
PRICE
SOLD BY
 

Offers

Offers




Offers




Offers




Offers



Nexen N Priz AH8 Ratings By Consumer