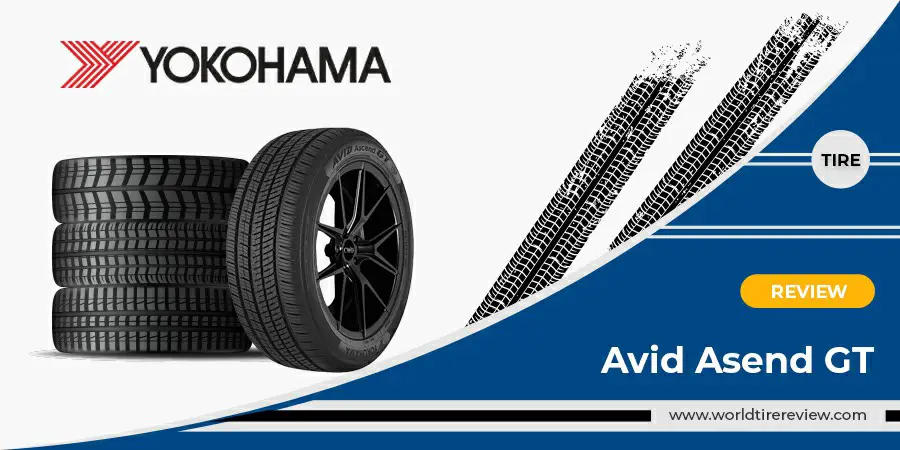 Which Outstanding Features Does Yokohama Avid Ascend GT Have?
Before deep-diving into our Yokohama Avid Ascend GT, let's first take a look at its producing company.
Yokohama Tire Corporation
Yokohama Tire Corporation is one of the first tire manufacturing companies in Japan. Since its foundation in 1917, the business has been well-known for producing high-quality tires due to design and development advancement.
After expanding their branch to the United States in 1969, they quickly became one of the world's leaders in cutting-edge manufacturing technologies. Yokohama also received ISO9001 certification for various issues, including model company, manufacturing, and related services.
What's more? The company continuously improves its products at a slightly affordable price to meet the needs of those on a tight budget but still want to be exposed to Yokohama's products.
Yokohama Avid Ascend GT
The Avid Ascend GT is one of their new generation touring tire line-ups of Yokohama. It has incorporated the latest technology of the manufacturers with all-season traction to bring a better experience for consumers.
Yokohama claims that this kind of all-season tire has excellent traction for all types of vehicles since it can perform well year-round regardless of how the weather is. Thanks to compound technology in line with low Tg-polymer content and high silicon, these tires have an increasing grip in both dry and wet conditions.
Its non-symmetric tread pattern contributes to a better grip and traction and brings stable contact with the road. This will be one plus for this Avid Ascend GT because not all touring tires have them.
The design of four deep circumferential grooves associated with unsymmetrical widths helps stop hydroplaning and improve water evacuation.
Furthermore, the Yokohama offers a treadwear warranty of up to 65,000 miles or 5-years of use for this type of tire. Although this assurance is not the best, it fits with an affordable price compared to other categories.
The brand also has a uniformity guarantee that comes into effect for the first 2/32 inches of wear and allows any replacement for the first year of use if having any detection on the wearing of the tire. They offer 30 days for you to drive the test – what could be more wonderful than that?
Pros & Cons
Should I Buy A Yokohama AVID Ascend GT? 
As a tire lover, we have some of our real experiences for you to refer to before you decide to buy one.
If you're seeking an all-season touring tire that makes a quiet noise and provides comfort at any speed, this could be one of the best options for you.
As the brand said, Avid Ascend GT has good dry traction and excellent performance on a slippery road. That's pretty true, as we recognized that the tire could alleviate the risk of hydroplaning and offered good control in water puddles, bringing more safety on rainy days.
Thanks to the new Orange Oil and BluEarth technology, the tire also helps us save fuel efficiency, protect the environment, and simultaneously keep an economical budget.
If you live in areas with mild winters and a small amount of snow falling every year, Avid Ascend GT can help you move easily. The traction in light snow is one of the advantages of this all-season touring category.
Nevertheless, you should refer to some other tires if you are looking for a tire to use in an area with heavy-falling snow and full-covered icy. 
Despite this minor shortcoming, Yokohama Avid Ascend GT is still a perfect choice for those on a tight budget but expect a good driving experience at any speed!
Hopefully, our review has provided you with sufficient information. Now, let's find your perfect tires!
Competitors & Alternatives
| | |
| --- | --- |
| Treadlife Warranty: | 5 Years / 65,000 Miles (2) |
| Uniformity Warranty: | First 2/32″ of wear |
| Workmanship & Materials Warranty: | 5 Years / Free replacement first year or 2/32″ of wear, then prorated to 2/32″ remaining depth |
| Manufacturer's Road Hazard Warranty: | None |
| Manufacturer Special Warranty: | 30 Day Test Drive (1) |
warranty summary for replacement tires purchased on or after 06/01/19 at
| 15 | | 16 | |
| --- | --- | --- | --- |
| 175/65R15 | 195/65R15 | 185/55R16 | 205/60R16 |
| 185/55R15 | 205/60R15 | P 185/60R16 | 205/65R16 |
| 185/65R15 | P 205/65R15 | 195/50R16 | 215/55R16 |
| 195/60R15 | | 195/55R16 | 215/60R16 |
| | | 205/50R16 | 225/55R16 |
| | | 205/55R16 | |
| 17 | | 18 | |
| --- | --- | --- | --- |
| 205/50R17 | 225/60R17 | P 215/55R18 | 235/50R18 |
| 215/45R17 | 235/45R17 | 225/40R18 | 235/55R18 |
| 215/50R17 | 235/50R17 | 225/45R18 | 245/40R18 |
| 215/55R17 | 235/55R17 | 225/50R18 | 245/45R18 |
| 225/45R17 | 235/60R17 | P 225/55R18 | 245/50R18 |
| 225/50R17 | 245/45R17 | 225/60R18 | 255/45R18 |
| 225/55R17 | 245/50R17 | 235/45R18 | |
| 19 | | 20 | |
| --- | --- | --- | --- |
| 235/40R19 | 245/45R19 | 245/45R20 | |
| 235/45R19 | 255/40R19 | | |
| 245/40R19 | 255/45R19 | | |
Avid Ascend GT prices range approximately from $95.99 to $231.99 (Tire Rack)
BFGoodrich Advantage T/A Sport
Pirelli Cinturato P7 All Season Plus
General AltiMAX RT43
Goodyear Assurance ComforTred Touring
Yokohama Avid Ascend GT – Compare Prices
We found 6 online tire retailers selling Yokohama Avid Ascend GT. Refer to the details below to get the best price:
Yokohama Avid Ascend GT
PRICE
SOLD BY
 

$95.99

Offers

Offers

Offers

$96

Offers
Avid Ascend GT Ratings By Consumer