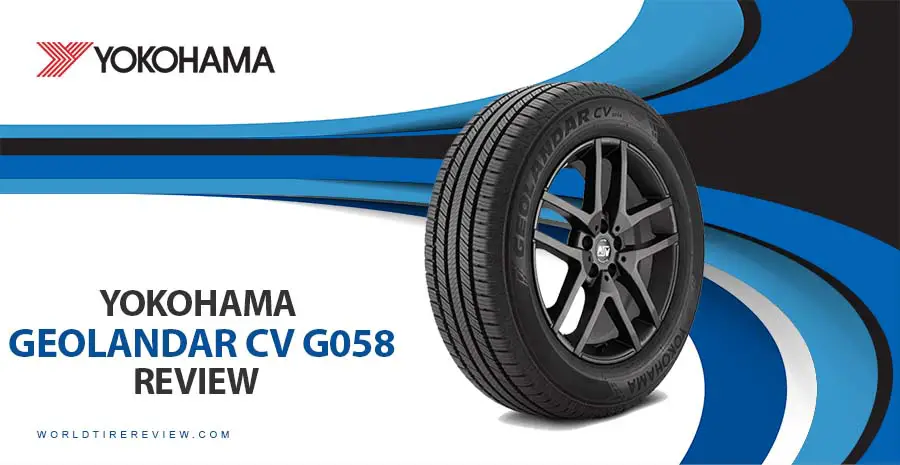 About Yokohama
Yokohama is a Japanese tire manufacturer corporation that sells premium tire products with highly innovative models worldwide.
With 100 hundred years of development, this company is progressively involved in the global tire ranking with many outstanding innovations, enabling it to reach global-consumer markets.
Yokohama Geolandar CV G058: features
Overall
This Yokohama Geolandar CV G058 was first launched in 2012, after its former version Yokohama / Geolandar G055. Moreover, this product line achieved the 2020 GOOD DESIGN award.
This tire has been promoted to grand touring, proving its purpose on long-way trips. Preservation M+S (mud and snow) is designed to perform outstanding driving even in heavy snowstorms.
This model offers 33 sizes and 16-20 inches fitting options that can be compatible with many types of vehicles, such as crossover, SUV, and minivan.
Design And Performance
Yokohama Geolandar GV 058 is an all-season tire engineered specifically with affirmed year-round traction. As a result, it can give a steady, comfortable ride on long trips, highways, or wet, snow-covered roads.
In detail, its design features non-directional symmetric tread molded into five-ribs and a sipe-based pattern dynamic edge, providing more traction in both dry and wet roads. The tread also has four circumferential pass-through grooves that resist hydroplaning.
Rounded ribs combined with middle ribs on shoulder blocks are constructed to increase grip.
Due to the flat and cutting-edge sipe blending with serrated grooves, this tire can give impressive braking on wet and snowy roads and riding stability.
If you care about the tread life, you can take this product into your consideration, thanks to the advanced 2D/3D sipe technology. 
Moreover, an optimized contact patch profile is the key factor to maintaining contact with the road surface and giving an even weight and balance. This way, it helps extend long wear tread life significantly. 
How about the noise level? Fortunately, the manufacturer has improved the design to reduce the noise with unique five-fitch variations. It helps the tire absorb noise, bringing a quiet and enjoyable ride.
Pros & Cons
Personal Opinion: Our Real Experience
The Yokohama Geolandar CV G058 matches long-distance trips to different climates. After experiencing it, we realized this one had evolved a lot compared to the old model in advance.
It gave us a peaceful long-way trip with a steady grip on the road, avoiding slack or slipping out of the surface. 
Yokohama's new CV2 compound works in unity with the serrated outer groove pattern to improve braking and traction in winter without imperiling treadwear. Variation of 2D/3D sipes creates incisive edges to deal with slippery roads.
Indeed, when we used this tire in winter, it exceeded our expectations. It provides stability whether accelerating, cornering or braking. Compared to some all-season tires, this one provides better snow traction. 
Modern technology with optimized contact patch and serrated outer grooves ensure distribution weight evenly for significantly improved comfort and long-lasting tread life. 
Moreover, another worth-mentioned feature is driving noise. As mentioned before, it brings more comfort and quieter adventures. Yet, you might keep in mind that the noise will be louder when it becomes worn out to let you know it's time to replace tires.
Do not worry! The tire also features a 10,000 km warranty. Whenever you see any problem with t, you can contact the manufacturer during the warranty time.
The biggest minus point of this product line is cornering ability at high speeds. This is because excess braking and grip may cause problems in curve roads. So, you need to be cautious when driving cars.
Overall, the Yokohama Geolandar CV G058 offers a combination of wet and snow notable performance, long-lasting tread life, quieter while driving. This makes the product a suitable highway touring tire.
This product also varies in size so that it can be a good choice for many drivers, such as crossover, SUV, and minivan.
Competitors & Alternatives
| | |
| --- | --- |
| Treadlife Warranty: | 5 Years / 65,000 Miles (2) |
| Uniformity Warranty: | First 2/32″ of wear |
| Workmanship & Materials Warranty: | 5 Years / Free replacement first year or 2/32″ of wear, then prorated to 2/32″ remaining depth |
| Manufacturer's Road Hazard Warranty: | None |
| Manufacturer Special Warranty: | 30 Day Test Drive (1) |
| Additional Information: | (1) Full refund or exchange (2) Half mileage for rear if different size than front |
| 16 | | 17 | |
| --- | --- | --- | --- |
| 215/65R16 | 225/70R16 | 215/60R17 | 235/55R17 |
| 215/70R16 | 235/70R16 | 215/65R17 | 235/60R17 |
| | | 215/70R17 | 235/65R17 |
| | | 225/55R17 | 245/65R17 |
| | | 225/60R17 | 255/60R17 |
| | | 225/65R17 | |
| 18 | | 19 | |
| --- | --- | --- | --- |
| 225/55R18 | 235/60R18 | 225/55R19 | 245/55R19 |
| 225/60R18 | 235/65R18 | 235/50R19 | 255/50R19 |
| 235/50R18 | 245/60R18 | 235/55R19 | |
| 235/55R18 | 255/55R18 | | |
| 20 | | | |
| --- | --- | --- | --- |
| 235/55R20 | 255/55R20 | | |
| 245/50R20 | 265/50R20 | | |
| 255/50R20 | | | |
Geolandar CV G058 prices range approximately from $153.99 to $242.99 (Tire Rack)
Pirelli Scorpion Verde All Season Plus II
prices range approximately from
Yokohama Geolandar CV G058 – Compare Prices
We found 6 online tire retailers selling Yokohama Geolandar CV G058. Refer to the details below to get the best price
Yokohama Geolandar CV G058
PRICE
SOLD BY

Offers

Offers




Offers




Offers




Offers




Offers



Geolandar CV G058 Ratings By Consumer