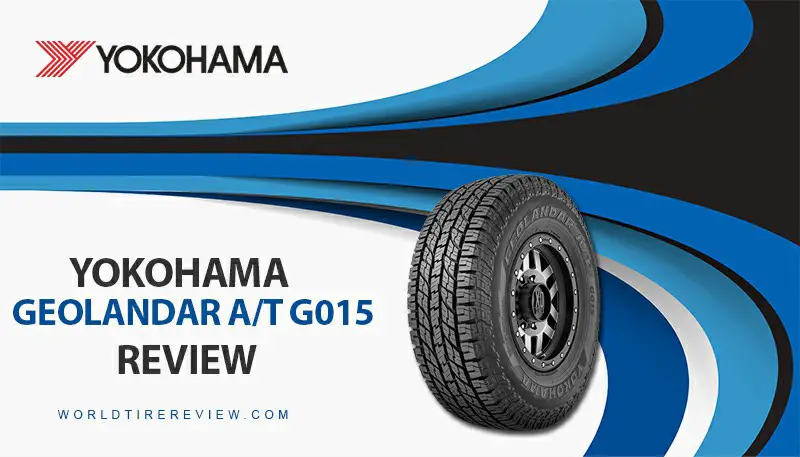 Yokohama Geolandar A/T G015: Overview
Yokohama is a tire manufacturer from Japan. Established in 1917, Yokohama has crafted its name on the automotive market. The innovative tires made their name a global brand that took part in many events and worldwide motor racing contests. Today, we will give you a closer look at this product through Yokohama Geolandar A/T G015 review.  The content below will briefly explore some features of Yokohama tires:
Yokohama has a 25% improvement in handling and braking in the snow than the older A / TS. Yokohama offers a variety of 15-20 inch sizes, accounting for 96% of the truck / SUV market. They are available in both LT and P-metric sizes.
The tire comes with three SD grooves on the tread, which helps retain block rigidity for even increased wear. The Antiwear polymer compounds allow the tire to move on many types of terrain, passes, and slopes.
Yokohama uses the Enduro compound to enable the car tire's resistance against cuts, scrapes and also punctures. This product also obtains a smart design of sidewall protectors to prevent abrasions when traveling over rocks.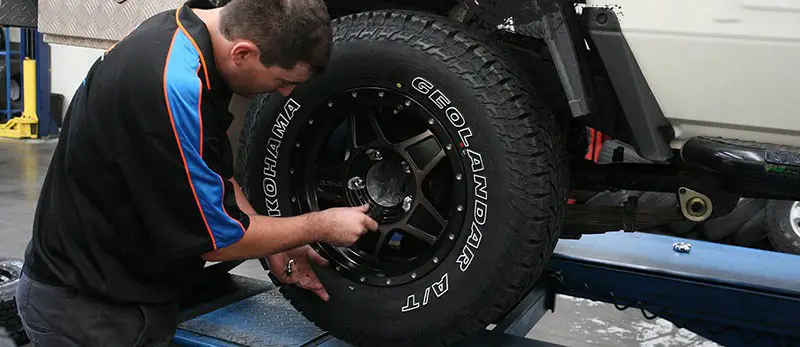 Furthermore, the application of EdgeTec Grooves on the tire helps create a larger space on the surface of the tire and easily removes heavy dirt, sand, and mud from it. This feature also helps enhance the product's traction capacity and grip in dirt, snow, and sand.
The tire has shown a lot of improvement compared with in the early stage in noise. More specifically, the tire emits a lower noise level than other A/T tires. 
View more: The 10 best all-terain tires in 2021
Pros And Cons
In this part, we will tell you about the positive features and limitations of this tire. Let's see if its benefit outweighs the drawbacks:
Test Drive
This tire is the ultimate choice for those finding a durable and tough one, as Yokohama Geolandar is long-lasting, excellent performance in traction and rough terrain.
Secondly, one of the most remarkable features of A/T G015 is its off-road performance. Based on our experiences, the car tire can perform excellently in mild to moderate off-road driving. 
In terms of highway, this car tire will provide you a more comfortable ride due to its strong brake and relentless grip, making Yokohama Geolandar A/T a good choice for gravel tires. 
Hence, Yokohama Geolandar A / T G015 is extremely suitable for those who love adventure. It is also a great choice for tourers, travelers, and even speed racers.
Although the tires offer many smart features, it also has disadvantages in noise and performance in deep mud conditions. After using these car tires for a long time, we realize that the car tire will generate loud noise if driven at high speed. 
If you want a perfect tire for high-speed driving, we think A/T G015 is not a good choice as it has strong stopping power. Another downside that you might consider before buying the product is its high cost; it is higher than other tires in the same category. However, we suggest that the tires will be worth the money due to its wonderful features we've listed above. 
Last Word 
In conclusion, we hope that this post is helpful for you. Geolandar A/T is one of the most favorite car tires according to its durability and snow condition performance; we ensure that you will be satisfied with it.
Competitors & Alternatives
| | |
| --- | --- |
| Treadlife Warranty: | 5 Years / 60,000 Miles (Euro/P-metric sizes) 5 Years / 50,000 Miles (LT-metric/Flotation sizes) Half mileage for rear if different size than front |
| Uniformity Warranty: | 1 Year / first 2/32″ of wear |
| Workmanship & Materials Warranty: | 5 Years / Free replacement first year or 2/32″ of wear, then prorated to 2/32″ remaining depth |
| Manufacturer's Road Hazard Warranty: | None |
| Manufacturer Special Warranty: | 30 Day Test Drive (1) |
| Additional Information: | (1) Full refund or exchange |
Geolandar A/T G015 warranty summary for replacement tires purchased at Tire Rack
| 15″ | | 16″ | |
| --- | --- | --- | --- |
| 205/70R15 | P 235/75R15 | 215/60R16 | LT 245/75R16 |
| 215/70R15 | 265/70R15 | 215/65R16 | P 245/75R16 |
| LT 215/75R15 | LT 30X9.50R15 | 215/70R16 | 255/65R16 |
| P 225/70R15 | LT 31X10.50R15 | LT 215/85R16 | LT 255/70R16 |
| P 235/70R15 | LT 32X11.50R15 | 225/70R16 | P 255/70R16 |
| LT 235/75R15 | LT 33X12.50R15 | LT 225/75R16 | P 265/70R16 |
| | | 235/60R16 | LT 265/75R16 |
| | | P 235/70R16 | P 265/75R16 |
| | | LT 235/85R16 | 275/70R16 |
| | | LT 245/70R16 | LT 285/75R16 |
| | | P 245/70R16 | LT 295/75R16 |
| | | | LT 305/70R16 |
| | | | LT 315/75R16 |
| 17″ | | 18″ | |
| --- | --- | --- | --- |
| 215/60R17 | LT 245/75R17 | 225/55R18 | LT 265/70R18 |
| 215/65R17 | 255/65R17 | 225/60R18 | 275/60R18 |
| 225/60R17 | LT 255/65R17 | 235/55R18 | 275/65R18 |
| 225/65R17 | P 255/70R17 | 235/60R18 | LT 275/65R18 |
| 235/65R17 | P 255/75R17 | 245/60R18 | LT 275/70R18 |
| 235/70R17 | LT 265/65R17 | 255/55R18 | 285/60R18 |
| P 235/75R17 | P 265/65R17 | 255/70R18 | LT 285/65R18 |
| LT 235/80R17 | LT 265/70R17 | 265/60R18 | LT 285/75R18 |
| LT 245/65R17 | P 265/70R17 | LT 265/60R18 | LT 295/70R18 |
| P 245/65R17 | 275/65R17 | 265/65R18 | LT 325/60R18 |
| LT 245/70R17 | 285/65R17 | 265/70R18 | LT 35X12.50R18 |
| P 245/70R17 | LT 285/70R17 | | |
| P 285/70R17 | LT 285/75R17 | | |
| | LT 315/70R17 | | |
| 19″ | 20″ | | 22″ |
| --- | --- | --- | --- |
| 235/55R19 | 245/50R20 | LT 285/60R20 | 285/45R22 |
| 255/55R19 | 265/50R20 | LT 285/65R20 | LT 285/50R22 |
| | LT 265/60R20 | LT 295/55R20 | LT 285/55R22 |
| | 275/55R20 | LT 295/60R20 | LT 325/50R22 |
| | LT 275/55R20 | LT 295/65R20 | |
| | 275/60R20 | LT 305/55R20 | |
| | LT 275/60R20 | LT 325/60R20 | |
| | LT 275/65R20 | LT 35X12.50R20 | |
| | 285/50R20 | | |
| | LT 285/55R20 | | |
| | | | |
Geolandar A/T G015 prices range approximately from $126.99 – $410.82 – Tirebuyer
Goodyear Vector 4Seasons SUV
Goodyear Vector 4 Seasons Gen 2 SUV
Dunlop Grandtrek ST20
Continental ContiCrossContact LX 2
Nokian WeatherProof SUV
Michelin CrossClimate SUV
Yokohama Geolandar A/T G015 – Compare Prices
We found 6 online tire retailers selling Yokohama Geolandar A/T G015. Refer to the details below to get the best price:
Yokohama Geolandar A/T G015
PRICE
SOLD BY
 

Offers

Offers

Offers

Offers

$132

Offers
Geolandar A/T G015 Ratings By Consumer