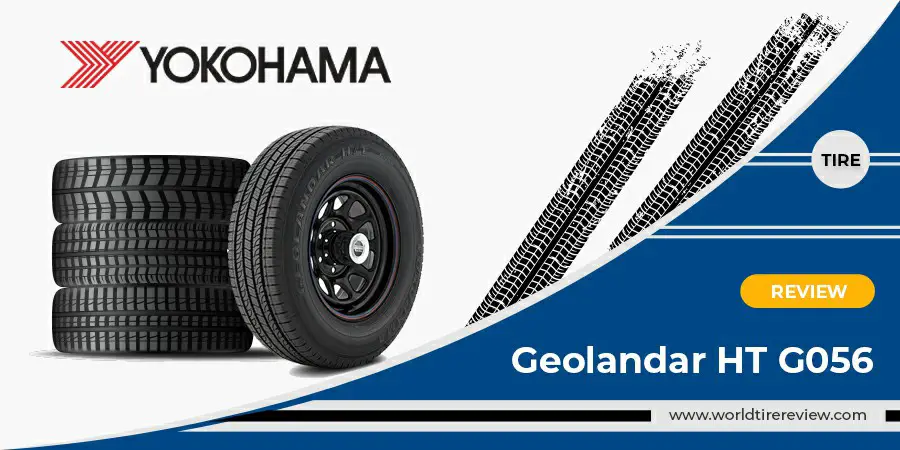 A Brief Of Yokohama Geolandar H/T G056
When it comes to safety, tires are among the most important parts of your vehicle. The brakes only help stop the wheels, not your car! It's the rubbers that stop your car. Yet, replacing it costs quite much. Most people find it hard to choose high-quality but affordable tires.
So, if you have the same issue, let's check this Yokohama Geolandar H/T G056 out to get a reliable reference. 
About Yokohama Tire Group
Aiming to become the top tire producer, Yokohama Tire Company always makes a 100% effort to improve their technique and details in each product. 
This giant is also the first Japanese rubber producer to get the ISO9001 standard. Some worth-mentioning types of Yokohama's certificated products are all-season tires, all-terrain tires, and specialized tires for every season.
If you're considering which types above Yokohama Geolandar H/T G056 is, let's scroll down to learn more!
Detailed Features
Yokohama Geolandar H/T G056 is an all-season tire suitable for driving on the highway. Compared to the previous HT-S version, this type has a remarkable difference in constitutive compounds. Yokohama has utilized the special orange oil technology and then manufactured more pliable than ever silica treads.
Moreover, the zigzag-shaped grooves appear symmetrically on both sides, supporting the cornering ability in the wet condition. The 3D sipes design is another highlight point. They bring an aggressive exterior as well as gain braking capacity for this rubber.
Regarding its size, Yokohama's factories produce different wheel tires sizes, mainly fitting P-metric and light trucks lineups. There are five wheel diameters of rims with widths ranging from 215 to 285 mm, depending on each one.
If you are finding a durable rubber, don't ignore its load index and speed rating. One Yokohama Geolandar H/T G056 tire can bear a weight reaching 85 pounds (~515 kg), while the number of cycles at high speed could get V level (~240km/h).
Moreover, this product has to undergo hundreds of UTQG tests. Below are three of its achievements in figures:
Traction: ranked A (good grade)
Treadwear: 600 (higher than 100-standard)
Temperature Resistance: ranked B (medium point)
Strengths And Weaknesses Of The Geolandar H/T G056 
Tire Drive Test: Yokohama Geolandar H/T G056
Well, we guess you really expect to see how this tire works in actuality. Now that we've experienced this tire, let us share our thoughts on its capabilities.
Performance On The Road
We've found that this tire has an amazing grip on the street, especially when drifting on corners or braking on wet surfaces. It is due to its exceptional material and unique tread structure. 
Twin steel belts and two polyester casing plies help to reduce roaring and shaking generated when accelerating. Indeed, we almost couldn't hear any loud sounds during our journey. 
After two years of driving and passing more than 30.000 miles, its overlook seems not to change significantly. Yet, there is one disappointing point we realize – its performance in icy conditions. Though it is a 4-season tire, its winter traction is extremely weak. 
Will This Fit Your Vehicle?
Due to the mentioned features, it would be best if you own a light truck or an SUV. Some typical cars using this Japanese product are Ford Expedition, Mazda Tribute, Toyota 4Runner, Dodge Dakota, etc.
Or, if your car is not in any of these lineups, you can contact the nearest authorized agent to get more specific guides. 
Brand Assurance 
Always putting the customer's benefit first has been the brand's operating principle for decades. So, you can completely believe in buying this rubber.
This brand has a return policy that indicates they will give you a brand new product in 30 days if any technical faults or bad material issues happen. 
Aside from that, they also offer a warranty for LT (50.000 miles) and P (70.000 miles) rubbers within five years. With the excellent warranty service and the features, and budget-friendly price, Yokohama Geolandar H/T G056 is an excellent choice in the tires market.
Competitors & Alternatives
| | |
| --- | --- |
| Treadlife Warranty: | 5 Years / 70,000 Miles (P-Metric sizes only)  5 Years / 50,000 Miles (LT sizes only)  Half mileage for rear if different size than front |
| Uniformity Warranty: | First 2/32″ of wear |
| Workmanship & Materials Warranty: | 5 Years / Free replacement first year or 2/32″ of wear, then prorated to 2/32″ remaining depth |
| Manufacturer's Road Hazard Warranty: | None |
| Manufacturer Special Warranty: | 30 Day Test Drive (1) |
Warranty summary for replacement tires purchased on or after 12/01/14
| 15 | | 16 | |
| --- | --- | --- | --- |
| P 235/75R15 | LT 30X9.50R15 | LT 215/85R16 | P 245/75R16 |
| 265/70R15 | LT 31X10.50R15 | LT 225/75R16 | P 255/65R16 |
| | | P 225/75R16 | P 255/70R16 |
| | | P 235/70R16 | P 265/70R16 |
| | | P 235/75R16 | LT 265/75R16 |
| | | LT 235/85R16 | P 265/75R16 |
| | | P 245/70R16 | 275/70R16 |
| | | LT 245/75R16 | |
| 17 | | 18 | |
| --- | --- | --- | --- |
| P 235/70R17 | P 255/65R17 | P 245/60R18 | P 265/70R18 |
| LT 235/80R17 | P 255/70R17 | 255/60R18 | 275/60R18 |
| P 245/65R17 | P 265/65R17 | P 255/65R18 | LT 275/65R18 |
| LT 245/70R17 | LT 265/70R17 | P 255/70R18 | P 275/65R18 |
| P 245/70R17 | P 265/70R17 | P 265/60R18 | LT 275/70R18 |
| LT 245/75R17 | LT 285/70R17 | P 265/65R18 | 285/60R18 |
| 19 | | 20 | |
| --- | --- | --- | --- |
| P 255/60R19 | | 245/60R20 | P 275/60R20 |
| | | LT 265/60R20 | LT 275/65R20 |
| | | 275/55R20 | 285/50R20 |
| | | P 275/55R20 | |
| 21 | | 22 | |
| --- | --- | --- | --- |
| 275/50R21 | | P 275/50R22 | 285/45R22 |
Geolandar H/T G056 prices range approximately from ‎$129.99 to $309.99 (Tire Rack)
Cooper Discoverer HT3
Firestone Destination LE 2
General Grabber HTS
Pirelli Scorpion STR
Yokohama Geolandar H/T G056 – Compare Prices
We found 6 online tire retailers selling Yokohama Geolandar H/T G056. Refer to the details below to get the best price:
Yokohama Geolandar H/T G056
PRICE
SOLD BY
 

Offers

Offers

Offers

Offers

$130

Offers
Geolandar H/T G056 Ratings By Consumer