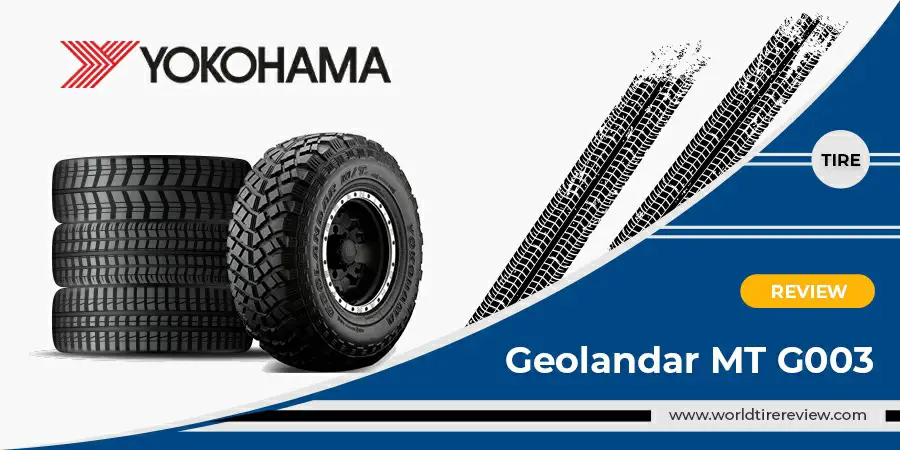 In this interesting post of Review, we will walk you through an introduction of Yokohama Geolandar M/T G003 along with its features and our final thoughts through a tire drive test. Let's check it now. 
Overview Of Yokohama Geolandar M/T G003 
Yokohama Tire Corporation
Founded in Japan in 1917, Yokohama Tire Corporation is a branch of the Japan-based Yokohama Rubber Co., Ltd., which is in charge of manufacturing and marketing in the north USA. Over time, it has gained immense popularity thanks to aesthetic designs and exceptional high-quality tires. Yokohama surpasses the industry standard and creates premium tires for off-roaders.
Particularly, Yokohama Tire uses state-of-art manufacturing facilities to provide well-engineered tires for light trucks, high-performance off-road, passenger cars, commercial trucks, or any off-road mining and other construction applications. 
Yokohama Geolandar M/T G003 is an exceptional mud-terrain tire for all types of pick-ups, full-size SUVs, jeeps, and off-road vehicles. It provides maximum traction and durability to go through the most challenging off-beaten paths. 
Yokohama Geolandar M/T G003 Features 
The most outstanding feature of Geolandar M/T G003 comes from the tread compound and its unique tread pattern. Specifically, the aggressive mud-terrain tire of Yokohama Geolandar M/T G003 is engineered with a new triple-polymer blend along with the increased amount of silica in the tread compound. This high-density compound handles extreme off-road conditions.
In terms of tread design, the touch sidewall design and the meaty shoulder blocks on the edge of the tire tread are also worth mentioning. They work together to protect sidewalls against rock punctures. At the same time, they deliver additional grip and better traction in hard terrain. 
Furthermore, optimized sipes mounted on the rugged rigid tread blocks incorporate into the tread aid in throwing stone, sand, or mud out the terrain, enhancing stability on and off the road. 
Regarding comfort, variable-pitch blocks and a high-void tread pattern contribute to reducing noticeable noise on the highway. 
The above features prove Geolandar M/T G003 is a truly off-road tire. So, how about its performance over wet or snow conditions? Well, grooves between tread blocks easily clear out snow, ice. However, the less dense snow-biting sipes make Geolandar M/T G003 quite challenging to get out of deep snow. 
As an honest off-pavement tire, it is undeniable that Geolandar M/T G003 delivers excellent durability. It offers an 8% longer lasting than other same class tires. 
Last but not least, the Yokohama Geolandar M/T G003's treadlife is significantly increased thanks to the rock-solid GEO-SHEILD construction. The great incorporation of three polyester body plies, two high-strength steel belts, and a full-width nylon cap creates the tire's casing and increases Geolandar M/T G003's durability.
Pros & Cons
Tire Drive Test 
We had a thrilling drive test from Gateway, Colorado, to the Utah border on Jeep JKs. The trail we passed contains a multitude of different terrains. We hit some sections of rock, soft dirt, and large rock slopes. Passing some off-road trails and old uranium mines, it was never challenging with Geolandar M/T G003. 
We got excellent traction, which felt like we were running on a two-wheel drive (instead of a four-wheel drive of Jeep JKs). 
The next part of the trail is an airstrip with very silty soil. The tires rolled through, soaking up the bumps without any difficulty. It was great for us to experience how the tires tackled obstacles on the road and gripped the road. 
The final part was passing on the highway, where we could fully test the tires in terms of noise. It was surprisingly quite quiet, although there was a slight hum. 
Overall, we were impressed with how the tires performed and handled almost all the terrains we passed. Through this review, we believe it is a wonderful choice for anyone seeking an aggressive look and a great off-pavement tire.
Competitors & Alternatives
| | |
| --- | --- |
| Treadlife Warranty: | None |
| Uniformity Warranty: | First 2/32″ of wear |
| Workmanship & Materials Warranty: | 5 Years / Free replacement first year or 2/32″ of wear, then prorated to 2/32″ remaining depth |
| Manufacturer's Road Hazard Warranty: | None |
| Manufacturer Special Warranty: | 30 Day Test Drive (1) |
| 15 | | 16 | |
| --- | --- | --- | --- |
| LT 215/75R15 | LT 32X11.50R15 | LT 225/75R16 | LT 265/75R16 |
| LT 235/75R15 | LT 33X12.50R15 | LT 235/85R16 | LT 285/75R16 |
| LT 30X9.50R15 | LT 35X12.50R15 | LT 245/75R16 | LT 305/70R16 |
| LT 31X10.50R15 | | LT 255/85R16 | LT 315/75R16 |
| 17 | | 18 | |
| --- | --- | --- | --- |
| LT 225/65R17 | LT 285/75R17 | LT 275/65R18 | LT 295/70R18 |
| LT 235/80R17 | LT 295/70R17 | LT 275/70R18 | LT 305/70R18 |
| LT 245/75R17 | LT 33X12.50R17 | LT 285/65R18 | LT 315/70R18 |
| LT 255/75R17 | LT 35X12.50R17 | LT 285/70R18 | LT 33X12.50R18 |
| LT 265/70R17 | LT 37X12.50R17 | LT 285/75R18 | LT 35X12.50R18 |
| LT 285/70R17 | LT 40X13.50R17 | | |
| 20 | | 22 | |
| --- | --- | --- | --- |
| LT 275/55R20 | LT 315/60R20 | LT 285/55R22 | LT 35X12.50R22 |
| LT 275/65R20 | LT 33X12.50R20 | LT 325/50R22 | LT 37X12.50R22 |
| LT 295/55R20 | LT 35X11.50R20 | LT 33X12.50R22 | LT 37X13.50R22 |
| LT 295/60R20 | LT 35X12.50R20 | | |
| LT 295/65R20 | LT 37X12.50R20 | | |
| LT 305/55R20 | LT 37X13.50R20 | | |
Geolandar M/T G003 prices range approximately from $171.00 to $735.00 (Discount Tire)
General Grabber X3
BFGoodrich Mud-Terrain T/A KM3
Firestone Destination M/T2
Kumho Road Venture MT KL71
Goodyear Wrangler MT/R with Kevlar
Yokohama Geolandar M/T G003 – Compare Prices
We found 6 online tire retailers selling Yokohama Geolandar M/T G003. Refer to the details below to get the best price:
Yokohama Geolandar M/T G003
PRICE
SOLD BY
 

$216.8

Offers

Offers

Offers

Offers

Offers
Geolandar M/T G003 Ratings By Consumer