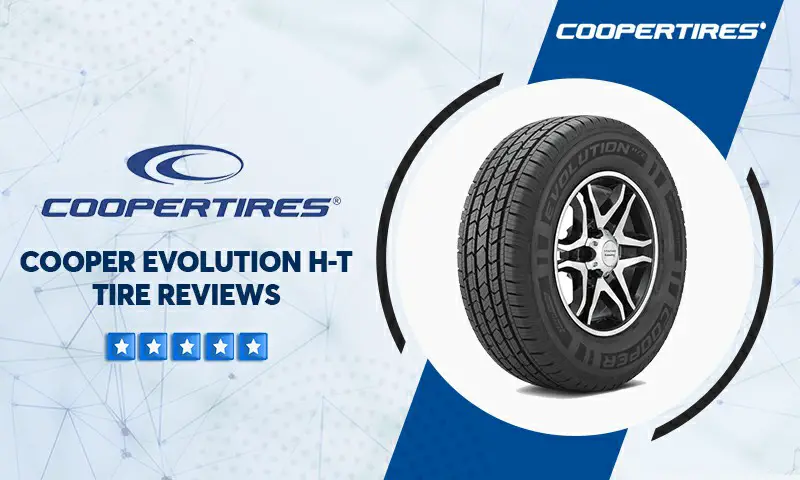 Founded in 1914, Cooper Tire & Rubber Company has spent lots of time improving tires' quality and customer experience. For the past four years, one of Cooper's best selling tires is Evolution H/T tire. When reading H/T Tire reviews, you will notice this Evolution H/T has pretty high ratings. This model perfectly fits for both crossover and SUVs. Cooper markets Evolution H/T as the best constant companion that will perform well in any kind of terrain and under any type of weather.
Cooper Evolution H/T stands out because its StabilEdge Technology offers excellent traction on either wet or dry roads. This new technology can maintain stability and control of your vehicle, especially during cornering and braking.
Another strength of Cooper Evolution H/T is 3D Micro-Gauge, which promises maximum control over the cars in both wet and dry conditions. The symmetric tread pattern serves to minimize the vehicle noise as well as extend the tire life.
Pros and Cons
Cooper Evolution H/T test drive
Among Cooper's best tire collections, Evolution H/T stands as a low-end model introduced to the Cooper brand market. This sometimes leads buyers to think that Evolution HT's quality is somewhat inferior to other models.
But riding experiment with Evolution H/T is beyond expectation, to be honest. Some outstanding strengths are perfect stability and control, high-silica symmetric tread, and popular wheel sizes.
Many Cooper Evolution H/T tire reviews claim this model is a perfect all-season tire; however, we realize that Evolution H/T will not perform well in snowy weather as Cooper promises. Although Evolution H/T tires can withstand a pretty wide range of temperatures, when the temperature drops under five degrees Celsius, they will encounter some serious problems after driving for a while, especially braking or handling in heavy snow.
Nonetheless, under dry weather, this Evolution H/T can offer perfect performance. They create nearly no noise on the road, even at high speed, thanks to the symmetric tread pattern. This tread design allows water to evacuate quickly from the contact patch, which will help avoid hydroplaning problems.
3D Micro-Gauge and StabilEdge Technology perfectly work together, providing the drivers with more safety and stability when the roads are slippery. 
Conclusion
For those who are looking for economical tires that still work well for your vehicles, Cooper Evolution H/T is worth your considering. You are probably reading many Cooper Evolution H/T Reviews. But, in short, except for the only weakness in heavy snow, this Evolution tire will be the right choice that is good in performance and appealing in appearance.
| | |
| --- | --- |
| Treadlife Warranty: | Unlimited Time / 50,000 miles Half mileage for rear if different size than front |
| Uniformity Warranty: | First 2/32″ of wear |
| Workmanship & Materials Warranty: | Unlimited Time / Free replacement first 2/32″ of wear, then prorated until 2/32″ remaining depth |
| Manufacturer's Road Hazard Warranty: | None |
| Manufacturer Special Warranty: | 45 Day Road Test (1) |
| Additional Information: | (1) Exchange for another Cooper brand tire |
Cooper CS5
Warranty summary for replacement tires purchased on or after 01/01/19 Tire Rack
| 15″ | | 16″ | |
| --- | --- | --- | --- |
| 225/75R15 | 265/70R15 | 215/70R16 | 245/70R16 |
| 235/75R15 | 265/75R15 | 225/70R16 | 245/75R16 |
| | | 225/75R16 | 255/70R16 |
| | | 235/70R16 | 265/70R16 |
| | | 235/75R16 | 265/75R16 |
| 17″ | | 18″ | |
| --- | --- | --- | --- |
| 235/65R17 | 265/65R17 | 235/65R18 | 255/70R18 |
| 245/65R17 | 265/70R17 | 245/60R18 | 265/60R18 |
| 245/70R17 | | 255/55R18 | 265/70R18 |
| | | 255/65R18 | 275/65R18 |
| 19″ | | 20″ | |
| --- | --- | --- | --- |
| 245/55R19 | 255/60R19 | 245/50R20 | 275/55R20 |
| | | 265/50R20 | 275/60R20 |
Cooper Everlution H/T prices range from approximately $128 and up – Tire Rack
Cooper Evolution H/T – Compare Prices
We found 6 online tire retailers selling Cooper Evolution H/T. Refer to the details below to get the best price:
Cooper Evolution H/T
PRICE
SOLD BY
 

Offers

$127.99

Offers

Offers

Offers

Offers
Evolution H/T ratings by consumer