You are looking for a new touring tire for your vehicles. And you are searching for the Cooper Evolution Tour Tire reviews. Then you found this article. Yes, we provide comments on the Cooper Evolution Tour of Cooper Tire Company.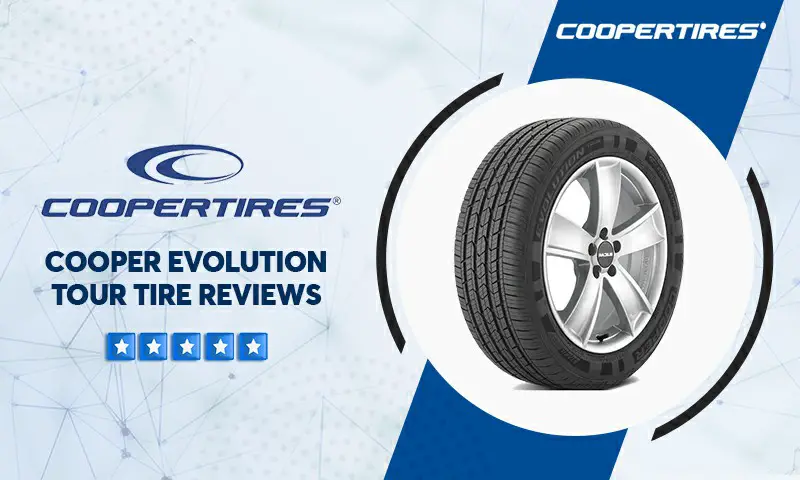 Cooper Tire Company was established in 1914 in Akron, Ohio, the USA. At Cooper, they believe that providing a high-quality product is key to ensuring the customer's peace of mind. Safety is Cooper's top priority.
Cooper Evolution Tour Overview
These touring tires are built as an all-season tire for drivers of all kinds of family sedans, minivans, and crossovers. The supplier wants to give drivers a product that feels confident, safe, and secure while driving, especially when it comes to weather such as rain, snow, and storm…
The tire also features an energy-saving design, which will help you save fuel and finance. Similar to other Cooper products, Evolution Tour uses Stabiledge Performance technology. This technology improves cornering performance and increases stability on dry pavement.
One of the outstanding features of Cooper Evolution Tour features is designed for long tread life. And one more exciting thing is that you will only have to pay a reasonable amount to own Evolution Cooper Tour Tire. This makes you much more economical than other tires in the same line. You can easily book Evolution Cooper Tour on e-commerce sites.
View more: Cooper Evolution H/T Tire Reviews
Pros And Cons
Cooper Evolution Tour test drive
Similar to other products of Cooper Tire, the tread of the tire of the Evolution Tour is set up with maintenance indicators. Having experienced a variety of tires, we really love this feature. It will show the driver how long the tire has traveled. This is extremely useful for the safety of the driver.
Cooper named this technology as Wear Square Indicators. Cooper designs the circumferential grooves on the tread pattern with small rubbers. When the tire is newly used, these indicators can be seen. However, they will disappear into the tread pattern.
See more: Cooper Evolution Winter Tire Reviews
The more we use them, the more they disappear. Like most other suppliers, Cooper recommends that you change the tires once the tire has lost its readings, but we recommend doing that earlier. You should never wait for the tire to totally disappear for your safety in special weather like in snowy and wet conditions.
But to be fair, this tire doesn't really do much in wet and slippery weather. When we took a Cooper Evolution Tour review in wet condition, we found that the tire was unsafe. In light rain, it shows quietly well.
The Cooper Evolution Tour is an extremely comfortable and reasonable-priced tire that provides good work on dry roads. Unfortunately, it is quite not good at wet handling and braking. It is hard for us to recommend this tire. But we guess through this Cooper Evolution Tour Tire review, you have your own choice.
| | |
| --- | --- |
| Treadlife Warranty: | Unlimited Time / 60,000 miles (H- & V-Speed Rated)  Unlimited Time / 65,000 miles (T-Speed Rated)  Half mileage for rear if different size than front |
| Uniformity Warranty: | First 2/32″ of wear |
| Workmanship & Materials Warranty: | Unlimited Time / Free replacement first 2/32″ of wear, then prorated until 2/32″ remaining depth |
| Manufacturer's Road Hazard Warranty: | None |
| Manufacturer Special Warranty: | 45 Day Road Test Guarantee (1) |
| Additional Information: | (1) Exchange for another Cooper brand tire |
Evolution Tour
warranty summary for replacement tires purchased on or after 01/01/19 Tire Rack
| 14″ | | 15″ | |
| --- | --- | --- | --- |
| 175/65R14 | 185/70R14 | 175/65R15 | 195/65R15 |
| 185/60R14 | 195/60R14 | 185/60R15 | 205/60R15 |
| 185/65R14 | 195/70R14 | 185/65R15 | 205/65R15 |
| | | 195/60R15 | 205/70R15 |
| | | 215/70R15 | 215/65R15 |
| 16″ | | 17″ | |
| --- | --- | --- | --- |
| 185/55R16 | 215/65R16 | 215/55R17 | 225/65R17 |
| 205/55R16 | 215/70R16 | 215/60R17 | 235/55R17 |
| 205/60R16 | 225/55R16 | 215/65R17 | 235/60R17 |
| 205/65R16 | 225/60R16 | 225/50R17 | 235/65R17 |
| 215/55R16 | 225/65R16 | 225/55R17 | 245/65R17 |
| 215/60R16 | 235/65R16 | 225/60R17 | |
| 19″ | | | |
| --- | --- | --- | --- |
| 225/50R18 | 225/60R18 | | |
| 225/55R18 | 235/55R18 | | |
Cooper CS5 Grand Touring prices range from approximately $72.00 – $155.00
Cooper Evolution Tour – Compare Prices
We found 6 online tire retailers selling Cooper Evolution Tour. Refer to the details below to get the best price:
Cooper Evolution Tour
PRICE
SOLD BY
 

Offers

$72.98

Offers

Offers

$73

Offers
Evolution Tour Ratings By Consumer