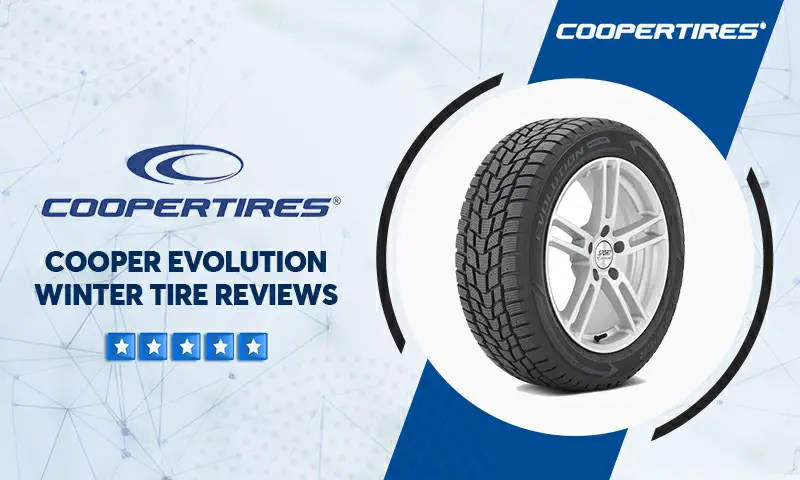 This Cooper Evolution Winter Tire article is long and informative enough to give you the best overall about this product. We will brief its special features and share with you our real experience. Hope our review is exactly what you are finding to make the final decision.
Cooper stands out from the market of tire manufacturers in the USA. Cooper has never made clients worried about its quality with its continuous improvement of tires and applications of tire science and technology into custom tires.
Cooper Evolution Winter overview
Cooper Evolution Winter Tire is one of its latest studdable tires. It is specially designed for superior traction on the deep snow and ice in the hazardous winter. Its snow groove technology and certification of three-peak mountain snowflakes are well-proven for maximum traction and driving safety.
The product's design brings stability control to driving vehicles. Furthermore, it excels in plowing deep snow. This good performance thanks to the design of the center rid. Centre Rid is made up of wide rigid tread blocks aiming at steering response. 
The wide circumferential grooves and open notches on the shoulder are a smart way to evacuate water and slush in the wet road condition. The snow groove technology comes from high density and multi-angle sipe positioning, which traps snow then creates snow-on-snow traction. When you turn to make a corner or hit the brake, it is also the time you are using snow's cohesive properties to your advantage. 
Our Cooper evolution winter tire review will be missing if we don't mention the Cooper evolution winter tire as a studdable tire. It has 11-studs, which you can ask the help from the technician to install. Undoubtedly, its handling is good in extreme wintry conditions with frequent snow and ice like Northern areas.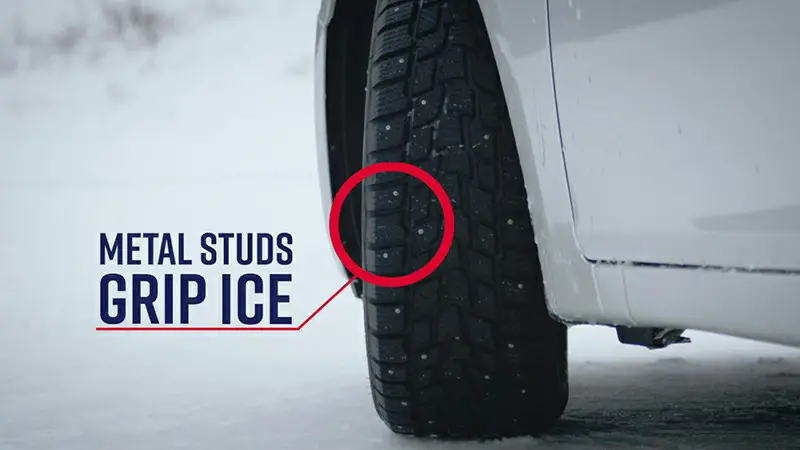 Another high score in the Cooper evolution winter tire of users is its ride quality. Drivers nearly aren't affected by noise even when studs are attached. 
Pros and Cons
See more: Cooper Evolution H/T Tire Reviews
Cooper Evolution Winter drive test
We bought two Cooper Evolution Winter tires for the front wheels on a Rav4.  Last year, Toronto experienced severe snowstorms and Cooper Evolution Winter tires did an excellent job. We can't say enough how lucky we feel to have these two pairs of  Cooper Evolution Winter tires as companions going through the hazardous winter! 
Dense snow made the road terrible even after a day of plowing. On a heavy day with 6″ of snow, we got better traction than the tires we used before. The car handling was good as well. We also drove my Rav4 on some icy days, when we were pretty surprised by Cooper Evolution Winter tires' well-done performance. They gripped so well. Like other reviews, it is a solid tire for the cost and a perfect choice for driving through severe weather conditions.
Running the car on the highway, we noticed that it caused negligible noise. However, overall we are very pleased with its excellent traction for accelerating and braking as well as its shorter braking distance on ice.
Cooper Evolution Winter tires are well proven for driving through severe wintry conditions from the purpose of Cooper manufacturer to personal experiences. If you are living in such conditions and the local authorities allow you to use studded tires, we highly recommend it. Through this Cooper Evolution Winter tire review, we hope you gain useful information about its innovative tire technology and how well it performs in almost hazardous weather.
| | |
| --- | --- |
| Treadlife Warranty: | None |
| Uniformity Warranty: | First 2/32″ of wear |
| Workmanship & Materials Warranty: | Unlimited Time / Free replacement first 2/32″ of wear, then prorated until 2/32″ remaining depth |
| Manufacturer's Road Hazard Warranty: | None |
| Manufacturer Special Warranty: | 45-Day Road Test (1) |
| Additional Information: | (1) Exchange for another Cooper brand tire |
Evolution Winter warranty summary for replacement tires purchased on or after 01/01/19 Tire Rack
| 14″ | | 15″ | |
| --- | --- | --- | --- |
| 175/65R14 | 195/70R14 | 175/65R15 | 205/65R15 |
| 175/70R14 | | 185/60R15 | 205/70R15 |
| 185/65R14 | | 185/65R15 | 215/60R15 |
| | | 195/60R15 | 215/70R15 |
| | | 205/60R15 | 235/75R15 |
| 16″ | | 17″ | |
| --- | --- | --- | --- |
| 205/50R16 | 215/65R16 | 205/50R17 | 225/50R17 |
| 205/55R16 | 215/70R16 | 215/45R17 | 225/55R17 |
| 205/60R16 | 225/60R16 | 215/50R17 | 225/60R17 |
| 205/65R16 | 225/65R16 | 215/55R17 | 225/65R17 |
| 215/55R16 | 225/70R16 | 215/60R17 | 235/45R17 |
| 215/60R16 | 225/75R16 | 215/65R17 | 235/55R17 |
| 235/70R16 | 235/60R16 | 225/45R17 | 235/60R17 |
| | 235/65R16 | | 235/65R17 |
| 18″ | | | |
| --- | --- | --- | --- |
| 215/55R18 | 225/60R18 | 235/65R18 | 255/65R18 |
| 225/45R18 | 235/50R18 | 245/45R18 | 265/60R18 |
| 225/50R18 | 235/55R18 | 245/60R18 | 265/65R18 |
| 225/55R18 | 235/60R18 | 255/55R18 | |
| 19″ | | 20″ | |
| --- | --- | --- | --- |
| 235/55R19 | 255/50R19 | 245/50R20 | 255/55R20 |
| 245/55R19 | | 255/50R20 | 265/50R20 |
Cooper Evolution Winter prices range from approximately $85 and Up – Tire Rack
Cooper Evolution Winter – Compare Prices
We found 6 online tire retailers selling Cooper Evolution Winter. Refer to the details below to get the best price:
Cooper Evolution Winter
PRICE
SOLD BY
 

Offers

Offers

$87.99

Offers

$88

Offers
Cooper Evolution Winter Ratings By Consumer