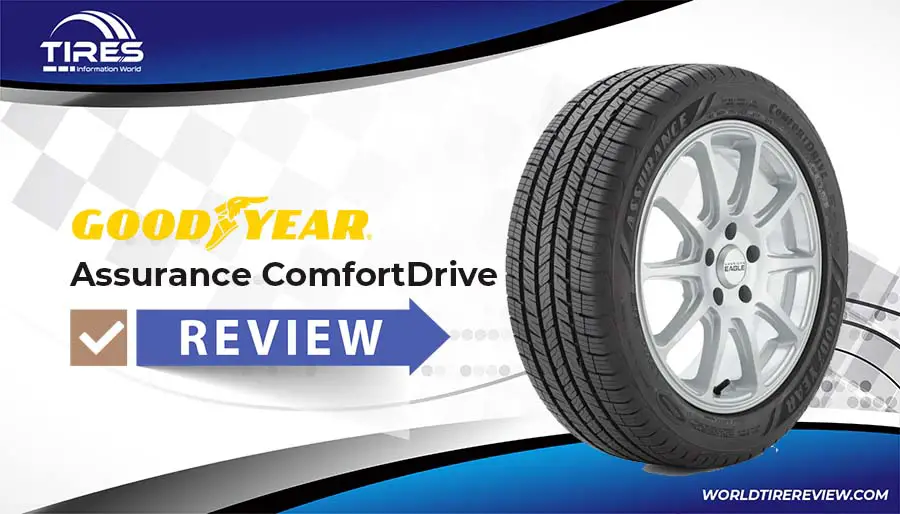 Overview
Why are more and more drivers picking Goodyear Assurance ComfortDrive tires? This content on the review might put an end to your curiosity.  
About Goodyear Brand
The Goodyear brand is a USA multinational tire producing manufacturer. It came to the market in 1898 in Ohio, America. 
The firm has earned its reputation for manufacturing tires for an array of  types. In particular, they are good fits for SUVs, airplanes, race cars, motorcycles, light trucks, commercial trucks, automobiles, and even farm equipment. The high-end quality of its products have pushed Goodyear to become one of the Top Four tire producers in 2017. 
The Goodyear Assurance ComfortDrive tire has built its quality for a long-distance tire line among prominent models. The brand has received a lot of positive feedback from customers thanks to its advanced technology and long legacy of experience.
Goodyear Assurance ComfortDrive Reviews – The Key Features
Tread 
The model is equipped with a specific compound filled with soybean oil to enhance the superior traction. Furthermore, the firm's patented advanced TreadLock technology offers impressive responsiveness and stability when it comes to cornering in dry places. 
Traction
Regarding this aspect, we have to mention the outstanding Evolving Traction from the brand. The texture lets your tires change pattern moderately when they wear out. Also, this design aims to deliver the renewed sharp sipes and edges for a fresh exterior against roads in most weather conditions. 
Comfort 
The symmetrical tread texture offers a block pattern that aims for maximum comfort and minimal noise. In addition, the tread pattern features triad circumferential grooves for water evacuation, which adds more safety to every drive. 
Furthermore, the manufacturer arms this tire version with the ComfortFlex tech. The design uses double steel belts to become a strongly reinforced ply. Thanks to this, it will help in creating a powerful base and absorbing impacts for the tire.  
Performance On Wet Roads 
The producer has applied the optimized AquaChannel groove on its tires. The advanced point is the symmetrically balanced design to navigate most conditions. This technology is meant to reduce hydroplaning and maximize water evacuation for prominent wet performance.
Pros & Cons
Goodyear Assurance ComfortDrive Drive Test
We are skillful drivers and have experienced many  years traveling on the highways and byways of the country on various kinds of tires. After using the Goodyear Assurance ComfortDrive tires, we can confidently confirm that its advantages dominate its drawbacks:
The brand guarantees a 60,000 miles of treadwear warranty in terms of tread life. Yet, the fact is beyond expectation, and from our driving test, we found that its actual performance could reach up to 90,000 miles. 
The model from Goodyear is a perfect option for those who travel long distances on the city streets or highways and meets the requirements of quiet and comfort.  
Experiencing the tire on different roads, we noticed that the tire is built to deliver durable all-season performance with superior comfort and road noise. It comes to the market to meet medium to small crossovers and SUVs as well as all sizes of sedans. Still, this isn't an ideal choice for a severe cold. 
The version from the Goodyear brand satisfies the typical OE-fit tires standard, which is Original Equipment – the parts that your vehicle was fitted with at the factory. 
We also see that sometimes the tire has more vagueness and lacks road responsiveness. This might result in some ugly braking feel and cornering response. 
Yet, most agree that the model still offers reliable traction and grip in a wide range of surfaces and stable performance during the longevity of tires.
By and large, the Assurance ComfortDrive is an excellent option for drivers who seek tires for a smooth, quiet ride on long journeys.
Competitors & Alternatives
| | |
| --- | --- |
| Treadlife Warranty: | 6 Years / 60,000 Miles  |
| Uniformity Warranty: | 1 Year / first 2/32″ of wear |
| Workmanship & Materials Warranty: | 6 Years / Free replacement first year or 2/32″ of wear, then prorated until 2/32″ remaining depth |
| Manufacturer's Road Hazard Warranty: | None |
| Manufacturer Special Warranty: | 30 Day Test Drive (1) |
| Additional Information: | (1) Exchange for a different Goodyear brand tire |
warranty summary for replacement tires purchased at Tire Rack
| 16 | | 17 | |
| --- | --- | --- | --- |
| 205/60R16 | 215/60R16 | 215/60R17 | 225/55R17 |
| 205/65R16 | 215/65R16 | 215/55R17 | 225/60R17 |
| 205/55R16 | 215/55R16 | 215/50R17 | 235/60R17 |
| | | 215/45R17 | 235/65R17 |
| | | 225/65R17 | 235/55R17 |
| | | 225/45R17 | 245/45R17 |
| | | 225/50R17 | |
| 18 | | 19 | |
| --- | --- | --- | --- |
| 225/60R18 | 235/60R18 | 235/45R19 | 235/55R19 |
| 215/55R18 | 235/50R18 | 235/40R19 | 225/55R19 |
| 225/45R18 | 235/65R18 | 235/50R19 | 255/50R19 |
| 225/55R18 | 235/55R18 | 245/55R19 | 255/40R19 |
| 235/45R18 | 245/60R18 | | |
| 225/50R18 | 245/45R18 | | |
| 20 | | | |
| --- | --- | --- | --- |
| 255/55R20 | 255/50R20 | | |
| 235/55R20 | 255/45R20 | | |
| 245/50R20 | | | |
The Assurance ComfortDrive prices range approximately from $144.00 to $260.00 (Discount Tire)
prices range approximately from
Goodyear Assurance ComfortDrive – Compare Prices
We found 4 online tire retailers selling Goodyear Assurance ComfortDrive. Refer to the details below to get the best price
Goodyear Assurance ComfortDrive
PRICE
SOLD BY
 

Offers

Offers




Offers




Offers



Assurance ComfortDrive Ratings By Consumer