Choosing the right tire will determine whether your upcoming experience goes smoothly or vice versa. If you are shopping for new tires for your car, you might have heard about Toyo – one of the leading tire producers.
This brand provides customers with many products to serve drivers' needs. This post will give you a full comparison of Toyo Open Country AT3 vs AT2 vs CT VS MT Vs RT– the five most popular tires from this world-famous brand! Let's scroll down for more details!
Toyo Open Country AT3, AT2, CT, MT and RT- Overview
Having a complete overview of the Toyo brand's products will be the key to knowing what you need right now. No waiting time! Let's also explore the most basic information about our five main products today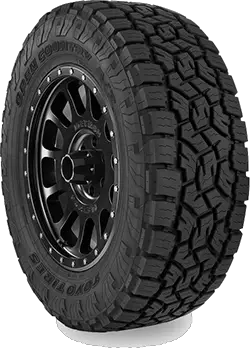 Key Feature
Perfect for snowy or icy conditions
Smooth ride quality
Tire Size
15″, 16″, 17″, 18″, 19″, 20″ and 22″.
Price Range
$139.99 – $548.99
Ratings
The Toyo AT3 is famous for its multi-functionality and adaptability to all road conditions. It can move off-road, on the highway, or even in extreme conditions (dry, snow, wet, wet).
Although its ability to move in mud and snow is limited, you can still use it in some difficult situations. In terms of endurance, it can serve you for a long time based on the long tread life.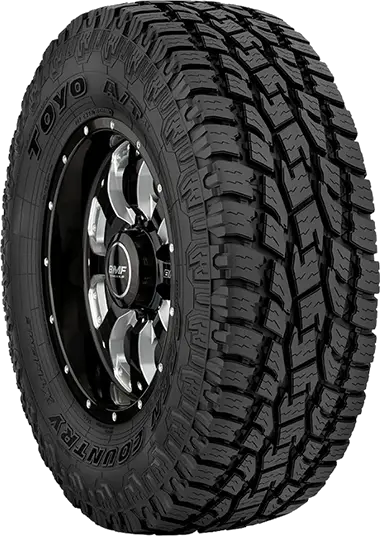 Specifications

Season: All Season
Size: 15″ to 22″
Construction: Radial
Speed Index: Q, S
Mileage Warranty: 50,000 – 65,000 miles

Ratings
Open Country 2 is adaptable to all types of terrain. Its sturdy tread design increases traction and improves dry braking throughout its life.
Excellent traction makes the road on the snow no longer cause too much trouble for the driver. Besides, it also performs very well in wet conditions.
Tie bars lying between the blocks are key to reducing uneven wear and stabilizing the tread block. That is also why AT2 has an outstandingly extended life cycle compared to other products.
Toyo Open Country CT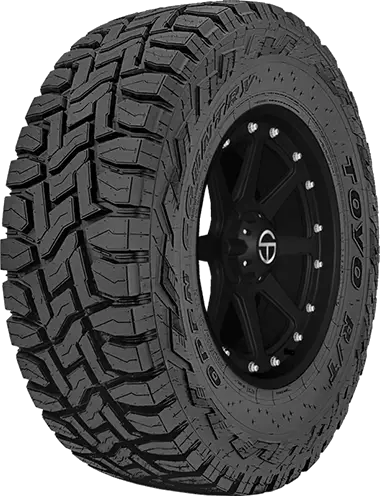 The Toyo Open Country CT is a great choice to tackle as a commercial tire on and off road.
Its ability will leave you in awe: grip the road in all bumpy and harsh terrain conditions (soil, mud, gravel, snow) while still providing an extremely smooth experience for the driver.
The manufacturer built it to be able to work in winter conditions. Therefore, it is not difficult to realize that this product works extremely well in winter. Besides, the ability to handle wet/dry pavement will also make you admire it.
The life of treads and tires is generally average. Therefore, we recommend using this product for highway and mild off road terrain.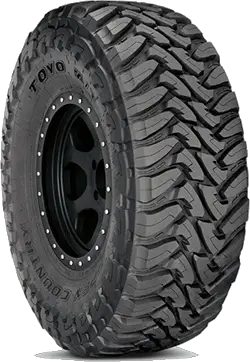 Key Feature
Aggressive, attack tread design with hook shaped blocks
Open, scalloped shoulder blocks
Over-the-shoulder tread
Deep siping in the tread blocks
Tire Size
15″, 16″, 17″, 18″, 20″, 22″, 24″ and 26″.
Price Range
$388.71 to $581.29
Ratings
If you wonder what is the best product to get through the mud, choose Toyo Open MT! It's dedicated to dealing with muddy terrain while still handling loads and tackling off-road terrain.
MT scores with excellent traction both on snow and rock surfaces. It is even better when it can adapt to the roads, even operating on the highway.
The ideal 3-layer polyester durability extends the tire's life, resulting in a longer driver service life.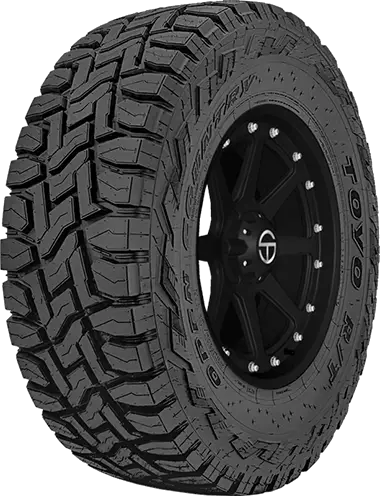 Specifications

Season: All Season
Size: 15″ to 24″
Construction: Radial
Speed Index: Q
Mileage Warranty: 45,000 miles

Ratings
Where to start because you can't find a suitable choice for off-road? Try the Open Country RT, and you will discover how easy your journey becomes!
The RT emerged as a "hybrid" tire- a hybrid product between the MT and the AT. Specifically, it includes MT's offroad power and AT's on-road smoothness.
Thanks to its strong design and extremely good traction, it can adapt to any terrain. The handling of rocks, dirt, and sand is no longer a problem when using MT tires.
Regarding the on-road experience, the driver will see the smooth operation of the product. This harmonious combination has made MT always have a strong attraction to SUV lovers worldwide.
Toyo Open Country AT2 Vs AT3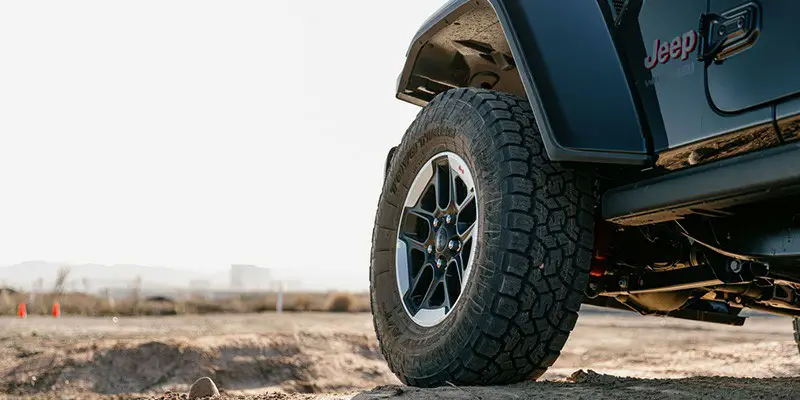 AT3 is a new version that receives more upgrades from Toyo than from AT2. And now, let's discover what improvements the manufacturer has made to upgrade this product through the Toyo AT2 to AT3 review.
Durability 
Although the AT3 is designed to reduce wear, it is undeniable that its lifespan is a bit shorter than that of the AT2. It is a big minus point when Toyo focuses too much on traction in wet and winter but ignores this issue.
Efficiency
AT3 has a spectacular efficiency update compared to AT2 on both on and off road. The design includes 3D multi-wave sipes that help it increase traction and excellent tire contact.
Specifically, the AT3 surface consists of small S-shaped blocks and tie bars that optimize and reduce tread wear. While AT2 has S-shaped blocks cut in half, the space created is also smaller. 
That's why when comparing Toyo AT3 vs AT2, AT2's grip and traction ability is inferior to AT3.
In addition, AT2 has a small problem when traveling on wet or snowy roads because traction in these cases is only average. Toyo has understood and focused on significantly improving this issue when producing the AT3 model.
The 3D siping system helps grip the road extremely well, even when driving on surfaces with lots of standing water. Besides, the large tire grooves also create favorable conditions for better drainage and waterproofing than the AT2.
When comparing Toyo AT2 extreme and AT3 in fuel economy, the AT3 once again has a spectacular victory over its competition!
Noise
The tire surface design makes the AT2 and AT3 bring a smooth experience with a low noise level to the driver both on and off-road. However, we still rate the AT2 above its competition in this respect.
AT, MT, CT, RT- Comparison
Before conducting a specific comparison, let's analyze the most basic differences in classifying the above wheel models.
Through the name of each Toyo product, the driver can somewhat better understand the specific characteristics of each tire line. This article will discuss four models with four different areas of activity- AT, MT, RT, and CT.
So, what are the unique characteristics of each type?
With various categories, Toyo can be the right choice for you. Yet, before making the final choice, explore the comparison below to understand more about the capabilities and characteristics of each product!
Toyo Open Country RT Vs AT3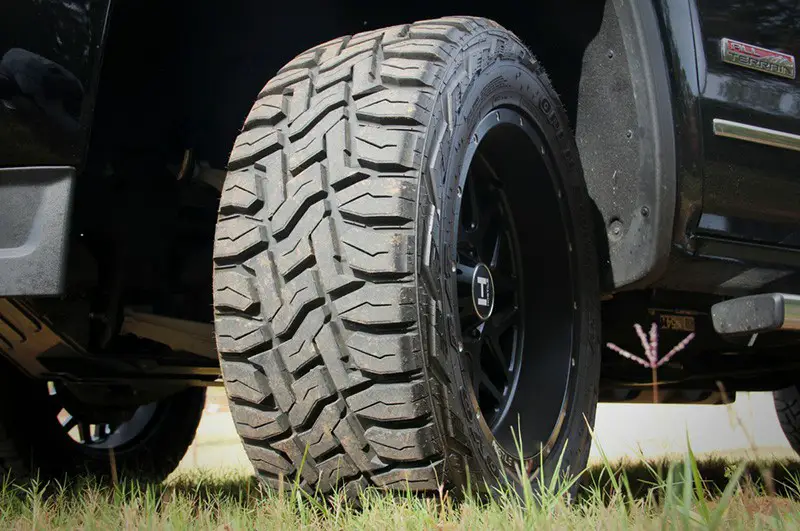 Durability
AT3's material seems to be quite resilient to adapt to various terrain. Meanwhile, the rigidity of the sidewalls of the RT makes it resistant to all external forces. 
Thus, it is not difficult to realize that the longevity of the RT is superior to the competition.
Efficiency
If you want a tire that can handle rough terrain (especially mud), the Toyo Open Country RT will be one of the worth-considered choices. However, everything has two sides. This superiority also makes it, in some respects, inferior to rival AT3.
The RT performs well offroad but is not so suitable for traveling on the highway. In contrast, the AT3 offers a more comfortable on-road experience. Besides, wet and winter performance is also much superior to RT.
Noise
While the AT3's noise level can be less than its on-road rival, it turns out to be the opposite in offroad conditions. So, choose the right tire to get the smoothest experience on your journey.
Toyo Open Country AT3 Vs MT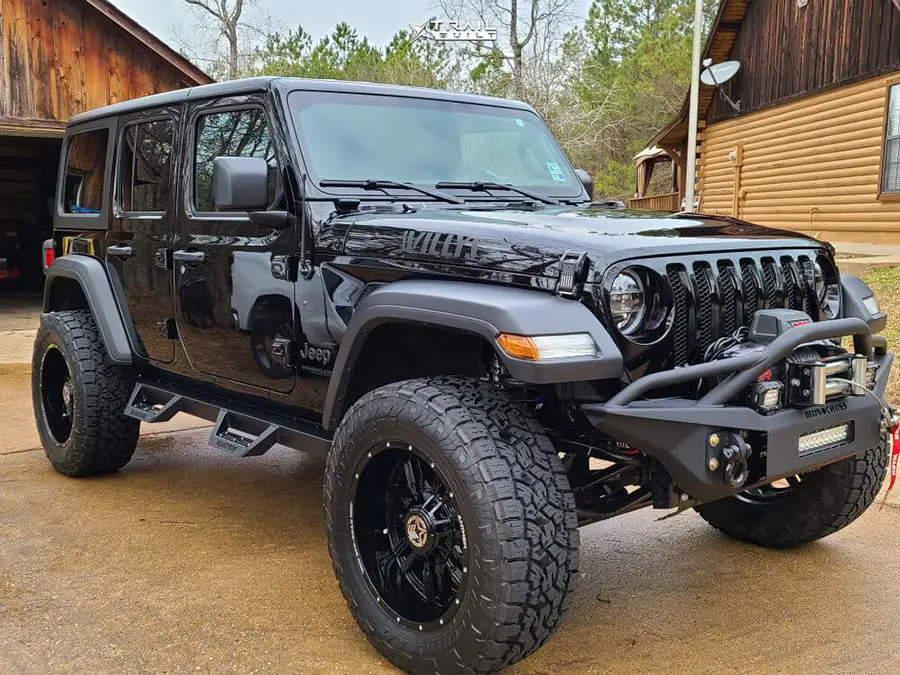 Two types of tires operate in two different fields, and each product has its strengths. Therefore, comparing them is even somewhat unfair.
Durability
Despite being designed specifically for rough terrain, we've found that the MT wears out very easily on the highway. Therefore, AT3 will be the winner when comparing the durability of these two products.
Efficiency
Among the tires, the MT stands out as a mud-terrain tire is ideal. It gives you ideal traction on all rough surfaces (except highways).
Meanwhile, MT3 operates extremely smoothly on the highway and mild off-road. It also performs very well in wet and winter conditions through ideal traction.
Noise
The AT3 is a more niche product than its competition in the daily commute. This is because it offers low sound levels and a smooth driving experience.
But when operating on rough terrain, MT will surely serve you better than expected!
Toyo Open Country CT Vs AT3
The battle of Toyo CT and AT3 occurs quite evenly because their distance is not too far apart. Please find out more about us by scrolling down!
Durability
The surface of the CT tire has a 3-layer texture to increase the rigidity of the sidewalls and resist external forces. It is why the tread life is increased, leading to longer product life.
Although surpassing AT3 in endurance, the gap between them is negligible. Thus, choosing any product will bring you perfect service.
Efficiency
Toyo CT can provide you with benefits beyond your expectations as a commercial tire. It is intended for heavy vehicles and impresses its ability to perform in winter conditions no less than the At3.
Yet, if you need to move in wet conditions, the AT3 once again scores with perfect wet traction.
Noise
In terms of noise level and smooth experience, we think no other model can beat the AT3. It is an option that will make your journey as comfortable as possible!
Quick Rundown of Toyo Open Country AT3, AT2, CT, MT, and RT
| | | |
| --- | --- | --- |
| | Pros | Cons |
| Toyo Open Country AT3 | Ideal durabilityExcellent snow and wet performance | Limited gas mileageAverage driving experience |
| Toyo Open Country AT2 | Ideal durabilityLow noise level | Limited wet performanceLimited washout ability |
| Toyo Open Country CT | Ideal lifespanUpper durability with 3-layer construction | Average wet performance |
| Toyo Open Country MT | Outstanding performance in muddy terrainGood performance in wet condition | Easy to wear |
| Toyo Open Country RT | Outstanding longevityIdeal for offroad | Not suitable for highwaysAverage smooth experienceLimited activity in wet and winter conditions |
Conclusion
If you have not made a specific decision, we recommend choosing Toyo Open Country AT3. With outstanding capabilities in both performance, durability, and noise level, it performs very well in all conditions and will meet your needs.
Check out the price chart below, and you'll see why we suggested it!
| | | | | |
| --- | --- | --- | --- | --- |
| | AT3 | CT | RT | MT |
| Suitable For | All conditions | Heavy transport, harsh winters | Off-road, commercial usage | Off-road |
| Not Suitable For | Heavy-duty usage | Wet condition | Highway | Highway, commercial usage |
For more all-terrain tire options you can check out our article: The 12 Best All Terrain Tires: Top Picks For 2022