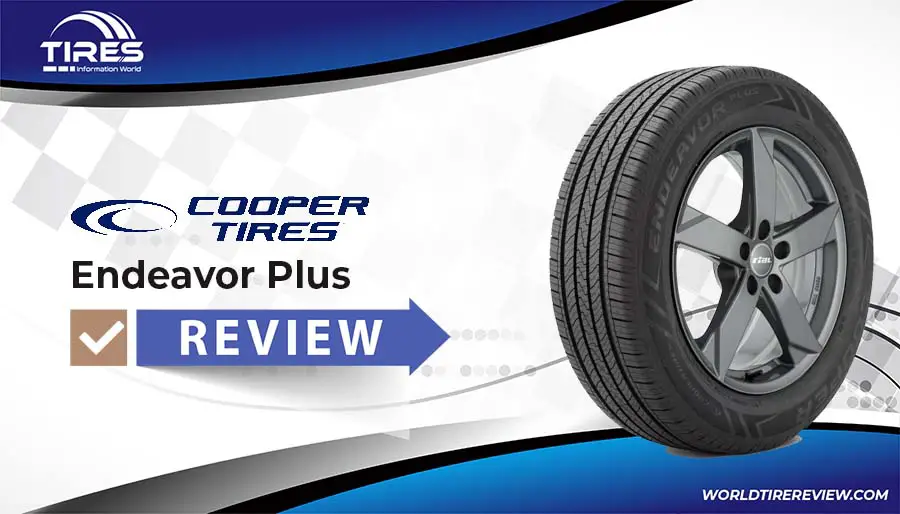 An Overview Of Cooper Endeavor Plus
The Cooper Endeavor Plus is developed by the reputable brand Cooper Tire Company. This company aims at producing high-quality tires for the SUV and light truck vehicles, suitable for multiple seasons and weather conditions. 
With more than one century of manufacturing tires, Cooper Tire Company prioritizes customer's safety and confidence on the roads. Among its products, the Endeavor Plus lines stand out with lots of positive feedback regarding comfort.
Continue reading this Cooper Endeavor Plus tire to explore the cool features of this product. 
Cooper Endeavor Plus Review
Apart from the beautiful design and amazing performance, this tire is integrated with advanced technologies to give you more confidence cruising on the roads. 
Sizes
Copper Tire offers users up to six Cooper Endeavor models in different sizes, from 16 inches to 22 inches. Each size comes with its distinct speed rate and load range, giving drivers more flexibility in choosing a suitable tire for their car. 
Thrive In The Rain
With four symmetrical grooves that evacuate water on the tire surface, you can confidently drive on wet roads and in rainy weather at high speed. The tire surface is covered with silica compounds to help evacuate water and provide more balance. 
The large lateral notch and multiple tread blocks ensure good steering and stickiness and lower the risk of accidents on snowy tracks.
Amazing Durability 
This advanced tire surface design also reduces the contact area with the road and generates less noise when driving. The force and friction are distributed evenly on the surface, making the Copper Endeavor Plus more resistant to sharp objects and pot-holes.
This feature is very necessary for heavy vehicles such as SUVs and vans. You will have a quiet cruising experience on this tire without the need to maintain and repair it regularly. 
After a long usage period, the components on your car need to be maintained. But it may be hard to keep track of your tire lifespan. With Cooper Endeavor Plus, you can estimate the life expectancy based on the modern indicator on the middle of the tire.
Warranty
The warranty for this tire lasts up to 6 months (approximately 65,000 miles) after purchasing. If the product breaks down due to technical errors and external damages, you can have it replaced at zero cost with a warranty.  
You can also opt for a special warranty option, allowing drivers a 45-day period to test the tire's quality before purchasing the product. Drivers can swap the Cooper Endeavor Plus for other tire products produced by Copper Tire. 
Pros & Cons
Cooper Endeavor Plus: Drive Testing
In real-life tests, the tire provides an overall smooth and satisfying driving experience with minimal sounds. Although there are tread growls when steering, the noise generated is insignificant. We can listen to music for multiple hours driving on this tire (even on highways). There was virtually no ambient sound and noise. 
The handling is smooth and light with great stability and precision. This tire stands out when cruising on dry road tracks and slight snow. The tire remains stable and not slippery when braking at high speeds, ensuring the driver's safety.
However, a minor drawback of this product is the lack of responsiveness on deep snow tracks.
Overall Rating
Based on the specifications, designs, and real-life performance, here is our rating of this product in our Cooper Endeavor Plus tire: 
Performance on dry tracks: 4/5
Performance on wet and snowy tracks: 3/5
Treadwear: 4/5
Quiet driving: 5/5
Driving comfort: 3/5
Steering and balance: 3/5
Durability: 5/5
Warranty: 5/5
Overall, the Cooper Endeavor Plus is suitable for SUV and truck drivers who want a silent and smooth ride in different seasons of the year. Its great performance and durability can help you drive with peace of mind and confidence.
Competitors & Alternatives
| | |
| --- | --- |
| Treadlife Warranty: | 6 Years / 65,000 miles  Half mileage for rear if different size than front |
| Uniformity Warranty: | First 2/32″ of wear |
| Workmanship & Materials Warranty: | 6 Years / Free replacement first 2/32″ of wear, then prorated until 2/32″ remaining depth |
| Manufacturer's Road Hazard Warranty: | None |
| Manufacturer Special Warranty: | 45 Day Road Test Guarantee (1) |
| Additional Information: | (1) Exchange for another Cooper brand tire |
Warranty summary for replacement tires purchased on or after 01/01/22
at Tire Rack
| 16 | | 17 | |
| --- | --- | --- | --- |
| 205/70R16 | 235/65R16 | 215/60R17 | 235/65R17 |
| 215/65R16 | 235/70R16 | 215/65R17 | 245/65R17 |
| 215/70R16 | 265/70R16 | 225/60R17 | 245/70R17 |
| | | 225/65R17 | 265/65R17 |
| | | 235/55R17 | 265/70R17 |
| | | 235/60R17 | |
| 18 | | 19 | |
| --- | --- | --- | --- |
| 215/55R18 | 235/65R18 | 225/55R19 | 245/55R19 |
| 225/55R18 | 245/60R18 | 235/55R19 | 255/60R19 |
| 225/60R18 | 255/65R18 | | |
| 235/50R18 | 265/60R18 | | |
| 235/55R18 | 265/65R18 | | |
| 235/60R18 | 275/65R18 | | |
| 20 | | 22 | |
| --- | --- | --- | --- |
| 235/55R20 | 265/50R20 | 285/45R22 | |
| 245/50R20 | 275/55R20 | | |
| 255/50R20 | 275/60R20 | | |
| 255/55R20 | | | |
Cooper Endeavor Plus prices range approximately from $112.00 to $246.00 (Discount Tire)
Pirelli Scorpion AS Plus 3
prices range approximately from
Cooper Endeavor Plus – Compare Prices
We found 5 online tire retailers selling Cooper Endeavor Plus. Refer to the details below to get the best price
Cooper Endeavor Plus
PRICE
SOLD BY
 

Offers

Offers




Offers




Offers




Offers



Endeavor Plus Ratings By Consumer