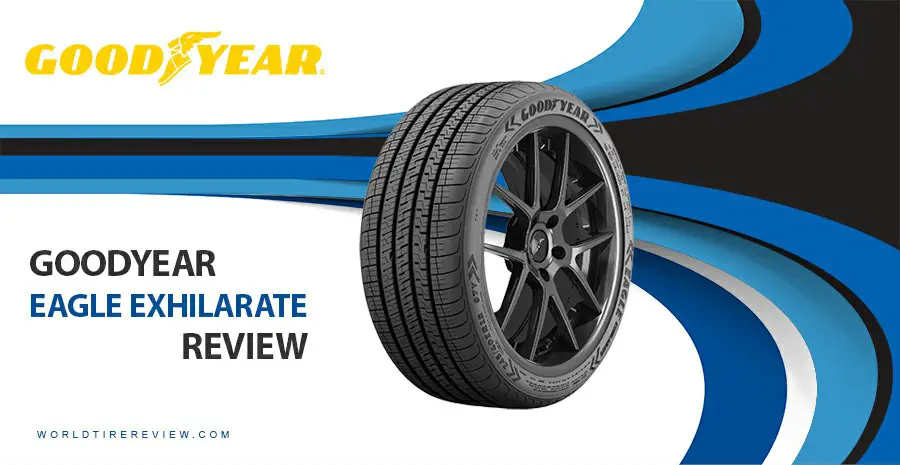 The Goodyear Tire & Rubber Company has made a strong foothold in the tire market for more than 100 years. And Eagle Exhilarate is one of Goodyear's best-selling tires in recent times. No matter if it is a wet or dry day, this tire is going to change the game.
All-season tires, such as the Eagle Exhilarate, are unique. Due to some special features, customers can use them in milder cold conditions. The tires might not perform as well as a winter tire in deep snow and ice. But they offer better performance when a normal summer tire rubber begins to harden up and performance starts to drop off.
Without further ado, let's jump right into our Goodyear Eagle Exhilarate review to see if it is worth the hype.
Main Features Of Goodyear Eagle Exhilarate
The Eagle Exhilarate is a new Goodyear all-season tire that replaces the previous Eagle F1 of Goodyear. Thanks to its outstanding compound quality and design, this fresh model gives superb grip, comfort, and stability all year long.
At first glance, Eagle Exhilarate stands out for the smart design of the five-rib pattern on the asymmetric tread. The sleekness, along with enhanced rim protectors, will protect your wheels from any curb damage.
The high-silica tread compounds improve wet gripping. Wide lateral notches and four circular grooves prevent water from overflowing into the footprint. This technique assists hydroplaning resistance, which increases the tire's durability.
The Eagle Exhilarate's internal structure consists of 2 different cords made out of polyester. Goodyear aims to keep it lightweight but strong enough at the same time. Plus, the two polyamide plies provide hyper capabilities of speed.
The tire's Active Grip technology offers handling and traction. This process releases pressure evenly throughout the contact patch. Plus, the ActiveBreaking technology allows you to better braking and even handling. The same goes for the improvement of the tire's footprint and the innovative tread block design.
Goodyear offers a large range of tires for a variety of vehicles, including trucks, SUVs. Even for Audi A6, Lexus LC, Chevrolet Camaro, and more. With the criterion "Always moving forward", every tire aims to create an innovative, dynamic transition to your journey.
Pros & Cons
Goodyear Eagle Exhilarate On The Road Test
After using Eagle Exhilarate for several months, I can say that this tire has met up my expectations. I was quite impressed that I could drive all year round without having to change different tires.
Goodyear Eagle Exhilarate has done an amazing job with the update over the previous tire.
How Does Eagle Exhilarate Perform On Dusty Road?
The dry handling lap demonstrated well-balanced performance traction of raking and lateral grip. But sometimes, it can be a little bit stiff over small objects.
Wet And Slippery Roads, Eagle Exhilarate is back on track!
This feature held true even in the rain when the tire offered superb grip and handling. It was quiet and comfy, making it an excellent all-around tire. It is also less expensive to buy compared to other tires with similar features.
Snowy Roads – Will It Be A Tough Challenge For Eagle Exhilarate?
Despite the fact that Eagle Exhilarate is capable of driving in snowy weather, it only performed well on light snow. A thick layer of snow will impair its performance and make the braking process tricky.
Is Eagle Exhilarate A Great Choice For You?
Your experience on every daily ride is important. And that is the reason why you should choose Goodyear's Eagle Exhilarate as a reliable partner.
After this review, you may have a broad overview of its benefits and features. This quality tire not only comes at a reasonable price, but it also offers an excellent warranty. This tire is definitely a wise and cost-effective option.
Competitors & Alternatives
| | |
| --- | --- |
| Treadlife Warranty: | 6 Years / 45,000 Miles Half mileage for rear if different size than front |
| Uniformity Warranty: | 1 Year / first 2/32″ wear |
| Workmanship & Materials Warranty: | 6 Years / Free replacement first year or 2/32″ of wear, then prorated until 2/32″ remaining depth |
| Manufacturer's Road Hazard Warranty: | None |
| Manufacturer Special Warranty: | 30 Day Test Drive (1) |
| Additional Information: | (1) Exchange for a different Goodyear brand tire |
Warranty summary for replacement tires purchased on or after 04/01/19
| 17 | | 18 | |
| --- | --- | --- | --- |
| 215/45ZR17 | 245/45ZR17 | 225/40R18 | 245/45ZR18 |
| 225/45R17 | | 225/45ZR18 | 255/35ZR18 |
| | | 225/50ZR18 | 255/40R18 |
| | | 235/40ZR18 | 275/35R18 |
| | | 245/35R18 | 275/40ZR18 |
| | | 245/40R18 | |
| 19 | | 20 | |
| --- | --- | --- | --- |
| 225/40R19 | 255/35ZR19 | 245/40R20 | 275/35R20 |
| 225/45R19 | 255/40ZR19 | 245/45ZR20 | 275/40R20 |
| 235/35ZR19 | 255/45ZR19 | 265/35R20 | 275/45R20 |
| 235/40R19 | 255/50R19 | 275/30ZR20 | |
| 245/35R19 | 265/35ZR19 | | |
| 245/40R19 | 275/35R19 | | |
| 245/45ZR19 | 285/35ZR19 | | |
| 245/50R19 | | | |
Eagle Exhilarate prices range approximately from $155.99 to $355.99 (Tire Rack)
Goodyear Eagle Exhilarate – Compare Prices
We found 5 online tire retailers selling Goodyear Eagle Exhilarate . Refer to the details below to get the best price
Goodyear Eagle Exhilarate
PRICE
SOLD BY

Offers

Offers

Offers

Offers

Offers
Eagle Exhilarate Ratings By Consumer