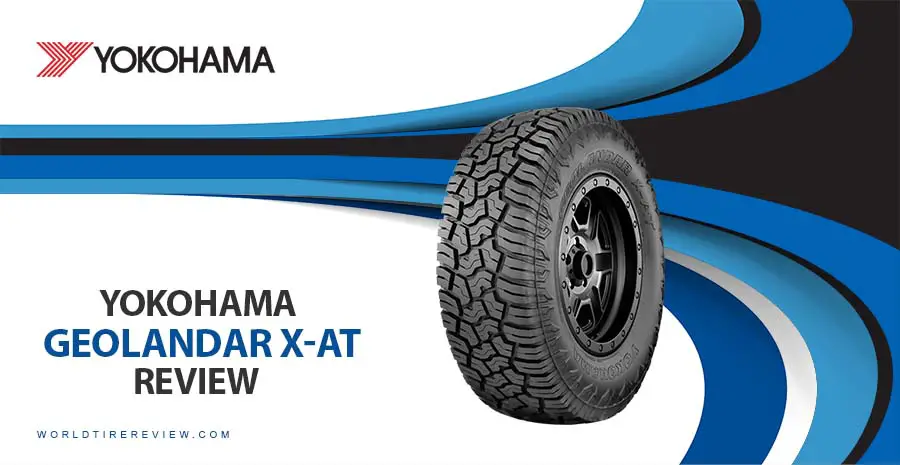 Introduction
This Yokohama Geolandar X-AT assesses remarkable features of the model to make the right purchase decision. Among a long list of all-terrain tires, the X-AT truly sets itself apart for exceptional capability and impressive longevity, which you should consider.
The Geolandar X-AT is an on/off-road tire designed for pickup trucks, SUVs, and other off-road vehicles. Introduced as a cross between the Geolandar A/T and M/T, it accentuates on/off-road traction, ride quality, long-lasting durability, and reduced noise.
About Yokohama Rubber Co., Ltd., And The Geolandar Lineup
Yokohama Rubber Co., Ltd. originated from Tokyo, Japan, and soon expanded globally to become one of the world's tire technology and manufacturing leaders.
With a wide range of innovative products, the company focuses on outstanding performance, driving experience, and road safety.     
The Geolandar offers reliability and versatility for performance in all seasons and weather conditions. Engineered by Geo-Shield technology and HD-2 Off-Road compound, the lineup contains tires for vehicles ranging from minivans and SUVs to crossovers and trucks.       
Yokohama Geolandar X-AT Highlighted Features
In this review, we will examine some highlighted features of the tire model.
In terms of design, the X-AT has an aggressive, robust tread pattern with sipes and narrow grooves, which helps optimize wet and snow traction. Moreover, zigzag grooves on the tire decrease noise and ensure a quiet ride by producing airflow interruption.
The X-AT comes with angular staggered center blocks and aggressive shoulder blocks. These features help eject mud and stones when driving in challenging terrain.
The triple-polymer blend improves cut and chip resistance, while the thick sidewall prevents punctures and damage. Also, the manufacturer offers a treadwear warranty of 45,000 miles for up to 5 years with a 30-day test drive warranty.
Pros & Cons
Yokohama Geolandar X-AT – Personal Opinion
After taking some time to experience the tires, we have put together our reviews. Check out the next section for our assessments and recommendations for the Geolandar X-AT. 
Feature Assessments
Traction
The X-AT offers an exceptional on/off-road driving experience. These tires do an excellent job during challenging circumstances, performing well on gravel roads, sandy surfaces, and moderate muddy trails.
On-road experience is comfortable despite some squishy wheel steering you should expect from these chunky tires. The outstanding traction ensures road safety for daily driving and occasional field trips.  
As for the winter, the X-AT is an all-season tire that has decent snow traction. Our tires brake and handle well on both light and heavy snow. However, ice performance is not as good as the winter-dedicated models such as the A/T G015 or the iceGUARD G075. 
Noise
The tires produce a slight, barely noticeable hum on the highway. The X-AT delivers a quiet on-road manner for the everyday commute.
Treadwear
The X-AT has incredible durability and long-lasting treadwear as an all-terrain tire. In addition, the 45,000-mile warranty available at purchase should have you covered up to 60 months.
Comfort
These tires deliver a pleasant driving experience despite the aggressive design. You may expect some slight stiff steering, but it is reasonable considering their weight.
Who Should Buy The Yokohama Geolandar X-AT?
Overall, the Geolandar X-AT is suitable for various trucks and SUVs that serve all-season daily drivers with some off-road trips. The X-AT offers hybrid functionalities: on/off-road drivability, all-season performance, quiet ride, and long tread life.
The right customer for the X-AT would be someone interested in an all-terrain tire for the daily commute with an aggressive look of an off-road mud tire.   
Some possible fitments for the X-AT are as follows:
Toyota 4Runner
Ford Expedition and F-Series
Chevrolet Silverado
GMC Yukon
Ram Power Wagon
Conclusion
The X-AT is an ideal option for street driving with the best-in-class off-road capability. Hopefully, this review has given you some idea before making your purchase decision.
Competitors & Alternatives
| | |
| --- | --- |
| Treadlife Warranty: | 5 Years / 45,000 Miles (2)  |
| Uniformity Warranty: | First 2/32″ of wear |
| Workmanship & Materials Warranty: | 5 Years / Free replacement first year or 2/32″ of wear, then prorated to 2/32″ remaining depth |
| Manufacturer's Road Hazard Warranty: | None |
| Manufacturer Special Warranty: | 30 Day Test Drive (1) |
| Additional Information: | (1) Full refund or exchange (2) Half mileage forear if different size than front |
| 15 | | 16 | |
| --- | --- | --- | --- |
| LT 31X10.50R15 | | LT 235/70R16 | LT 265/75R16 |
| 17 | | 18 | |
| --- | --- | --- | --- |
| LT 265/65R17 | LT 295/70R17 | LT 275/70R18 | LT 305/70R18 |
| LT 265/70R17 | LT 35X12.50R17 | LT 285/60R18 | LT 325/65R18 |
| LT 285/70R17 | LT 37X12.50R17 | LT 285/65R18 | LT 33X12.50R18 |
| | LT 37X13.50R17 | LT 285/75R18 | LT 35X12.50R18 |
| | | LT 295/70R18 | LT 37X13.50R18 |
| 20 | | 22 | |
| --- | --- | --- | --- |
| LT 275/65R20 | LT 325/60R20 | LT 35X12.50R22 | LT 37X13.50R22 |
| LT 285/55R20 | LT 33X12.50R20 | LT 37X12.50R22 | |
| LT 285/60R20 | LT 35X12.50R20 | | |
| LT 295/65R20 | LT 35X13.50R20 | | |
| LT 305/55R20 | LT 37X12.50R20 | | |
| | LT 37X13.50R20 | | |
Geolandar X-AT prices range approximately from $223.99 to $571.99 (Tire Rack)
prices range approximately from
Yokohama Geolandar X-AT – Compare Prices
We found 5 online tire retailers selling Yokohama Geolandar X-AT. Refer to the details below to get the best price
Yokohama Geolandar X-AT
PRICE
SOLD BY
 

Offers

Offers




Offers




Offers




Offers



Geolandar X-AT Ratings By Consumer